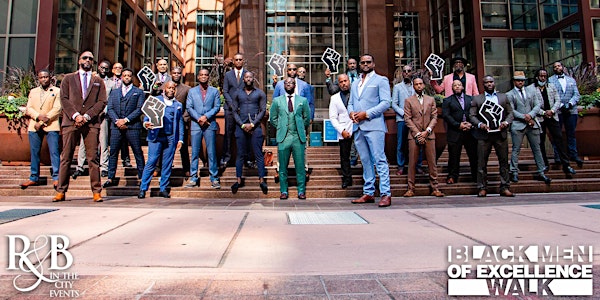 BLACK MEN OF EXCELLENCE SUIT WALK 2K22 - PHOTO/VIDEO SHOOT| MIX & MINGLE
Black Men Of Excellence Suit Walk Spring & Summer - Join The Movement On Sunday May 1st, 2022 Photo Shoot | Walk | Video Shoot | Network
When and where
Location
Yonge Street & King Street West 1 King St. West Toronto, ON M5E Canada
Refund Policy
Contact the organizer to request a refund.
Eventbrite's fee is nonrefundable.
About this event
THIS IS A RAIN OR SHINE EVENT!!!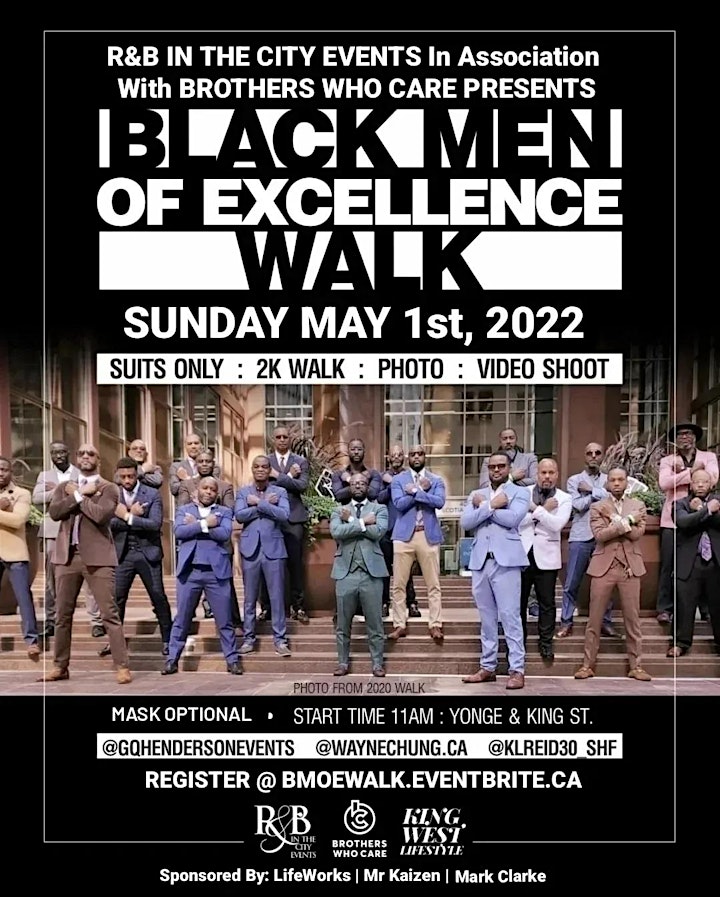 R&B In The City Events In Association With Brothers Who Care
Presents
The Annual Black Men Of Excellence Suit Walk 2022 Changing The Narrative One Step At A Time!!!
2 Km Walk | Photo/Video Shoot | Mix & Mingle
SUNDAY MAY 1st, 2022
11am to 3pm
Starts At Yonge St & King St
2 km Walk | Photo Shoot | Video Shoot
Mix & Mingle 4pm to 8pm Venue To Be Announced
• Honour our mothers with an early Mother's Day Tribute
• Acknowledgement Of Canadian Mental Health Week. How you feel is normal . There is no health without mental health - WHO
• DRESSCODE: Spring & summer colour suits and blazers
• Men can also accessorize in spring & summer colours (Soft Lilac | Canary Yellow | Hot Pink | Salted Caramel | Scarlet | Sky Blue)
• Men will participate in "Circle of Sharing"
• Post Mix & Mingle at a downtown lounge To Be Announced
• Donations to local charity TAIBU Community Health Centre
Register At:BMOEWALK.EVENTBRITE.CA Info: 416.704.5487
Sponsored By:
Life Works | MR KAIZEN Custom Suits | Lite It Up Beard Oil | GetPhotoProps.ca | Mark Clarke - PMC Tailor
Masks Optional - COVID compliance
#BMOEWALK2022
Why: WE CAN CHANGE THE NARRATIVE
1. Why - the media's coverage of us (Black Men) is typically negative, and this is our way of contributing to the cause of taking control of our narrative.
2. Why - Our black sisters are light years ahead of us when it comes to unity and strength in this country. Black men in Canada need to be more unified, it's the only way that we will thrive in this land as minorities.
3. Why - Too many of us see each other as competition or even worse as enemies. How are we going to win when we are fighting two battles; systemic racism on one end and the violence we inflict upon ourselves on another.
Reason: Black Men Are Kings and our team enjoys providing Lifestyle Experiences. Now we are bringing men together for The Black Men Of Excellence Movement Wearing Semi-Formal Attire... Suits & Blazers
Partners and Ambassadors: The Gentlemen of R&B In The City Events G.Q. Henderson, Kevin Reid and Wayne Chung Producers of Upscale King West Lifestyle Events @gqhendersonevents, @klreid30_shf and @waynechung.ca, David Griffiths of Brothers Who Care @canbwc, Corey Kareem of Black Men Run For Change, Junior Ofori of Alphapack Financial @jr_alphapack, Germaine King of King Ent @getphotopros, Johnathan Shaw - Radio Host @Johnathanoshaw, DJ Mark Anthony of Bigpeopleparty.ca, Dwight Samuels of @Tuxent, Ken Heath - Paralegal @heath.kenneth, Shoah Khan Professional Barber @shobizz, ,Theticketport.com
Purpose: To organize a Black Men unity walk with professionals, business owners, men of style, movers & shakers, upwardly mobile men of change, etc. There are a lot of black brothers who care about the current climate of systemic racism/injustice to black men and would like to share their opinions in a positive manner. They are tired of the negative images displayed in the media, that's limiting the minds of our youth. This will allow black men to come together and display Black Excellence, with a visual spectacle of brothers in semi-formal attire. Men will be dressed in their Sunday Best... suits and blazers. The walk will provide a place for brothers to network, showcase black owned businesses, entrepreneurs and much more.
Seeking: Black Business sponsors, fashion industry sponsors, donations for a charity in the black community
Photo/Video Shoot :Three sites will be used during the walk for photo shoots, last photo shoot with a video shoot will be taken at the end of the walk, supported by females who appreciate them.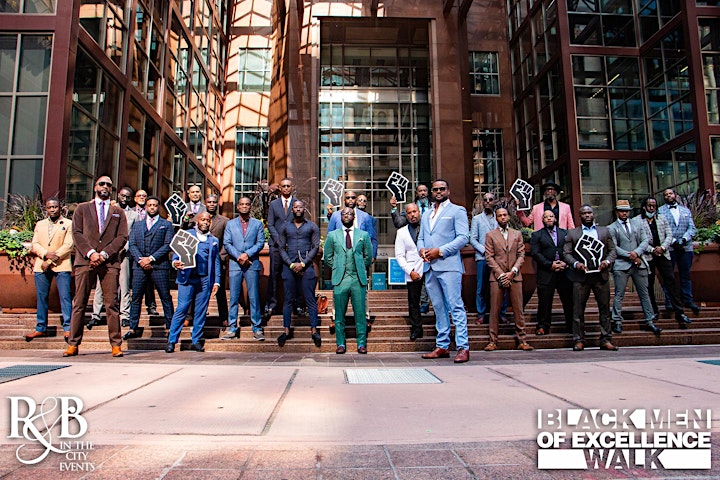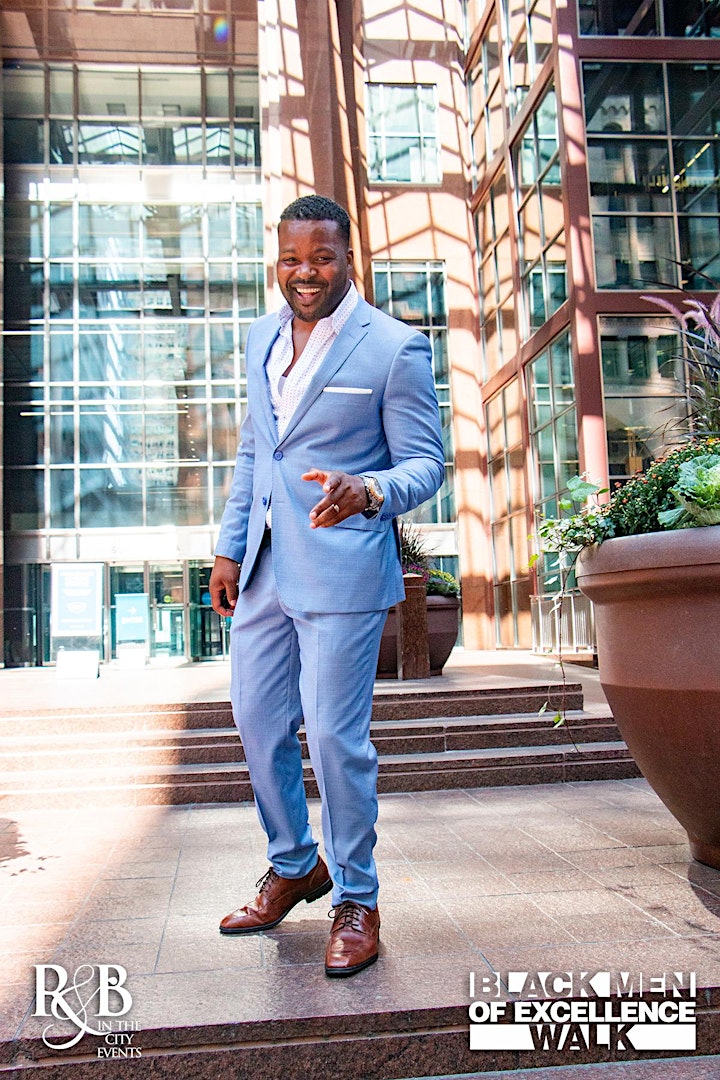 FOUNDER | G.Q. HENDERSON | IG @gqhendersonevents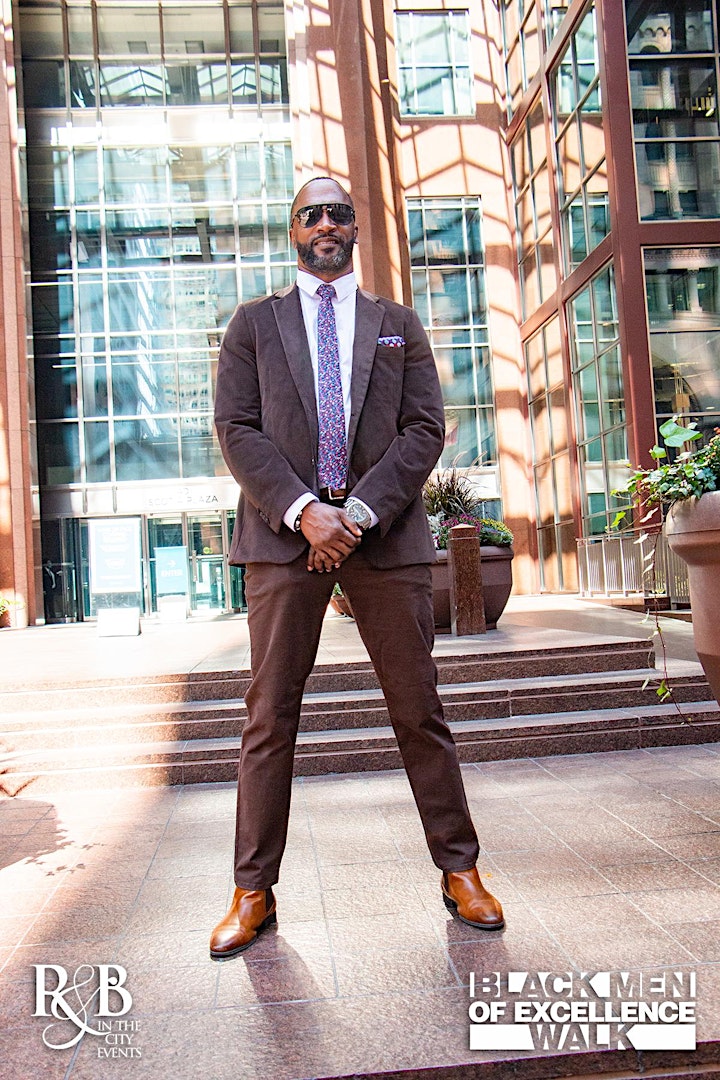 PARTNER | KEVIN REID | IG: KLREID30_SHF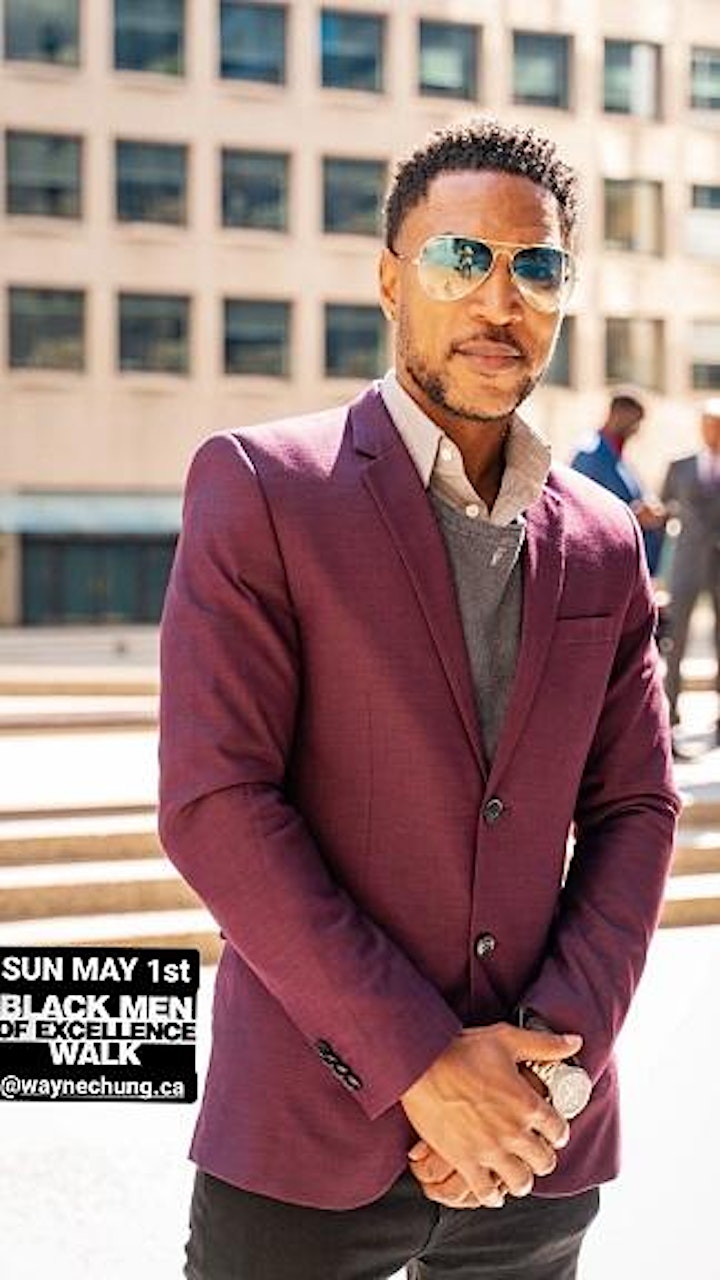 PARTNER | WAYNE CHUNG | IG: WAYNECHUNG.CA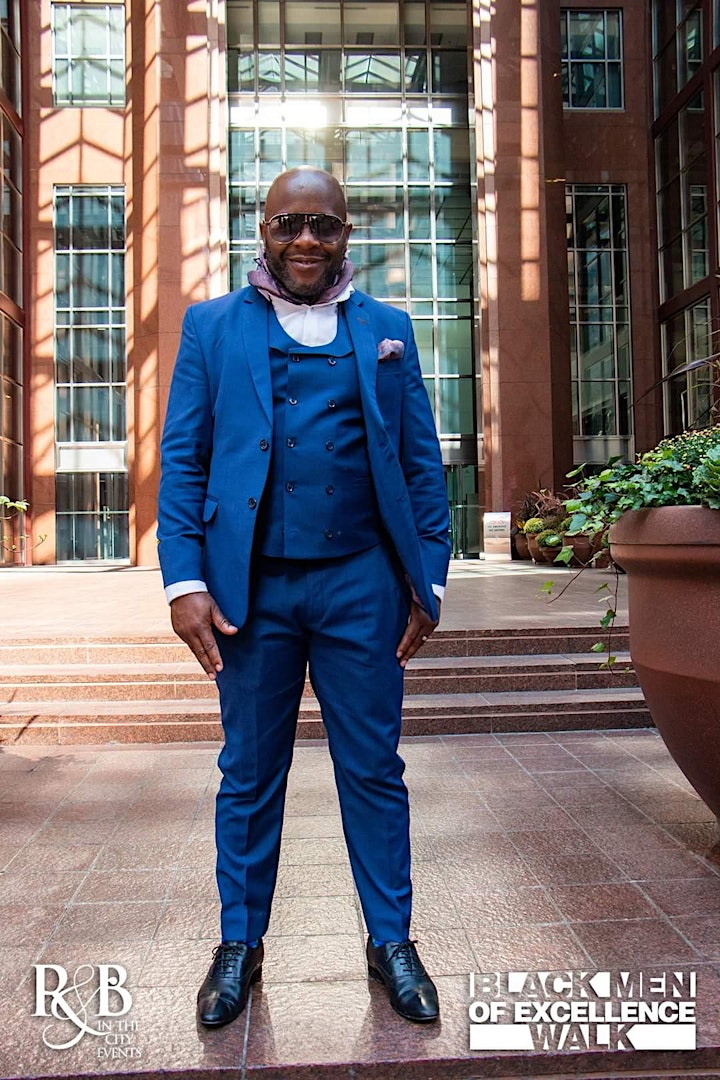 AMBASSADOR | DAVE GRIFFITH BROTHERS WHO CARE | IG @canbwc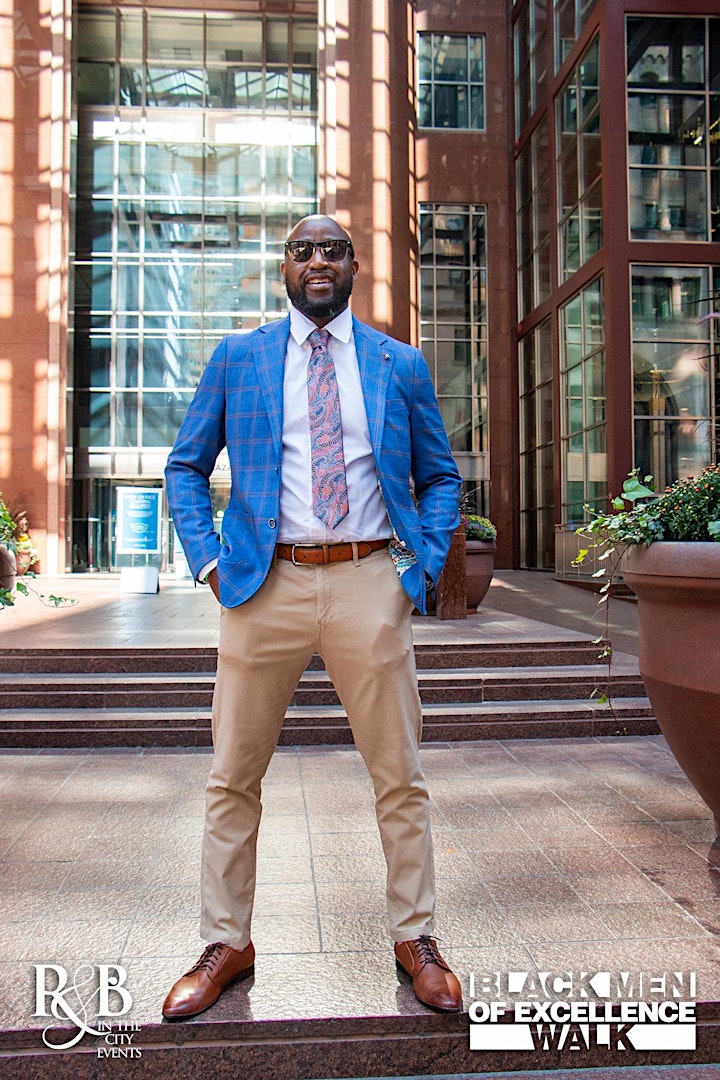 AMBASSADOR | COREY KAREEM | 3 QUESTIONS PODCAST