Monthly open conversations with Black men about the issues they face.
About this event
Click here to join us live on YouTube! Thursday July 29th at 8pm EST
Topics: fatherhood, divorce, addictions, abuse, relationships, family court, overcoming adversity.
Hosted by: Award -Winning Talk Show Host, Karen Carrington, Certified Personal Development Trainer and Mental Health Advocate featured on CTV News for her Men's Series and her book Shame Over helping men cope and heal from distress.
Roots Community Services: has been providing culturally-relevant programs to inspire residents in the Region of Peel, primarily from the Black communities since 1985. Their services help empower people to build on their strengths.
Support: After each live session, Roots Community Services offers complimentary therapy for men who identify as Black. Contact shane@rootscs.org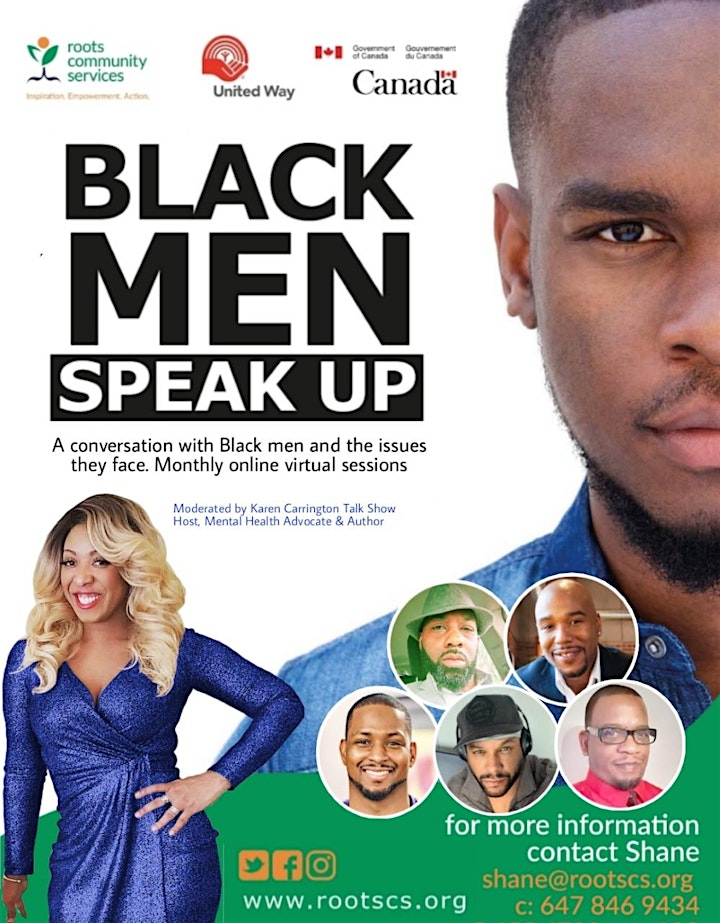 Click here to join us live on YouTube for this Exclusive Episode. Premiers Thursday July 29th at 8:00 pm EST
FAQs
If I do not identify as a Black male, can I still register and tune in?
Yes, everyone is welcome! The conversations are geared towards the issues Black men face.
Where can I find the link to join?
The link will be sent directly to your email after you register. It may go to your junk mail, please look out for it.
Will my face appear on video?
It is completely your choice!
Can I openly share my comments ?
Yes, all community friendly comments are welcome in the chat box. Confrontational comments, external links, marketing and solicitation are not permitted. Those who do not adhere to the guidelines will be removed from the session by the Online Production Team.
Can I share my comments verbally using my mic?
Only men are to speak on the mic with the moderator. All those who do not identify as men are to write their comments in chat box.
I benefited from these sessions, is additional support available?
Yes, free therapy is available for men who identify as Black. Contact Shane at Roots Community Services. E-mail: shane@rootscs.org to set up a time to have a confidential talk.
What were the past topics?
October -PAIN
November -ADVERSITY
December - GRIEF
January -SURVIVAL
February -FATHERHOOD
March - ABUSE
April- RELATIONSHIPS
May- GEORGE FLOYD 1 YR ANNIVERSARY
June- FORGIVENESS
I have additional questions, who can I contact?
Please contact Shane the Roots Community Services Counselor at shane@rootscs.org 647-846-9434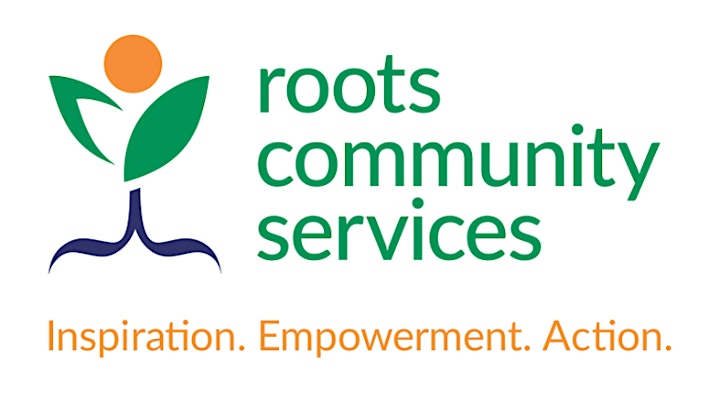 Organizer of Black Men Speak Up
RootsCS is a charitable organization that helps individuals create pathways to achieve their full potential. Through culturally-relevant programs and services we assist them in finding solutions to improve their health, well-being and quality of life, and to heal from the trauma that inhibits their lives.