Black Mental Health: Talking About Incarceration
A dynamic conversation about the mental health impacts of incarceration on the Black community
About this event
Join us for a dynamic event to explore the mental health impacts of incarceration on Black individuals, families and communities. A stellar panel of community leaders and performers will delve into this issue that, fuelled by anti-Black racism and other systemic injustices, disproportionately impacts our Black community.
Panelists & Performers:
LARA AWOLEYE
Lara Awoleye is a licensed Social Worker who has worked in different sectors including Child welfare; Education; Community Mental Health (Intensive Clinical Therapy for Mood Disorders) with children, youth and their caregivers. She is currently providing therapeutic support to students and their families. With a background in Business Administration, Political Science and Minority History; Lara is passionate about Equity and Social Justice at the Micro and Macro levels. She currently serves in Community Groups and Equity Committees to educate, advocate and develop Systemic Anti-Black Racism and Anti-Racism strategies.
As a committed lifelong learner, Lara is obtaining her BECK Certification (with a focus on Depression, Anxiety, Personality Disorders etc.); Evergreen Grief Counselling; and Evergreen Telemental Health and Anxiety Certification. Lara also loves strengthening healthy Couple relationships and runs a marriage support group with her spouse. Lara enjoys taking self-development classes; reading, gardening, baking and cooking gourmet meals for family and friends.
DAVAUN FRANCIS
Davaun Francis holds a Human Rights degree from Carlton University with career aspirations in Law and Public Administration. He is a community leader who had mentored high school youth in the Durham Region, pre-COVID, for over 3 years through a local basketball program. He is passionate about justice and uses his personal life experience to inspire others and bring a transformative lens to the issues of incarceration, youth leadership and the Black Canadian experience. Davaun is also an artist who writes and produces music to capture lessons learned and cultivate creativity.
DAVEISHA FRANCIS
Daveisha Francis is a 2nd year neuroscience student at the University of Sussex. Before pursuing her education in the UK, Daveisha actively engaged in her community co-facilitating workshops for Black youth to address the systematic, oppressive rape culture, racism and colourism in today's society. She is also a recognized spoken word poet who aims to cultivate resilience in others, bring awareness to specific issues and share about overcoming personal obstacles. Daveisha aspires to become a speech pathologist to help those with traumatic brain injuries regain the ability to communicate.
KAMILAH FRANCIS
Kamilah Francis obtained her HBSc in Behavioural Neuroscience in 2016 and is the Acquired Brain Injury System Navigator for the NE region of Ontario. Her role focuses on education, resource navigation, complex case coordination, and the identification of system gaps and barriers. Within that capacity, Kamilah sits on various provincial committees including the Provincial ABI Network (PABIN) and the Provincial Human Services & Justice Coordinating Committee (HSJCC). She has an interest in the intersection of ABI in the justice system and is passionate about ensuring access to appropriate services for vulnerable populations.
KERRY GORING
Dubbed the Queen of Sexy Smooth through her work with several fortune 500 companies and coaching counterparts, Kerry shares it all.
Youtuber, podcaster, activist, healer, mother and 'Glam-mother', Kerry has worn many hats in the fascinating world of finance and as a 3x entrepreneur before answering her true calling as a trauma-informed Intimacy and Sexuality Coach.
With a passion for creating healing spaces for people of colour and queer folk, Kerry uses her lived experience, certified training as a Sacred Leader and Vita Coaching with world-renowned Layla Martin as her springboard for success.
You can find out all about Kerry and her signature self-pleasure program, Love & Touch on her website KerrySutra.com, or check out her youtube channel, KerrySutraTV for all the newest tips and tricks on sex, love, and relationships!
HODA SAMATER
Hoda Samater is the Owner of Begin to Heal Counselling and Consulting Services. 15 years of practice in mental health capacity building and harm reduction. Trained in short term crisis intervention, long term case management counselling, solution focused counselling and cognitive behavior therapy. Currently enrolled as a PhD student at the University of Toronto in the Social Justice Education stream. Graduate of the Master of Social Work (MSW) Degree in Social Justice and Diversity. Embarked with two undergraduate degrees. 7 years of practice as a motivational speaker directed at bridging the systematic and awareness gaps affecting marginalized and vulnerable populations. Designed over 20 training sessions on alternative healing strategies using indigenous and Afrocentric frameworks. Organized community engagement events for 200+ participants working in the human service sector. Invited to speak on topics centered around feasible and accessible treatment options pertinent to immigrants from the Global South. Attended the January 2015 conference held in Kigali, Rwanda as an expert to take part in a 4-day discussion on mobilizing and harnessing the Somali Diaspora for National Reconciliation. Developing a human service curriculum aimed to improve the way social work is practiced. Promoting traditional and religious healing strategies from a multifaceted systems perspective.
DANNY STONE
Danny Stone is an Entrepreneur, Author, Podcast Host, Coach, Speaker, Teacher and Community Servant. He is the Founder of the School of Success, an online school for entrepreneurs that teaches them how to level up their businesses and their lives.
He is currently an Advisor and Community Servant with Zero Gun Violence Movement, a group committed to ending gun violence and creating safe communities in the Greater Toronto Area.
Both of his books, You Have The Keys, Now Drive and Knew Me (written by 10 black men) are currently being read by incarcerated at a maximum security detention centre in Toronto. He is working with the incarcerated men to help them to begin to heal from past traumas and shift their thinking to transition out and become productive members of society.
He believes that you have something special, find out what it is and live it out loud.
PATRICIA ALLARD, LL.B, LLM, MA
Patricia Allard is the Principal Negotiator and Mediator of Relational Dispute Resolution, RDR. As Principal, Pat coordinates the Campaign to Keep Families Together that obtained 3.5 million from Congress to enable states to develop pilot programs, diverting parents/caregivers from prison to be home to care for their children. Her research and advocacy efforts encompass a broad range of topics, with a particular focus on the impact of criminal justice policies on low-income women and women of color. In addition, Pat supports people in mediating their differences, and offers individual or group communication-skill trainings.
Pat is an attorney who has consulted for Amnesty International and worked on staff at the Sentencing Project, the Brennan Center for Justice at New York University Law School, and at Justice Strategies. She is the author of several national reports, including "Life Sentences: Denying Welfare Benefits to Women Convicted of Drug Offenses" (Sentencing Project, 2002), "Rebuilding Families, Reclaiming Lives: State Obligations to Children in Foster Care and their Incarcerated Parents" (Patricia Allard and Lynn Lu, Brennan Center for Justice, 2006) and Children on the Outside: Voicing the Pain and Human Cost of Parental Incarceration" (Patricia Allard and Judy Greene, Justice Strategies, 2011). Pat is a graduate of Queen's University Law School in Canada (1996). She received a master's in criminology from the Center of Criminology at the University of Toronto (1999) and a Master of Law in dispute resolution from Osgoode Law School at York University (2017).
Pat enjoys sharing her life with her dynamically engaging wife, Bo Yih, and their spirited, joyful kid, Sam.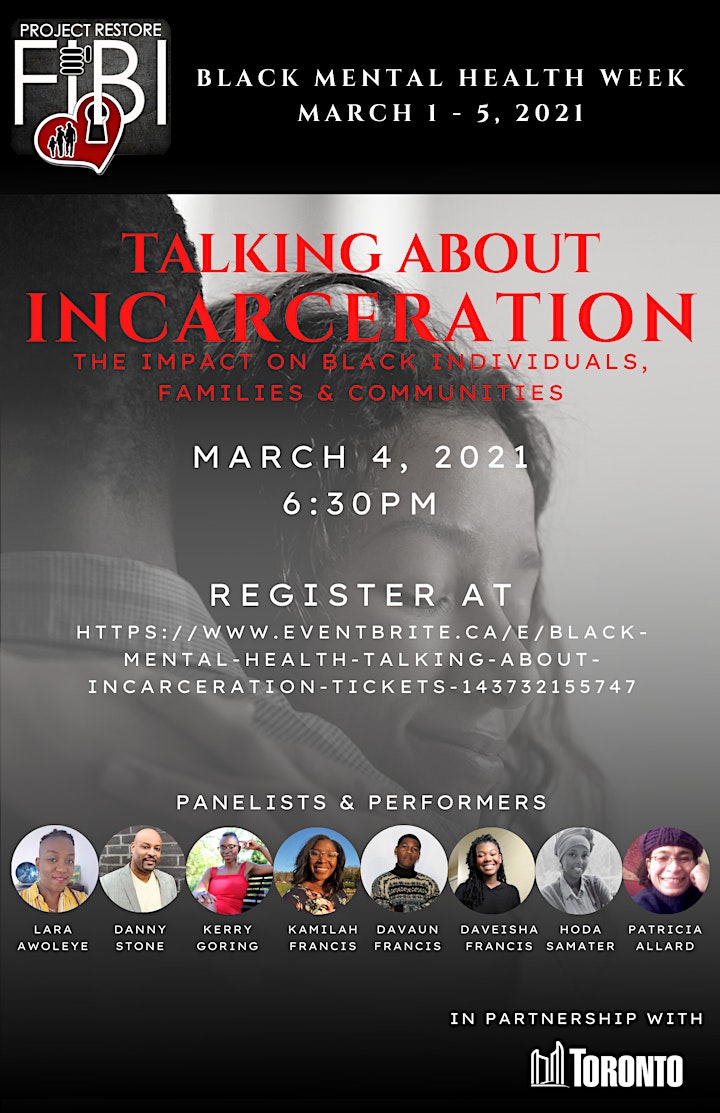 Organizer of Black Mental Health: Talking About Incarceration
Founded in January 2014, Project: Restore FIBI (Families Impacted By Incarceration) is a soft place for families to land when their family is disrupted by a family member's involvement with the criminal justice system. We provide a safe and supportive space for these families to heal, grow and thrive. 
When a parent goes to prison, a child pays the price! Our aim is to interrupt the cycles of trauma, pain, stigma and incarceration. Our mission is to keep families intact and thriving. Our vision is to see all families supported, strengthened, affirmed, and included. 
Our pillars of work include community support services, research, and education and training.