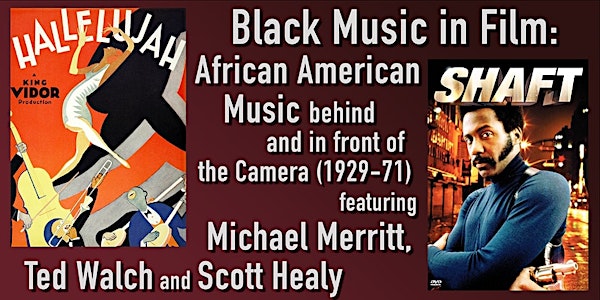 Black Music in Film: African American Music 1929-71
Black Music in Film African American Music Behind and in Front of the Camera (1929-71) featuring Michael Merritt, Ted Walch, and Scott Healy
Refund Policy
Contact the organizer to request a refund.
Eventbrite's fee is nonrefundable.
About this event
LA 12 PM  |  NY 3 PM  |  UK 8 PM
Black Music in Film: African American Music Behind and in Front of the Camera (1929-71) featuring Michael Merritt, Ted Walch and Scott Healy
A discussion of the evolution, the depiction and participation of Black musical artists from the early sound era of the 1930's to the dawn of the blaxploitation era of the early 1970's. Two films bookend this era - Hallelujah (1929) The first all Black talking musical that was a huge hit, and Shaft (1971) Isaac Hayes became the first African American to win the Best Song Oscar.
BIOS:
Mike Merritt's career as a bassist includes 25 years playing in the house band on all of Conan O' Brien's TV talk shows, starting in New York with " Late Night" then moving to Los Angeles for "The Tonight Show" and TBS's "Conan". This gave Mike opportunities to perform with many guest artists over the years, including Cheryl Crow, Bonnie Raitt, The Staple Singers, B.B. King, Slash, Tony Bennett, Steve Miller, Isaac Hayes, Chet Atkins, Pete Townshend, Robert Palmer, Bruce Springsteen and scores of others.
Mike has toured and recorded with Grammy-winning bluesman Johnny Copeland, Rock and Roll Hall of Fame member Johnnie Johnson, and was an original member of Grammy-winner Levon Helm's Midnight Ramble Band. Other artists Mike has either recorded, toured or performed with include Joe Bonamassa, Shemekia Copeland, Billy Gibbons, Larkin Poe, Hubert Sumlin, Son Seals, Popa Chubby, Jimmy Vivino, Al Kooper, Odetta, Catherine Russell, Beth Hart, Southside Johnny, Jimmie Vaughan and Stevie Ray Vaughan.
Originally from Philadelphia, PA, Mike was influenced and guided by his father, legendary jazz bassist and composer Jymie Merritt (of Art Blakey and the Jazz Messengers).
Mike has recorded one album as a co-leader with vocalist sibling Mharlyn Merritt, Alone Together, and has collaborated on original recording projects including The Coalition with Scott Healy, Glenn Alexander and Shawn Pelton; Rock Candy Funk Party with Tal Bergman, Joe Bonamassa, Renato Neto and Ron DeJesus and The Love Trio with Paul Tillotson and James Wormworth. He's also played at the Las Vegas Big Blues Bender as a member of the 2021 Bender Brass Band.
Activities related to Mike's appreciation of films and filmmaking include being a Guest Programmer on Turner Classic Movies with Ben Mankiewicz, and a guest lecturer at the Harvard Westlake School's Cinema Sundays series.
Other activities include being on the NARAS Board of Governors, NY Chapter 2002- 2003, as well as membership in RMALA, SAG-AFTRA and The Blues Foundation. Mike was recently appointed to the National Recording Preservation Board of the Library of Congress, representing the American Federation of Musicians.
Ted Walch holds an endowed chair in his name for Cinema Studies and Performing Arts at Harvard-Westlake School, where he has taught film study and philosophy and directed the theater program since 1991. Walch co-hosts a Podcast (classicmoviemusts.com) and a series at Harvard-Westlake called Cinema Sundays, for which today's Michael Merritt is a regular guest.
Moderator and ASMAC Board Member Scott Healy is a GRAMMY-nominated composer, producer, pianist, and multi-keyboardist who multitasks across the musical spectrum. He is best-known for playing in the house band for Conan O'Brien. As a composer, bandleader, and producer, Scott released Hudson City Suite, by the 10-piece Scott Healy Ensemble, in 2013, to worldwide praise, stellar online and print reviews, national jazz radio airplay, and a 2014 GRAMMY nomination for Best Instrumental Composition. In addition to his composing, recording, and live television work, Healy works in Los Angeles as a hired-gun session musician.
***************************************************************************************************
Our online events are all held on Zoom. A log-on link and password will be sent via email upon completion of your ticket order.
All of ASMAC's events are recorded, and your participation serves as your consent to be part of this recording. ASMAC reserves the right to rebroadcast this recording, as well as to offer it for sale in various media.
The American Society of Music Arrangers and Composers (ASMAC) is a registered non-profit 501(c)(3). Our mission is to promote the arts of music arranging, composition and orchestration within the music and entertainment industry and to the general public. ASMAC presents master classes, online events, scholarships and other programs for professionals, students, the entertainment community, as well as to schools and to the general public. Visit www.asmac.org for more info.