BOM YEG is a pop-up style market for Black-owned businesses & creatives in YEG to showcase their products & services to the wider community
About this event
*PLEASE RSVP FOR FREE ON EVENTBRITE TO THE FIRST BOM YEG SO 1- YOU CAN RECEIVE REMINDERS & POTENTIAL FUTURE UPDATES & 2 - WE CAN HAVE AN ESTIMATE OF HOW MANY PATRONS WE CAN EXPECT ON THE DAY OF*
BOM YEG is a pop-up style and community-oriented space for Black-owned businesses, entrepreneurs & creatives in Edmonton to showcase their products and/or services to the wider community. The goal is for BOM YEG to be a spontaneously recurring event in the future where we can all safely connect & build together whether or not we are socially distancing.
!! Physical Distancing & Safety Guidelines in full effect !!
Please note that this event will take place RAIN or SHINE. Please plan accordingly.
Want to apply to be a vendor? Please fill out the form below by FRIDAY, JULY 17 to register as a potential vendor in BOM YEG. Confirmed vendors will be contacted on July 19 by the BOM YEG team: https://forms.gle/1S42y34nyiy8dAEf6
Schedule
12-2 PM: Set up of BOM YEG
2-6 PM: Guests arrive
2-6 PM: Entertainers/DJ performs
6 PM: Formal closing of BOM Fest
630- 8:00 PM: Clean up and tear down of BOM YEG
Zero Tolerance Policy
BOM YEG has a ZERO Tolerance Policy for bullying, harassment, violence, hate or otherwise disrespectful behaviour by vendors or customers. Anyone found to be disrespecting our Zero Tolerance Policy will be removed, with no refund awarded.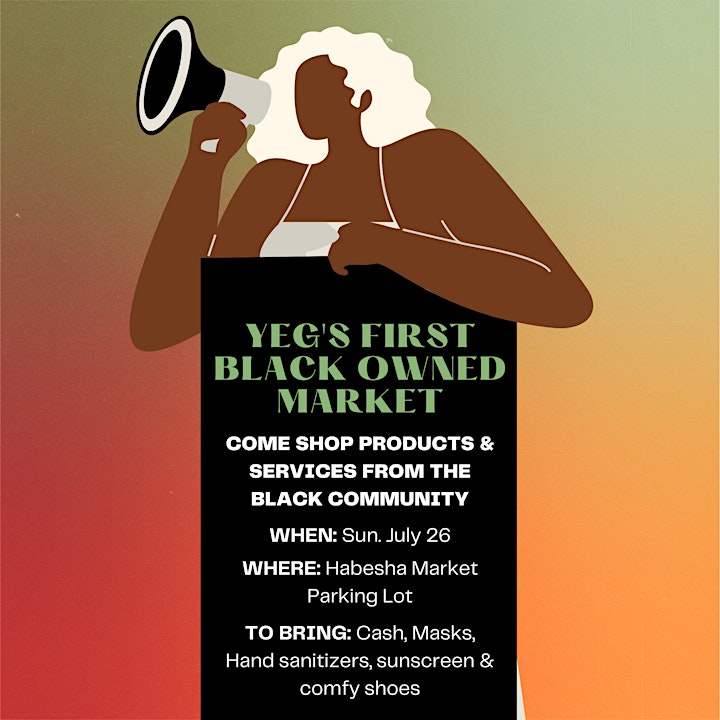 Organizer of Black-Owned Market (BOM) Edmonton (YEG)