Location
SFU Vancouver Campus - Harbour Centre
515 West Hastings Street
Room 1900
Vancouver, BC V6B 5K3
Canada
The global reach of Black radicalism changed the language of the Civil Rights and Black Power movements in the Canadian context.
About this event
Black Radical Traditions and Educational Encounters in Canada
The Simon Fraser University Department of History invites you to attend the first lecture in our 2021-2022 Annual Public Lecture Series, Highlighting Black Histories.
Due to COVID-19, this year's lectures will have a only a limited number of in-person guests. In-person guests will be required to wear masks in all in-door campus spaces and show proof of vaccination and one piece of government ID before being allowed access to the lecture theater. Be sure to register early if you plan to attend in-person!
Guests who choose not to attend in-person will be able to watch the lecture live, and participate in the Q&A, via the Zoom platform. A link to the Zoom webinar will be distributed by email to all registered attendees with online admissions at 2PM on October 22nd. Only registered attendees with a valid email address will receive the Zoom webinar link.
IMPORTANT: Please choose between 'In-person Admission' and 'Online Admission' when registering for the event.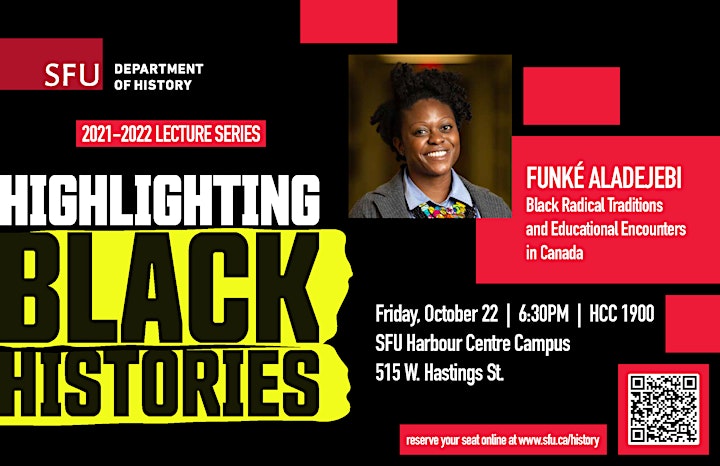 Initiatives created in the 60s and 70s by individuals of African descent, such as the Black Peoples Conference and the Black Education Project, served as examples of the need for Black Canadians to take direct political action against institutional racism in Canada. Hoping to forge alliances with one another, these organizations recognized the global impact of Pan-Africanism and black radicalism that not only adopted, but also changed, the language of the Civil Rights and Black Power movements in the Canadian context. Carrying traditions of community uplift and cooperation, Aladejebi will discuss the ongoing legacies of black political and radical action through education.
Funké Aladejebi is a scholar of the twentieth century with a specialization in Black Canadian history and Assistant Professor of History at the University of Toronto. Her work explores the importance of Black Canadian women in sustaining their communities and preserving a distinct Black identity within restrictive gender and racial barriers. Aladejebi has been involved in a variety of community engagement and social justice initiatives in Toronto and her research interests are in oral history, and the history of education in Canada, Black feminist thought and transnationalism. Her book, Schooling the System: A History of Black Women Teachers, explores the intersections of race, gender and access in Canadian educational institutions. A co-edited collection, Unsettling the Great White North: Black Canadian History, is scheduled for release in January 2022.