Black Resilience: Building a Black Food Sovereignty Alliance Toronto
Voices from the field - A Black Food Sovereignty Initiative Toronto event
About this Event
Presented by:
The Centre for Studies in Food Security Ryerson University & Afri-Can FoodBasket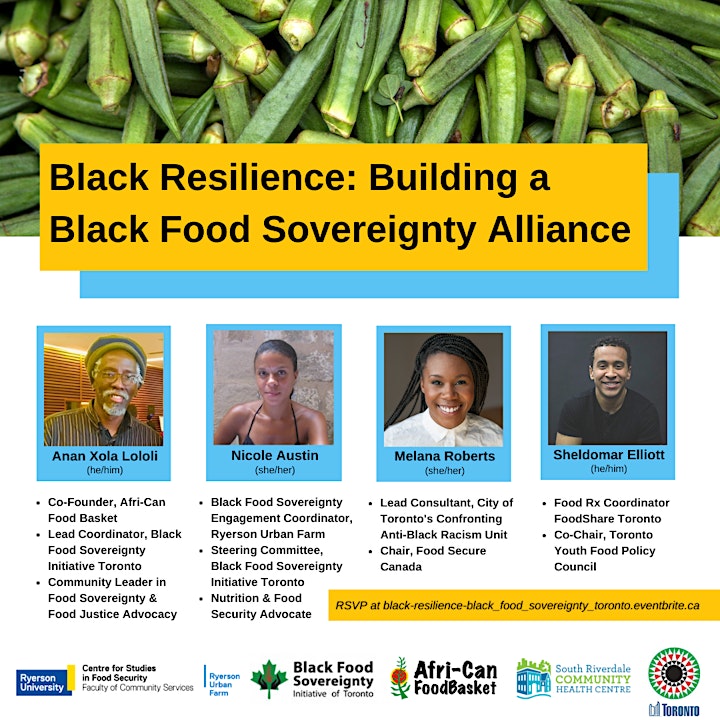 The work taking place to further and strengthen Black Food Sovereignty Initiative Toronto continues. Hear some updates from the field as we continue building community capacity to strategize and establish a sustainable and effective Black Food Sovereignty Alliance in Toronto.
Black Food Sovereignty offers a food-based framework to address the food insecurity and food justice challenges facing African, Caribbean and Black communities across the GTA. This work can elicit effective, community-led change at the socio-economic and policy levels.
The current pandemic lays bare the many cross-sectional dynamics that have disproportionately impacted the Black community in negative ways and serves to highlight the many socio-economic disparities facing the community that are rooted in systemic racism.
Learn more about Black Food Sovereignty work in action, why it matters in relation to food justice, food security, social and economic self-determination and Black resiliency. The work that has taken place over the past 25 years has laid the foundation to strengthen the efforts of today, as food-based solutions can be used as a framework to transform the food system into one that is more equitable and sustainable for tomorrow.
Join the conversation to share ideas about how Black Food Sovereignty and Black resiliency can transform food systems by making space for us to reclaim and reconnect with traditional foodways, and the right to reclaim knowledge and labour that was once stolen and use them to nourish our bodies, families and communities.