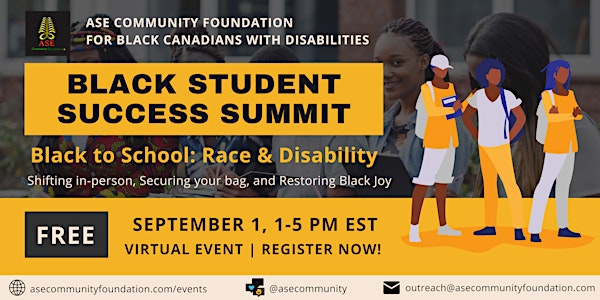 Black Student Success Summit 2022
ASE Community Foundation is hosting its Black Student Success Summit on Thursday September 1 from 1:00-5:00PM EST!
About this event
ASE Community Foundation for Black Canadians with Disabilities is excited to announce our 2nd annual Black Student Success Summit | Black to School: Race and Disability!
Our summit theme this year is: Shifting from virtual to in-person learning, securing your bag, and restoring Black joy!
Are you a student worried about the transition from online to in-person learning? We're here to help and talk about it! Come to our summit for tips and tricks on navigating this "new normal" and learn about all the resources available to you.
Join us for a day of panels on navigating this change, presentations on financial resources and aid available for Black and/or disabled students, workshops on restoring Black joy, and opportunities to connect with other Black students!
In addition to this, we will be hosting a giveaway with gift cards and professional headshots, and awarding one event attendee with a $250 microscholarship. We hope to see you there!
Everyone is welcome to join!
Contact Information: outreach@asecommunityfoundation.com
EVENT ITINERARY
1:00-1:15- Welcome, Registration & Introduction
1:15-1:30- Keynote
1:30-2:15- Discussion Panel | Navigating Through Change: Online to In-person learning
Managing anxiety
Transitioning back to in-person learning
Note-taking strategies
Reconnecting with profs, friends, and school spaces
2:15-2:20- ASE Youth Programming Summary
2:20-2:25- Break
2:25-3:35- Securing your bag
3:35-4:30- Restoring Black Joy
4:30-5:00- Wrap Up + Closing + Giveaway