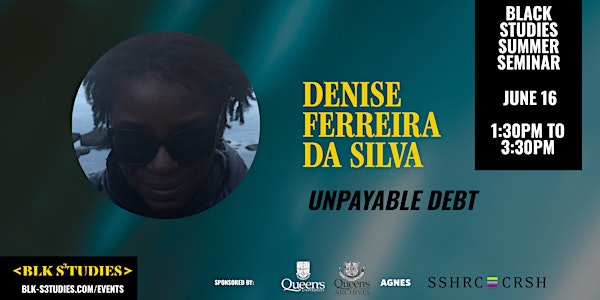 Black Studies Summer Seminar - A Talk w/Dr. Denise Ferreira da Silva
Dr. Denise Ferreira Da Silva - Unpayable Debt.
About this event
A sketched black feminist poethical figure with which seeks to capture how coloniality and raciality operate in Global Capital. Framed as a dialectical image, it guides a reading of the notion of value that traces the continuous operation of coloniality in the modern economic and ethical scenes. With a focus on the philosophical infrastructure of the notion of value, Unpaybable Debt exposes global capital as a juridic-economic architecture and attendant ethical grammar, in which raciality (the symbolic figuring of coloniality) justifies otherwise ethically untenable deployments of total violence that allow for the continued expropriation (of labour) and extraction (of resources) of Europe's racial others and their lands.
https://queensu.zoom.us/webinar/register/WN_r4jyTOzPQKyeLWsosUtvCg
passcode: 081884