Description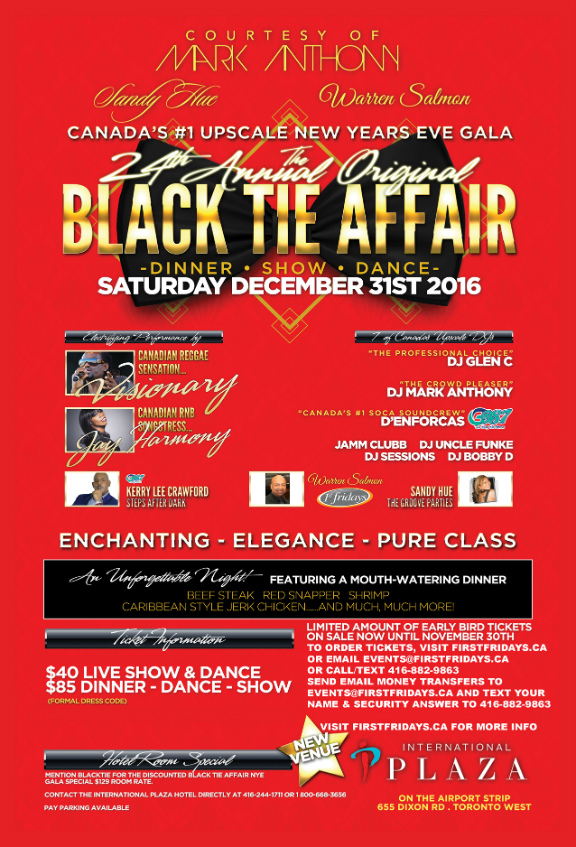 Mark Anthony, First Fridays & Sandy Hue
Present:
EveryOne's Favorite
THE 24TH ANNUAL
"BLACK TIE AFFAIR"
NEW YEARS EVE GALA
DINNER - SHOW - DANCE
In association with
Sandy Hue
SATURDAY, DECEMBER 31, 2016
inside the beautiful
INTERNATIONAL PLAZA Hotel
655 Dixon Rd., Toronto ON
The INTERNATIONAL PLAZA Hotel
will be transformed into a glittering paradise
For Canada's longest running urban New Years Eve Gala
THE GTA's High End Destination for pure satisfaction!
Great Food, Awarding Winning Singer and Beautiful People
makes
"THE BLACK TIE AFFAIR"
Undoubtedly the most spectacular event of the year...
The perfect night to Socialize...Get Down... and Let Your Soul Lead The Way!
$40 ADVANCE TICKETS - LIVE SHOW & DANCE
$85 DINNER, LIVE SHOW & DANCE
TO ORDER TICKETS, VISIT THE LINK BELOW:
https://newyearseveblacktieaffair2016.eventbrite.ca
OR EMAIL EVENTS@FIRSTFRIDAYS.CA
OR CALL/TEXT 416-882-9863
SEND EMAIL MONEY TRANSFERS TO EVENTS@FIRSTFRIDAYS.CA AND TEXT YOUR NAME & SECURITY ANSWER TO 416-882-9863
VISIT FIRSTFRIDAYS.CA FOR MORE INFO
**HOTEL ROOM SPECIAL**
WANT A ROOM FOR THE NIGHT?
MENTION "BLACK TIE" FOR DISCOUNTED BLACK TIE AFFAIR NYE GALA SPECIAL...$129.00 ROOM RATE!
CONTACT THE INTERNATIONAL PLAZA HOTEL DIRECTLY AT
416-244-1711 OR 1-800-668-3656
TO BOOK YOUR SPECIAL RATED ROOM ON LINE VISIT:
https://gc.synxis.com/rez.aspx?tps=fml&arrive=2016-12-31&adult=1&step=1&hotel=59726&shell=fYYZIP2&chain=10237&template=fYYZIP&avcurrency=USD&group=BLACKTIE