About this Event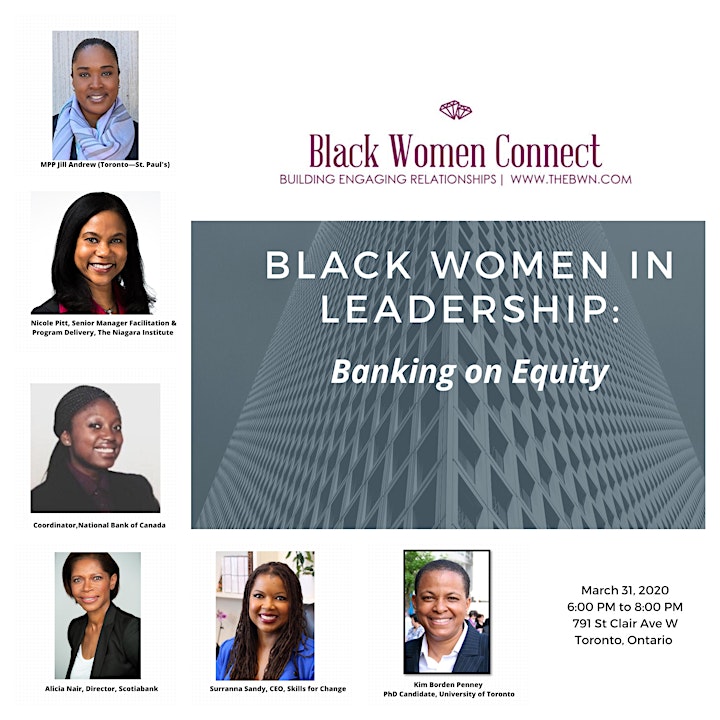 Black Women in Leadership Speaker and Networking Night
Black Women in Leadership is a series of networking, speaker and learning events designed to encourage, support and inspire Black Women to succeed in the workplace. These events benefit Black Women at all career levels from students to Executives interested personal connections enhancement, knowledge development, network expansion and career growth.
Banking on Equity, is a networking and learning session derived from Kim Penney's research on "Banking on Equity: Bay Street and Black Women's Leadership in Banks". We will be bringing Black Women together to discuss their leadership experiences and their perceptions of opportunities for mobility and advancement to executive management positions for Black Women in the banking sector. Come meet aspiring and accomplished Black Women at various stages of their careers in a conversation on the motivations and challenges they faced while becoming leaders.
We encourage Black Women of all career levels to join us. We know that real change happens when we work together to accomplish our objectives.
Speakers Bio
Jill Andrew MPP, Toronto–St. Paul's
Jill Andrew is the Member of Provincial Parliament for Toronto-St. Paul's and the ONDP Culture Critic. She is an award-winning equity educator, body image advocate, speaker and writer. As the co-founder of Body Confidence Canada, #SizeismSUCKS and Body Confidence Awareness Week, Andrew advocates to end size and appearance-based discrimination, harassment and bullying throughout the life spectrum.Andrew is a community co-owner of Glad Day Bookshop – the world's oldest LGBT bookstore. She has been an avid volunteer and donor to organizations across the GTA supporting Black and racialized communities, youth, women, chronic health and queer rights through community engagement, education, employment, healthcare, housing and the arts.
She holds a Master's degree in women and gender studies from the University of Toronto New College and recently completed her PhD at York University's Faculty of Education. Jill is also a graduate of the Women Win TO political training series. Jill is an animal fanatic – especially cats – and she credits music and theatre education in her youth for helping her to find her voice. Jill is deeply honoured to be your MPP and she is ready to work for you!
Alicia Mair, Director Scotia Bank
Alicia has over 20 years in the capital markets industry. Alicia is currently a Director, Client Relationship Management in National Accounts, Commercial Banking at Scotiabank. She is responsible for business development activities in addition to managing a portfolio of Commercial Banking clients. She assumed this position in December 2016. Previous roles include Associate Director in Loan Syndications where she led many successful financings and an Associate in Corporate Banking where she worked on accounts including Shoppers Drug Mart and Rexall Pharma.
She has served on the Board of Directors for Women in Capital Markets and was Co-Chair of the Vinifera Annual Fundraising Gala, the primary fundraising event for Women in Capital Markets in 2010 and 2011. She also previously served on the board of Urban Financial Services Coalition, now the Canadian Association of Urban Professionals. Alicia holds a BA from Western University and is a CFA Charterholder.
Surranna Sandy, CEO, Skills for Change
Surranna Sandy is the Chief Executive Officer of Skills for Change (SfC), a registered charity and nonprofit multi-service agency in Toronto, Ontario serving 14,000 Immigrants and Refugees annually. Prior to becoming the CEO of SfC, Surranna Surranna started her career in human resources at Toronto Dominion Bank and enjoyed a successful career as President and Founder of Surcorp Group, a Career Management firm with offices in Toronto and Ottawa. Having the first-hand perspective of an Immigrant in a new country, Surranna found her calling in advocating for and advancing the needs of immigrants and refugees as a volunteer and board member in the settlement sector. Surranna has a Master of Arts in Leadership and Management from Anglia Ruskin University, an MBA in Human Resources Management from the University of Wales, an Hons Bachelor of Arts in Leadership and Management from Northumbria University, a Diploma in Human Resources Management, and a Certificate in HR Management.
Surranna was awarded the Government of Canada's Canada 150 Outstanding Neighbour award. This award is in recognition of her community service, as CEO of Skills for Change. She is a reciepint of the 100 Canadian Accomplished Black Women Awards in September. She is a member of the City of Toronto's Partnership & Accountability Circle ("PAC") for The Toronto Action Plan to Confront Anti-black Racism. In this capacity, she is focused on advocating, guiding and supporting the full implementation of the Toronto Action Plan to Confront Anti-Black Racism within the City of Toronto. She currently serves as an Advisory Committee Member of the Ontario Nonprofit Network's Decent Work for Women project
Surranna is the Past Chair of the Board of Directors of the Toronto Workforce Innovation Group and a former Board Member of First Work, Ontario's Youth Employment Assistant Centers, Ontario Office Workers Centre and the Black Business Professionals Associations.
Nicole Pitt , Senior Manager Facilitation & Program Delivery, The Niagara Institute
Nicole Pitt is the Senior Manager Program Delivery and Head Leadership Coach at the Niagara Institute, responsible for overall quality assurance of leadership coaching and development programs. With over 15 years of experience, Nicole brings deep expertise in corporate learning and leadership development.
Nicole holds a BA in English and a Post Graduate Diploma in Education from the University of the West Indies, Jamaica, and a Master of Arts Degree in English Language Teaching for Specific Purposes from the University of Warwick, UK. She also holds a Graduate Certificate in Executive and Professional Coaching from the University of Texas at Dallas and is an International Coach Federation (ICF™) Associate Certified Coach (ACC®).
Originally from Jamaica, Nicole has lived in 5 other countries prior to relocating to Toronto in June 2014. These experiences have helped shape her into the unique individual that she is. With her passion for travel, Nicole hopes to visit 100 different countries in her lifetime.
Kim Borden Penney, PhD Candidate, Unviersity of Toronto
Kim Borden Penney, MBA, CFA, M.Ed. is currently a Ph.D. Candidate at the Ontario Institute of Studies in Education (OISE)in the Department of Social Justice Education. She is a descendent of indigenous Black Canadians in Nova Scotia (Scotians) whose roots reach back to the late 1600s. My research examines Black women's leadership experiences in the Canadian banking sector and their perceptions about opportunities for mobility and advancement to executive management positions. My research is not focused on any one Black woman. But rather the leadership strategies Black women utilize to navigate their careers in the banking sector. My research objective is to understand why there continues to be an under representation of Black women in senior leadership positions in Canadian banks. Currently, there are no Black women in executive leadership positions in the Canadian banking sector. Thus, the aim of my research is to examine the factors and conditions that make Black women's executive leadership in corporate Canada so exceedingly rare. She has presented at the following conferences:
Congress 2019 - Canadian Sociological Association, Vancouver, British Columbia, Race and Ethnicity II: Pardon Me, that's my seat: Navigating through racialized spaces. June 3, 2019. Panel Presenter: "Hidden in Plainview: The Missing Pages of the Cultural History and Knowledge(s) of Africville, Nova Scotia, Canada."
2019 American Education Research Association (AERA), Toronto, Canada: Queering Access, Inclusion, and Equity in Higher Education. April 6, 2019. Panel Presenter: Nonfinancial Barriers of Queer and Trans Young Black Women Transitioning to Postsecondary Education.
2019 Protests & Pedagogy: The Legacies of Caribbean Student Resistance and the Sir George Williams Affair, Montreal, 1969 – Concordia University, Montreal, Feb 2019. Panel 5 Presenter: Black Canadians Histories & Geographies - "Hidden in Plainview: The Missing Pages of the Cultural History and Knowledge(s) of Africville, Nova Scotia, Canada."
2017 International Day for the Elimination of Racial Discrimination (IDERD) Conference - What is Anti-racism Good For? University of Toronto, Canada, March 2017. Topic: Institutional Transformation (Culture, Structure, Policy, Governance and Leadership). Panel 4 Presenter: Navigating the Spaces of Higher Learning: Race, Place, Sexuality and Disability. "A Playground for Butches and Sissies: Anti-racism and School Climate Policies in Toronto and New York City."
Nancy Ofeke, Coordinator, National Bank
Nancy Ofeke is currently a Coordinator in Mutual Funds at National Bank. She has been leading the bank in innovative implementation of financial systems, process improvements and has been responsible for building the new department from the ground up. She has a Business Administration in Finance Diploma from George Brown College and has been in the banking and finance industry since 2016 - first as a senior analyst and now in a new and exciting leadership role as Coordinator for a little over a year. Throughout the last four years she has had a vast range of varied experience, due to her willingness to always learn something new. This constant insatiable need for knowledge has been key in her growth and career advancement. She is an avid foodie and traveller and is always keen to learning about new cultures and experiencing new cuisine.