Location
Artscape Weston Common
34 John Street
Toronto, ON M9N 1J3
Canada
Refund policy
Contact the organizer to request a refund.
Eventbrite's fee is nonrefundable.
The inaugural BLACK WOMEN IN THEATRE is a showcase of new work excerpts from talented sisters based out of Canada and the United States.
About this event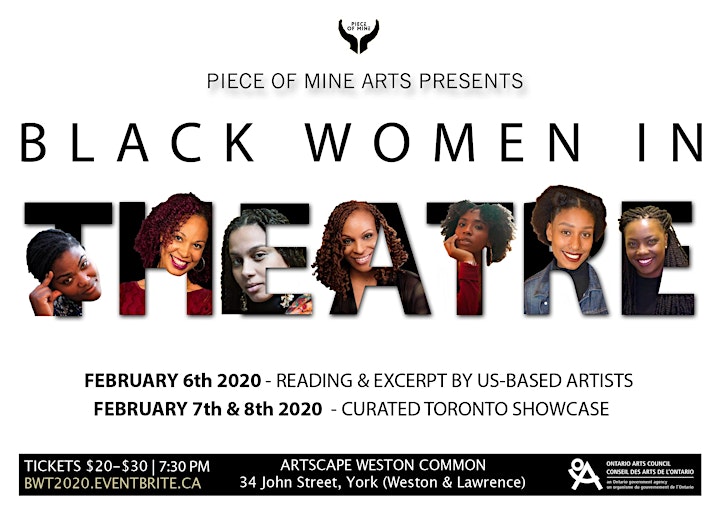 Following three successful Black Men in Theatre showcases, PIECE OF MINE Arts is due for a switch up! Black Women in Theatre brings the heat this winter with suspenseful excerpts from seven unique voices.
Join us inside Artscape Weston Common's Rockport Hall, the brand new facility steps away from Weston Road and Lawrence West (34 John Street, Toronto, ON M9N 1J3). After the show you'll have more quotes about Toronto than a Drake track, plus insight into narratives from DC and North Carolina playwrights.
SCHEDULE
Thursday February 6th, 2020
A reading by Korinn Annette Jefferies and an excerpt by Nicole Morgan.
Friday February 7th and Saturday February 8th *same show both days*
Excerpts by Anne Marie Woods, Anyika Mark, Dian Marie Bridge, Paulina O'Kieffe-Anthony, and Natassia Morris-Parson.
Doors open at 7:00 PM, Showtime 7:30 PM .
Running time 120 minutes with intermission.
Cash, credit and debit will be accepted at the door.
Public transit, parking, and wheelchair accessible.
LINE UP
Why Black Women Whisper
by Anne-Marie Woods aka Amani
February 7th & 8th @ 7:30 PM
Why Black Women Whisper is a metaphor – a phrase that speaks to the pain of what Black women go through when they speak up. The poetic piece, performed entirely in spoken word, is about five Black women from different generations who struggle with life, love and their identity. They meet once a month at the Sojourner Book Club run by Patrice reading the latest assigned book, Micha's Movements, a slave narrative about a young runaway enslaved woman who was brutally beaten at the hands of her master. Through reading the book and sharing their ideas about the plot and characters their own stories are revealed.
Making Moves
by Anyika Mark
February 7th & 8th @ 7:30 PM
Making Moves delivers a day in the life of young, Black people in Toronto's West-end. As they move through their day, it is impossible to ignore how political their social lives are, how they are all deeply connected, and that sometimes, there's nothing more to do other than to keep making moves. Drawing inspiration from Trey Anthony's Da Kink in My Hair and Spike Lee's Do the Right Thing, Making Moves stands as an embodied emotional response to the playwright's lived experience as a young Black Canadian.
Crossing Into Lullaby
by Dian Marie Bridge
February 7th & 8th @ 7:30 PM
In a creative exploration of the space between history and myth, Crossing Into Lullaby uses the true-to-life story of a mysterious childhood sickness to look into the desperation that can come with parenthood, and how knowledge of the closeness to which we live with death impacts our lives.
the water
by Korinn Annette Jefferies
A Reading on February 6th @ 7:30 PM
the water is a story about the beach. it is the tale of white sand and Black bodies, of lineage, and community. it is summertime in the 1960s and the water is the place to be— even if it means risking your life to be there. the water explores the integration of public beaches in the 1960s and the relationship Black people have with water.
Out of the Mouths of Boys
by Nicole Morgan
February 6th @ 7:30 PM
Out of the Mouths of Boys is written as a conversation piece designed to engage audiences on the topic of where male sexual abuse survivors fit into the #metoo movement. This production tackles topics such as: incest, the double isolationism experience of Deaf inmates, toxic masculinity and more. While honoring the work of Tarana Burke, with this very raw and provocative piece we hope to follow in her footsteps by giving (male) victims a voice and creating camaraderie for all. 
How Jab Jab Saved the Pretty Mas
by Paulina O'Kieffe-Anthony and Natassia Parson-Morris
February 7th & 8th @ 7:30 PM
The annual Toronto Caribbean Carnival festivities are in full swing and best friends Iesha and Giselle are ready to live their best life as they prepare to play mas in the Grand Parade. With the new #Respectdemas movement in full force and the influence of a respected elder sharing stories of Carnival history and culture, the two friends find themselves navigating their relationship through opposing views of carnival culture, leaving them to wonder if their friendship will even survive the end of the Carnival season. How Jab Jab Saved the Pretty Mas brings together the magic and history of traditional Carnival from Trinidad with the modern diasporic Mas Culture from Toronto to help two, second-generation Caribbean women find their own identities and power as they look back in order to move forward.
MORE INFORMATION
For community groups and individuals living/operating in the York-South Weston community, you qualify for complimentary tickets. Make a request as soon as possible to info@pieceofminearts.com with: a requested date(s), number of tickets, and name of the organization (if applicable). No restrictions on age.
Visit pieceofminearts.com for more information.