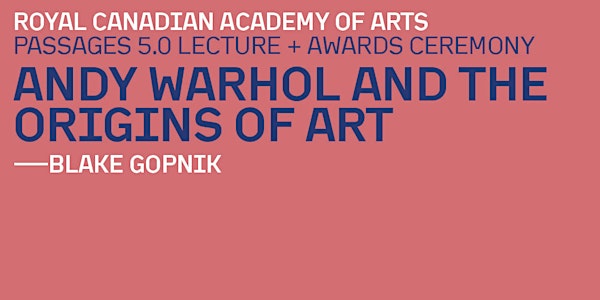 Blake Gopnik: Andy Warhol and the Origins of Art
A leading critic presents his recent research on Warhol / Un critique de premier plan présente ses récentes recherches sur Warhol
About this event
Zoom link for online lecture / Lien Zoom pour conférence en ligne
Passcode: RCAAlec21
LE FRANÇAIS SUIVRA
Almost 35 years after his death, Andy Warhol still has a vast presence in our artistic culture. In his keynote lecture for the RCA, art critic Blake Gopnik argues that this presence depends on the vital place of appropriation in the artist's work and career, and how that underlines the role that appropriation has played in forging the very idea of art in the West.
Blake Gopnik is the author of Warhol, the definitive biography of the Pop artist. He has been the staff critic at the Globe and Mail, the Washington Post and Newsweek, and critic-at-large for ArtInfo and Artnet News. He is a regular contributor to the New York Times and posts his Daily Pic at BlakeGopnik.com and Warhol findings at Warholiana.com. He holds a PhD in art history from Oxford University.
Blake Gopnik will be introduced by writer and critic Robert Enright.
- - - - - - - - - - - - - - - - - - - - - - - - - - - - - - - - - - - - - - - - - - - - - - - - - -
Andy Warhol et les origines de l'art
Presque 35 années après sa mort, Andy Warhol demeure encore très présent dans notre culture artistique. Dans la conférence d'honneur qu'il donnera pour l'Académie, le critique d'art Blake Gopnik avance que cette présence repose sur la place vitale de l'appropriation dans l'œuvre et la carrière de l'artiste, et comment cela souligne le rôle joué par l'appropriation dans la formation de l'idée même de l'art en Occident.
Blake Gopnik est l'auteur de Warhol, la biographie définitive consacrée à cet artiste du Pop Art. Il a été critique assigné au Globe and Mail, au Washington Post et à Newsweek, et critique pigiste pour ArtInfo et Artnet News. Il contribue régulièrement au New York Times et affiche son « Daily Pic » [sélection du jour] sur BlakeGopnik.com et ses trouvailles concernant Warhol sur Warholiana.com. Il détient un doctorat en histoire de l'art de l'Université d'Oxford.
Blake Gopnik sera présenté par l'écrivain et critique Robert Enright.