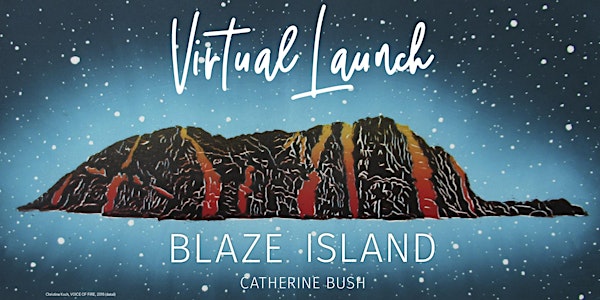 Blaze Island Virtual Book Launch
Join Goose Lane Editions and Another Story Bookshop to celebrate the launch of Blaze Island by Catherine Bush
About this event
Join Goose Lane Editions and Another Story Bookshop to celebrate the launch of Blaze Island by Catherine Bush, streamed on the event page via Facebook Live.
Featuring a screening of the short film, "We Are Islands," by filmmaker Mike Hoolboom in collaboration with Fogo Island photographer Paddy Barry and artist M'Liz Keefe; a reading from Blaze Island; music by Marie Bryan; and an interview with Kathryn Mockler, publisher of the climate-themed website Watch Your Head and editor of the forthcoming Watch Your Head anthology.
.
Personalized signed copies of Blaze Island available here.
Please indicate in the notes section of your online order that you would like a personalized copy, and who it should be made out to. ASB is open for curbside pickup, local delivery and shipment. Deadline for signed copies: Tuesday September 1st at noon. Signed copies will be available on September 2nd.
.
About the book
The time is now or an alternate near now, the world close to our own. A mammoth Category Five hurricane sweeps up the eastern seaboard of North America, leaving devastation in its wake, its outer wings brushing over tiny Blaze Island in the North Atlantic.
Just as the storm disrupts the present, it stirs up the past: Miranda's memories of growing up in an isolated, wind-swept cove and the events of long ago that her father will not allow her to speak of. In the aftermath of the storm, she finds herself in a world altered so quickly and so radically that she hardly knows what has happened. As Miranda says, change is clear after it happens.
"Swept away. This novel is sublime." -Lisa Moore, author of Caught and February.
.
Paddy Barry is a Newfoundland-based photographer with a passion for storytelling, history and documenting, whose work has a strong emphasis on Fogo Island.
Catherine Bush is the author of four previous novels, including the bestselling The Rules of Engagement. She has written and spoken internationally about addressing the climate crisis in fiction and was recently a Fiction Meets Science fellow in Germany.
Mike Hoolboom received the Governor General's Award for media art in 2017. One of Canada's leading experimentalists, he has made more than 100 films, including 18 features, which have won many awards.
M'Liz Keefe lives and paints on Fogo Island. She creates environments reflecting isolation and aloneness through depicting the intensity of weather, light and seasons, and the subtle transformations of the look of the earth.
Kathryn Mockler is the editor of the climate anthology Watch Your Head, coming this fall from Coach House Books. Her debut collection of stories will be out from Book*hug in 2022.
The film, "We Are Islands," was created with funding from the Canada Council's Digital Originals program.