Multiple Dates
BLC 2020 - Introduction to Essentials of Effective Partnerships
Sales Have Ended
Registrations are closed
We're so glad you will be joining us for the Board Leadership Calgary 2020 Non-Profit Learning Event! We're so happy you could be a part of such a great community of learning and networking! You will receive the Zoom link to the event in the days leading up to the event. If you have any questions, please don't hesitate to contact us at boardleadershipcalgary@gmail.com
Sales Have Ended
Registrations are closed
We're so glad you will be joining us for the Board Leadership Calgary 2020 Non-Profit Learning Event! We're so happy you could be a part of such a great community of learning and networking! You will receive the Zoom link to the event in the days leading up to the event. If you have any questions, please don't hesitate to contact us at boardleadershipcalgary@gmail.com
We are back with the annual Board Leadership Calgary learning event for non-profits! This year the whole event will be FREE and virtual.
About this event
New to 2020
2020 has brought some interesting challenges to the Board Leadership Calgary planning team, but we are committed to providing high quality learnings for your non-profit organizations. Like previous years, the intention is to provide basic level learnings for board of directors, staff, and those looking to be involved in non-profit organizations.
This year's learning event will have a different format. We are spreading the learning to three different days of online webinars and three OPTIONAL "Follow Up Friday's" for networking and an extended Question and Answer period, following the topic of the week.
Costs
Free. As a thank you for your continued support of Board Leadership Calgary.
Please note that you will need to register for individual webinars and Follow-Up Friday's to attend.
Thank you to our sponsors for continued support of our event
Friends of the Federation of Calgary Communities
Servus Credit Union
Simple Cloud Works.

Introduction to the Essentials of Effective Partnerships
Topic Area : Board Governance Basics
Date of Webinar
Saturday, November 7 from 10:00 am to 11:30 am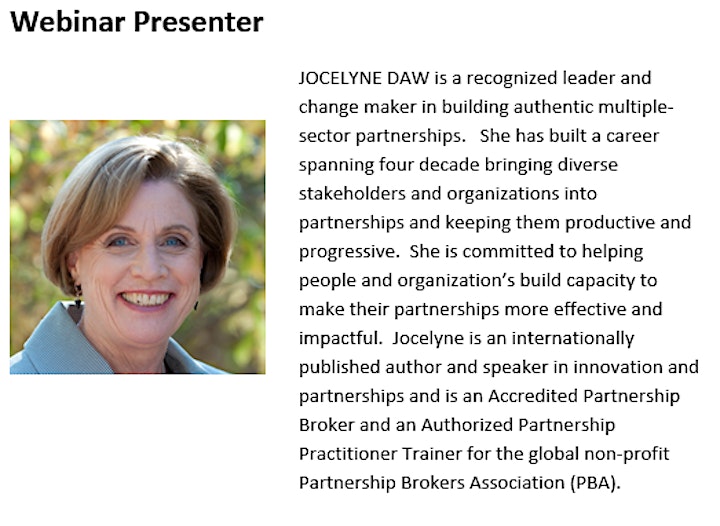 Webinar Description
Demand for community services is rising and the complexity of the challenges is greater than any one single entity. At the same time, funding is in decline and Covid-19 pandemic layered on creates an entirely uncertain future that requires new thinking and approaches. One thing that feels certain is that a collaborative future will be essential for sustainable, just and inclusive communities. But partnerships are hard work and success is not guaranteed. This 90-minute webinar introduces you to some of the essential of effective partnerships to help you and your partners successfully achieve "more than the sum of the parts" results.
Follow Up Friday
WE ARE CURRENTLY SOLD OUT! If you have a ticket and no longer can attend, please cancel your registration so that others can join. Thank you!
Friday, November 13 from 12:00 pm to 1:00 pm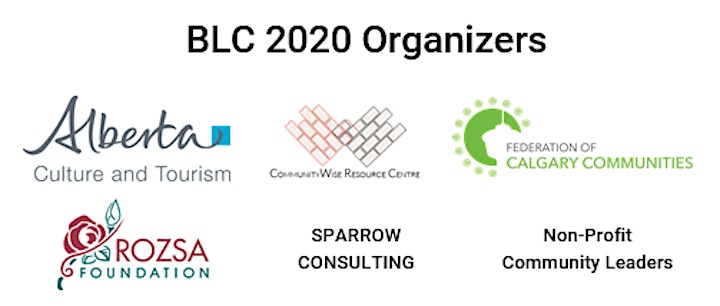 BLC Organizers
Alberta Culture, Multiculturalism & Status of Women, Community Development
CommunityWise Resource Centre
Federation of Calgary Communities
Rozsa Foundation
Sparrow Consulting
Other Non-Profit Community Leaders
Organizer of BLC 2020 - Introduction to Essentials of Effective Partnerships