We are excited to host the eighth annual Board Leadership Calgary learning event for non-profits!
About this event
Eighth Annual Event!
We are committed to continuing to offer high quality learning opportunities to the non-profit community in Calgary and area. Throughout our eight years of the event, it has always been geared to offering basic learnings for board of directors, staff, and those looking to be involved in non-profit organizations.
Online Format
Saturday Webinars
Starting Saturday, November 6 and every other Saturday until December 4, we will host an online webinar featuring local experts in the non-profit community speaking to topics relevant to the non-profit sector in Calgary and area.
Follow Up Friday's
Follow Up Friday's is an opportunity after the Saturday webinar to ask the question, "What does it mean for me and my organization?" If you want to have an extended discussion on the topic, or explore the practicality of the topic, join us for the Follow Up Friday. Note: You don't need to necessarily attend the Saturday webinar for the Follow Up Friday discussion, but it may support the discussions.
Costs
Free. As we offer this years event online, there will be no costs to attendance.
Please note you will need to register for individual events.
Thank you to our sponsors and continued support of our event
Friends of the Federation of Calgary Communities
Servus Credit Union
Simple Cloud Works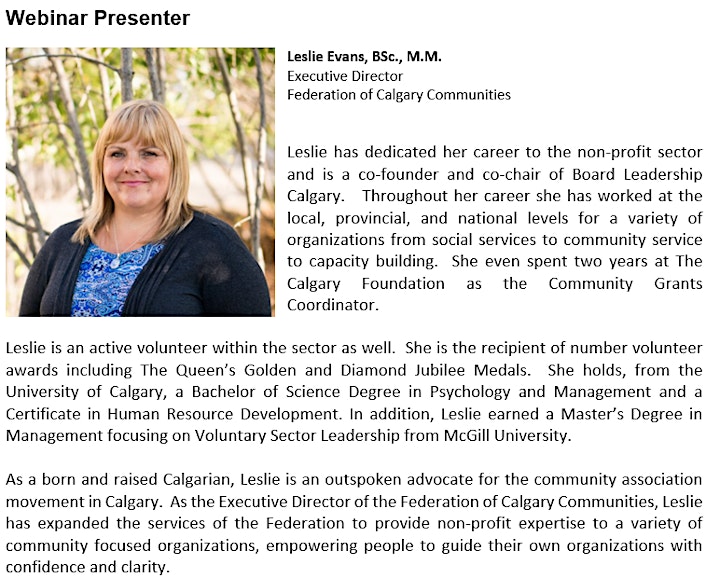 Webinar Description
Non-profits and registered charities are incorporated under provincial and national acts. As incorporated organizations, there are certain structures like bylaws, remittances, reporting and taxation that the board must comply with to maintain incorporated status and to mitigate risk to the board. As dull as this subject sounds, it is important that you know your responsibilities as there can be financial consequences, including the deregistration of your organization and paying revocation tax, for failure to comply.
Join us for a "big picture" look at non-profit compliance. Participation in this learning event will help you to:
Understand how bylaws are the key to governance,
Learn about the different forms of regulatory compliances required of non-profits and charities,
Understand the consequences of failing to comply with requirements; and,
Familiarize yourself with a tool to help track of your organization's compliance obligations
Follow Up Friday - Reflection and Panel Discussion Session
Friday, December 10, 2021 - 12:00 pm to 1:00 pm
Topic: A New Structure - Equitable & Compliant
How are the structures within Nonprofits & Charities impacting decision making. If we look at decolonizing these processes and implementing equity-based practices can we maintain a compliant organization that meets our legal requirements. What are some different kinds of decision making processes, what barriers can we break down for impactful change, and what MUST we do to stay compliant.
Register HERE for Follow Up Friday.

Organizer of BLC 2021 - Understanding Compliance for Non-Profits