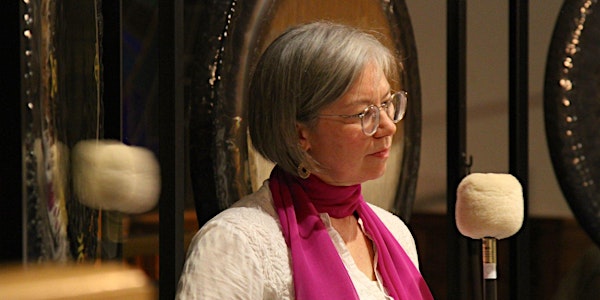 Blissful Kundalini Yoga: Open the Heart Centre - April 11, 2019
Event Information
Location
Dr. Lynne Murfin
7015 Macleod Trail
Suite 280
Calgary, AB T2H 2K6
Canada
Description
Join S.A. Bliss, Journeywoman of Gong, PhD candidate in Education, and Kundalini & Restorative Yoga teacher from Toronto in her 3 exclusive Kundalini Yoga Classes to inagurate The Santuary at Lynne Murfin MD in April 2019.
Classes will be held April 11, 18, and 25 - sign up to drop in for one class, or sign up for all 3 as a series.
This class series will help you to open the heart space & remove energetic blocks. Create openness and cut through what is blocking you. No yoga experience is necessary. Every body is welcome.
Each class in this 3-class series, you will begin with pranayama (breathing) supported by the sweet sounds of the Gong.
Next, you will experience the Kundalini Yoga sequence of exercises called Kriya to Open the Heart Centre. This kriya helps you create open, loving feelings - opening the heart, increasing compassion and sensitivity to others, and helping you to drop emotional defensiveness. Its calming effect allows you to eliminate unnecessary thoughts so you can be more in the present.
After savasana, you will do the chanting meditation Sa Ta Na Ma, Ra Ma Da Sa, Sa Say So Hung, accompanied by the potent sounds of the Gong to help cut through blockages. This is the Ganpati Kriya Meditation, which invokes the spirit of Ganesha to stealthily work through any known or unknown stagnant energies and impediments in your way. Whew - what a relief! Sat Nam!

Facilitator Bio:
S.A. Bliss (Stacey Amardeep) is a Journeywoman of Gong, a PhD candidate in Education, and Kundalini & Restorative Yoga teacher. Her sound immersions, workshops, and yoga classes include a little sound studies theory and focus on practices of efficient movement, holistic resonance, and the allowance of sweet, full silence, all in efforts to recalibrate the body/mind/spirit system.
She has travelled and taught in Germany, Japan, Korea, Croatia, India, China, and Canada. She is currently learning deep listening and Gong consciousness from Master Don Conreaux, and she draws from a lineage of wisdom teachers including: Ramana Maharshi, Jiddu Krishnamurti, Yogi Bhajan, and Thich Nhat Hanh. She is completing her doctoral work in Education this summer and will begin her post-doctoral ethnographic work with Gong master teachers and their spaces in September.

She is elated to bring Sound, Gong, and yoga events to The Sanctuary in Calgary starting in April 2019. Welcome every body to classes and workshops with S.A. Bliss!
Date and time
Location
Dr. Lynne Murfin
7015 Macleod Trail
Suite 280
Calgary, AB T2H 2K6
Canada
Refund policy