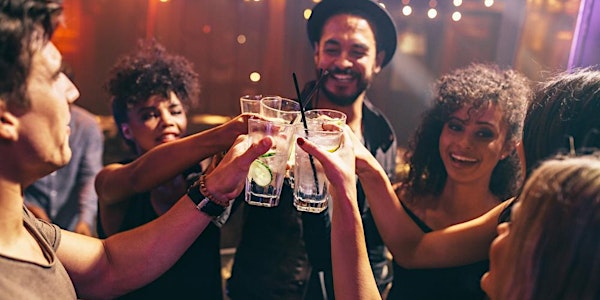 Blockchain & Crypto Holiday Mixer + Charity Event
When and where
Location
The HarbourFront (Harbour Room) 10 Queens Quay West (Opposite the Westin Hotel) Toronto, ON M5J 2R9 Canada
Description
We finally made it through 2018!

We invite you to come celebrate the year-end with your fellow Blockchain and Crypto community members in a fun and relaxing atmosphere.

Whether your year in Blockchain is ending with big or small wins; whether you've held till the end or sold half-way through; whether you've launched that long-awaited test net or finally moved to prod, or are still working on it; whether you made that strategic partnership or not; and whether you are simply a tech enthusiast wanting to expand your network, this year-end event would be sure to have something for everyone.
Every single one of us has stories or lessons learned this year we can share and this will be the perfect opportunity to do so.
Let's commune to reflect on a year in Blockchain and Crypto that wasn't without its ups and downs.

For this occasion, we are also organizing a silent auction, with great prizes, where all the proceeds will be donated to each winner's preferred charity amongst the below options:
or
-Peoples Animal Welfare Society
We are expecting a wide range of members (200+) from the Blockchain community, from entrepreneurs, executives, developers, investors, lawyers, analysts, instructors, tech students and many more...

---
Silent Auction Items include:
1) One Artificial Intelligence Course, 3 days intensive course by AI Hive at York University
2) One Blockchain Technology Course, 3 days intensive course by The BlockchainHub at York University

3) "Blockchain Revolution", International Best Seller Book, signed by authors: Don Tapscott & Alex Tapscott

Don Tapscott is the Co-Founder and Executive Director of The Blockchain Research Institute

4) "The Unified Wallet" - Unlocking the Digital Golden Age, a Best Seller Book based on the Blockchain Technology, signed by author: Kyle J. J. Kemper

Kyle J. J. Kemper is the Executive Director of the Blockchain Association of Canada, and Advisor of some of the most successful Blockchain projects.
5) One Month Office Space for Entrepreneurs with 24/7 access, Free Wifi, Free Phone, Free Conference Room and more...donated by Eureka Hub
6) Beats Solo3 Wireless On-Ear Headphones donated by SecureKey
7) Giftbag: Coffee, Tea, Mug and other goodies donated by Starbucks
8) Basketball signed by Top NBA Player: Thon Maker and donated by Rozaay Management

9) Women Classy Winter Hat & Scarf combo donated by La Koro
10) Men Winter Hat donated by La Koro
11) Cold Wallet donated by Coolwallet.io
12) "Fly me to the moon Harry Putter" physical piece of art authenticated on the Blockchain, donated by International Artist, Poesy Liang
Poesy Liang is an interdisciplinary artist with a background in architecture, luxury design & media. She is also innovator fighting for good and leveraging technology to push the boundaries of her work. She has won many media awards for her humanitarian projects, and she produces various refined paintings, sculptures, jewellery, music, museum installations and much more.

13) Dress Rental + 1 Private Fitting with a Personal Stylist donated by RentFrockRepeat.com
For your next big event, choose from hundreds of dresses from cocktail, ball, gala, wedding and more...Let your personal stylist dress you up from head to toe...Be your own "Pretty Woman"
14) (1) night stay in the Honeymoon Suite of Chelsea Hotel Toronto, a 4-star hotel. The hotel room comes with a Free Parking and Free Breakfast.
15) $200 worth of consultation for wine lovers looking to build a wine cellar by Christian Wine Consulting
Whether you leave in a house or an apartment, Christian Frayssignes, Cellar Master of the International Wine and Food Society will have the solution to make your dream of owning your own wine cave a reality.
Christian is also Honorary President of the European Chamber of Commerce and VP of the Belgian Canadian Business Chamber which is supporting the event. He also sits on the board of the European Union Film Festival in Toronto.
16) Trezor Hardwallet donated by Metalyfe, your first Blockchain Browser
17) Smart speaker with Alexa - Charcoal Fabric donated by OneKosmos, revolutionizing identity management using blockchain technology
18) Certified Ruby Gemstone donated by BlockStation, The Institutional Choice for Trading Digital Assets
19) Nutrigenomics Diet Assessment + Body Treatment to eliminate Fat + Facial Combo donated by TorontoClinic
20) Wine & Cider Gift Bag donated by Colio Estate Wines
Do not miss out on this one of a kind event! You might only have one last chance to celebrate the end of 2018 with the rest of the Blockchain community!
---
Agenda
6 pm to 7 pm: Attendees arrive on site, networking, entertainment & drinks begin
7 pm to 8 pm:
-Welcome Notes & Sponsors Accolades by Event Organizer
-Kyle Kemper, Remarks on the 2018 year in Blockchain and what to look for ahead
-Event Sponsors Speeches and Remarks on Blockchain & Crypto: Past, Present & Future
Light Refreshments begin
8 pm: Silent Auction begins
9:30 pm: Silent Auction ends & Winners are announced
9:45 pm: Auction Item Winners receive and close their wins
10 pm: a) Draw to win Door Prize, one of which is worth $3,000 and donated by Google; other items will also be won during the draw, b) Raffle tickets to win concert tickets and more, and to go towards one surprise charity, c) Event Ending notes by Event Organizer
10:30 pm: Event Ends.
Agenda subject to changes
---
Ticket includes: Food + Drinks + Taxes
*** To donate an auction item or to sponsor this event, please contact the organizer at info@innovfin.ca***
***This event will be covered by Media***