Location
EspacioBitcoin
405 Marcelo Torcuato de Alvear
AAC, CABA C1058
Argentina
Bridging the gap between entrepreneurs and blockchain technology, promoting growth for blockchain-related projects and ventures
About this event
BlockHack is a 3 day hackathon, aiming to combine the efforts of entrepreneurs and developers and promote growth of blockchain-related projects and ventures. We are looking for hackers and teams to work on creative and innovative ways of applying blockchain technology (of any kind) in areas of financial freedom and end-user control.
BlockHack is proud to collaborate with Espacio Bitcoin, a beautiful coworking space for professionals mainly in the Bitcoin ecosystem. Espacio Bitcoin will have a venue capacity of 100 people to hack in person.
Teams can may use any blockchain platform during the hackathon
BlockHack takes place from June 3rd to June 5th. Hackathon results will be announced June 5th, and the winners will also get to pitch their projects at the BitAngels Investment event on June 7th at AIBC.World in Toronto!
BlockHack wants to help you, a Developer, Entrepreneur, or Investor, navigate through the Blockchain landscape.
Gaming & eSports
Video games have come a long way since their inception in the 70s. The industry has grown and evolved throughout the years, with competitive eSports and social / mobile games driving worldwide adoption. Today, the gaming industry has a market size estimated worth over $150 billion USD.
This BlockHack is aimed at building unique tools, interesting experiences and community interactions through integrating gaming with blockchain technology. We have many great speakers, mentors and workshops to help hackers with projects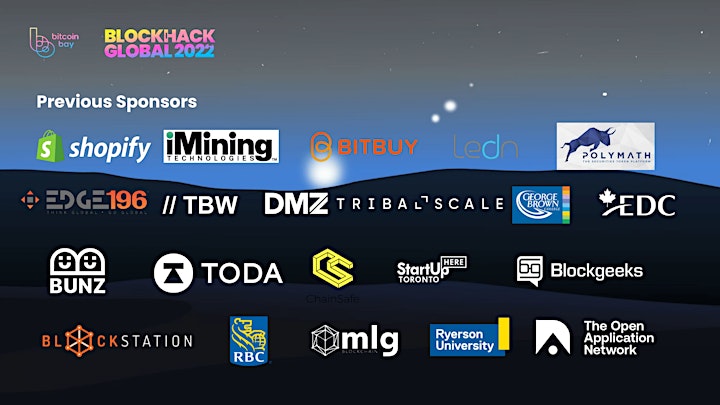 For Developers
Learn about the latest tools in blockchain development
Add to your dev portfolio
Gain experience working on real blockchain projects
For Beginners
Learn how to create working blockchain apps
For Entrepreneurs
Build a working app for your existing project
Find developers who want to work with you
Showcase your projects to potential investors
For Investors
Scope new and exciting projects
Watch hacker teams present their projects
Attend the BitAngels investor event.
BlockHack is already one of the biggest hackathons in Toronto, and the community is continuing to grow rapidly!
Judging Criteria
Fun Innovation
Projects with creative ideas and smart usage of blockchain technology will rank highly in this category.
Functioning Code
Projects with demonstrable functioning code, such as working apps and smart contracts will score highly in this category.
Real World Impact
Projects that hold promise for impacting the real world, either economically or socially, will rank highly in this category. Especially if real world impact is demonstrated during BlockHack!
Blockhack hackathon official rules
1) Hackathon Dates & Time
Registration Period: Until Friday, June 3rd
BlockHack Start & Opening Ceremony: Friday, June 3rd
BlockHack Conference & Workshops : Saturday, June 4th
BlockHack Presentations & Judging : Sunday, June 5th
BitAngels Investment Pitch : Thursday, June 7th
2) Participation Eligibility
Participants must form a team with at least 2, but no more than 5 people, and can only submit for one team.
3) Registration & Submission Requirements
Register for BlockHack
Join the BlockHack Discord server
Provide access to past work being brought into BlockHack
Include a viewable repository for judging access
Select prize tracks (not limited to 1) you and your team wish to apply
NOTE: Only work done during BlockHack will be considered for judging
4) Judging & Prizes
Judges will consider submissions based upon complexity, innovation, deployment and adaptability
Prizes will be awarded solely at the discretion of the judging panel
5) Code of Conduct
This Code of Conduct applies to all participants, judges, advisors and staff involved in BlockHack.
We will not tolerate toxic behaviour such as harassment, abuse or trolling. BlockHack is focused on building positivity innovation within the blockchain ecosystem. Specifically these behaviours include but are not limited to:
vulgar or abusive verbal or written language,
negative or demeaning comments regarding gender, sexual orientation, physical or mental ability, age, socioeconomic status, ethnicity, physical appearance, race, religion,
sharing sexual images or sexually suggestive material,
intimidation, stalking, frequent unsolicited contact of any type, and unwelcome sexual attention.
Pseudonymity is allowed.
About Bitcoin Bay
Bitcoin Bay is a blockchain and crypto solutions company that has been active in the space since 2013. Based in Toronto, Bitcoin Bay is composed of blockchain experts that specialize in consulting, product and dApp development, education and community engagement.
About Espacio Bitcoin
Espacio Bitcoin is a beautiful space of 500m2 for offices and coworking where professionals mainly from the blockchain field have their offices. Meeting place for the Bitcoin community and technology in general. It's a perfect coworking environment for entrepreneurs.
Espacio Bitcoin was founded in 2014 with the ideal of connecting companies focused on innovation and creation of new digital products that allow decentralization and voting by consensus by users.
About Axelar
Axelar is building a decentralized network and tools that connect users, assets, and dApp across multiple blockchain ecosystems. The network empowers developers to build on the best platform for their needs while leveraging the Axelar stack to unlock cross-chain composability and liquidity. Axelar Network consists of a protocol suite, tools, and APIs, designed to break down the barriers to cross-chain communication. Powered by a decentralized open network of validators, anyone can join the network, use it and build on it. The Axelar Network provides a uniform solution to cross-chain communication, allowing dApps to integrate with the full blockchain ecosystem. Developed by the founding team members of Algorand, Axelar's co-founders are award-winning graduates of MIT, where they received notable recognition as part of their graduate studies. Follow Axelar on Twitter at @axelarcore, or LinkedIn at https://www.linkedin.com/company/axelar/about/.
About Omnia
Omnia is a Web3 infrastructure protocol that provides quick deployment of Bitcoin, Binance Smart Chain and Ethereum blockchain nodes that do not require maintenance, management, or technical expertise. Future product offerings will also support 1-click deployment for Avalanche, Polygon and Algorand nodes. In addition, Omnia uses mix-net technology to preserve privacy, enabling eavesdropping free communications between a wallet, dApp and the blockchain. As a compliant-privacy protocol, Omnia grants legitimate users the right to enjoy confidentiality of information and security of transactions.
Omnia's oversubscribed fundraising from DAO Maker, ReBlock, LD Capital, Evangelion, Raptor Capital, Halvings Capital, LVT Capital and New Tribe Capital supports Lupascu twin brother's vision to aid in the decentralization of blockchain networks and empower developers, DEXs and low code/no code users with state-of-the-art cryptography and privacy tools.
Learn more about Omnia by following Medium or reading the whitepaper.
About BDU
BDU (Blockchain Developers United) is a decentralized network of developer meetup groups. BDU started in June 2017 from a single Meetup Group in Toronto, Canada, which focused on providing hands-on workshops on programming blockchain applications. Today, BDU spans a community across the globe with Meetup leaders in Singapore, India, the United States and Canada. Meetup leaders from these locations came together with the passion to bring education of blockchain technology for developers to their local communities.
About BitAngels
BitAngels (https://www.bitangels.network/) is an investor network for the blockchain industry. BitAngels launched in 2013 as the world's first angel network for digital currency startups. Each BitAngels event features networking and short pitches by startup founders to an audience of investors, business leaders, and the local blockchain community. These events provide investors the unique chance to learn about new cryptocurrency investment opportunities in person. For more information, visit www.bitangels.network.