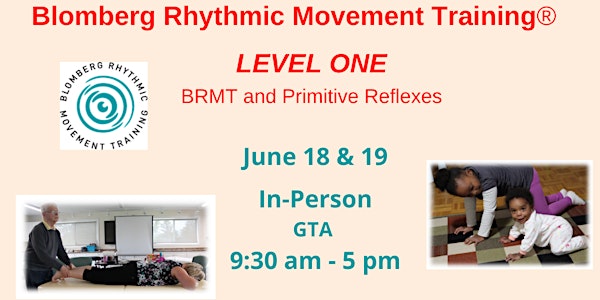 Blomberg Rhythmic Movement Training (BRMT) Level 1 - GTA, in-person
Experience a comprehensive introduction to Blomberg Rhythmic Movement Training in this course focusing on reflexes related to ADD/ADHD
Refund Policy
Contact the organizer to request a refund.
Eventbrite's fee is nonrefundable.
About this event
About the course:
Level 1 is a comprehensive introduction to Blomberg Rhythmic Movement Training. In this 16-hour course, you'll learn the basics of BRMT including how to test for 6 primitive reflexes, as well as learn and practice a series of rhythmic movements and isometric pressure techniques to integrate them. This course involves a combination of theory and practice. Reflexes covered include, but not limited to: Tonic Labyrinthine Reflex (TLR), Symmetrical Tonic Neck Reflex (STNR) and Babinski.
Rhythmic movements and isometric pressure techniques are gentle, safe, and deceivingly simple-looking movements that stimulate neural pathways and promote learning, emotional balance and ease of movement. They are suitable for anyone regardless of their age or ability and can be used to regulate muscle tone and stimulate areas the brain, this improves attention, control of impulses, and diminish hyperactivity and other symptoms of ADD/ADHD.
These movements provide stimulation to several senses, including the foundational 3 of our sensory system: tactile, proprioceptive and vestibular (balance). They support the integration the primitive reflexes into the postural reflexes.
Course objectives:
• Demonstrate and practice of rhythmic movements and isometric pressure techniques related to these specific reflexes - Tonic Labyrinthine, Landau, Amphibian, Spinal Galant, Symmetrical Tonic Neck, Babinski
• Learn how these movements promote brain development, effective learning, speech development, emotional balance, stress release, stamina and postural strength.
• Understand how un-integrated reflexes play a key role in challenges such as ADD/ADHD, developmental delay, autism, emotional and behavioural difficulties.
• Discussion, demonstration, and practice of reflexes related to developing postural control.
• Discussions and practice of how reflexes and their importance to understanding the foundations of sensory-motor, emotional and cognitive function.
• Experience, notice and express 'before and after' changes that occur from doing the Rhythmic Movements and Isometric pressure techniques
Ideal for OTs, PTs, SLPs, parents, developmental optometrists and VTs, pediatric massage therapists, classroom and special education teachers, ECE's, trauma specialists and caregivers, Brain Gym instructors.
The course is online, and various teaching methods are used that include discussions, powerpoint, videos, demonstrations, and practice sessions.
Note: At various times during the course, you will need to have someone at your home to do the exercises with. One week prior to course, estimated time breakdown for course content and partner work will be provided to assist with organizing partner work.
BRMT can be used as a stand-alone program or as a complement to other programs and therapies.
Instructor: Tanya Mouland
Course Logistics:
Course location: GTA, to be announced
Course date & time: June 18 & 19, 9:30 am - 5 pm + a 3-hour online theory component
Investment: Regular Price — $445.00
Review Price* — $250.00 (*proof of certificate in BRMT training required. Contact Tanya directly.)
Registration deadline is June 15, 2022
No previous experience required.