How do I take full control of my career as an independent artist? This is a 6-part workshop series to explore essential topics and skills
About this event
Florafone Records and Never Apart present..
Bloom ~ Artist Workshop Series
A series of workshops to benefit Montreal independent music community and share knowledge related to the music business and the life of a musician by providing access to experts in their fields.
~~
02.28 ~ Branding, Marketing, and Building an Audience
→ Develop your brand and aesthetic authentically
→ Find an audience that will resonate with your work
→ Think outside the box for promoting and marketing
03.21 ~ Recording and Studio Production
→ How to get started recording your own music
→ When to use a professional studio or get your music mixed and mastered
→ How to make the most of a minimal setup and budget
03.28 ~ DIY Releases and Distribution
→ Learn how to create a release plan and strategy
→ Find an appropriate distributor for your project
→ Rights management
→ Getting the most out of SOCAN
04.18 ~ Health and Wellness
→ Explore what mental and physical health means as a musician
→ Navigating stress as a freelancer
→ Dealing with conflict in the creative and business setting
→ Connecting awareness of your body with an instrumental practice
05.02 ~ Financial Literacy
→ Personal budgeting
→ Small business accounting and invoicing
→ Expense tracking and reporting
→ Business management
05.30 ~ Grants
→ Find which grants are best suited to your project
→ How to effectively write a grant proposal
→ Maximize funding by applying to multiple grants
More info: https://bit.ly/2GPwgBT
~~~
Florafone Records et Never Apart présente...
Bloom ~ Série d'Ateliers d'Artistes
Un ensemble d'ateliers au profit de la communauté montréalaise de musique indépendante, pour partager des savoirs liés à l'industrie musicale et la vie d'un·e musicien·ne en offrant l'accès à des experts dans leurs domaines.
~~
02.28 ~ Branding, Marketing, et Cultiver un Public
→ Développer une brand et esthétique authentiquement
→ Trouver un public qui résonnera avec votre travail
→ Penser originalement pour le marketing et la promotion
03.21 ~ Enregistrement et Production
→ Comment commencer à enregistrer votre propre musique
→ Quand utiliser un studio professionnel ou obtenir votre musique mixée et masterisée
→ Comment rentabiliser un setup minimal et un petit budget
03.28 ~ Publication et Distribution DIY
→ Apprendre comment créer un plan et une stratégie de publication
→ Trouver une agence de distribution appropriée pour votre projet
→ Gestion des droits
→ Obtenir le maximum de SOCAN
04.18 ~ Sante et Bien-Être
→ Explorer ce que la santé mentale et physique signifie en tant que musicien·ne
→ Naviguer le stress en tant que freelance
→ Gestion du conflit dans le milieu créatif ou commercial
→ Connecter la conscience de votre propre corps avec la pratique instrumentale
05.02 ~ Littératie Financière
→ Budget personnel
→ Comptabilité et facturation pour petite entreprise
→ Suivi et rapport des dépenses
→ Business management
05.30 ~ Bourses
→ Trouver quelle bourse est la bonne pour votre projet
→ Comment écrire efficacement une demande de bourse
→ Maximiser les fonds en demandant plusieurs bourses
Plus d'information: https://bit.ly/2GPwgBT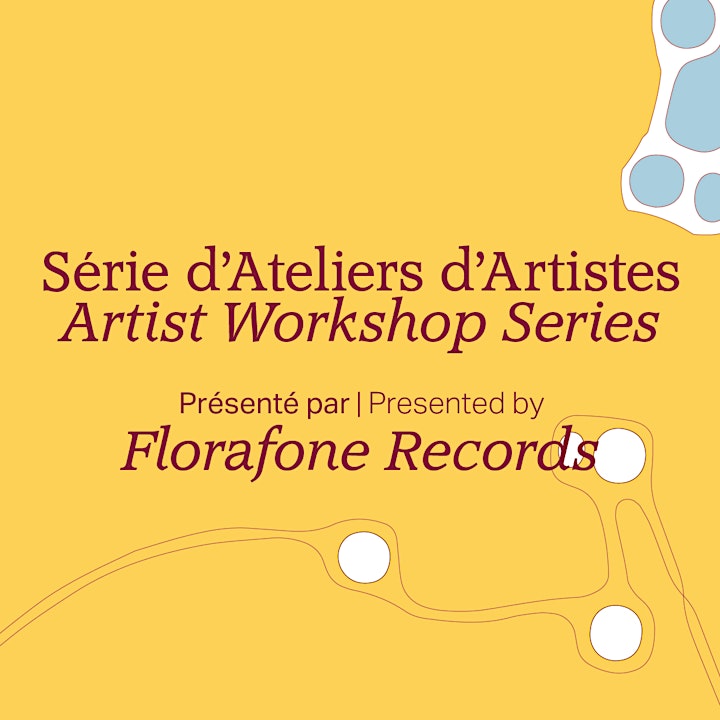 Organizer of Bloom : Artist Workshop Series ~ Full Series Pass
Les Sympathiques is a nonprofit (RLRQ, C. C-38) collective of Montréal musicians, other artists, and supporters who believe that the best way to develop our practice is through performance and sharing with the wider community. Central to this goal is presenting music that we deem rich in artistic quality (i.e. music with depth in its technical, semiotic, and innovative aspects). Our members and participating artists hail primarily from the jazz, classical, and experimental scenes. Our goal is to be a catalyst and binding agent for our musical community; one which stimulates creativity through providing:
-a space and framework for quotidian performance,
-a forum for discussing topical philosophical, theoretical, and practical issues,
-and a conduit for sharing the fruits of this process with each other, and also with the public at large.
We believe that challenging and sophisticated artwork need not remain only in the realm of the concert hall, nor should valued public exhibition be conserved for the occasion of grand festivals. It is our position that a creative state of mind is often easier to attain in a casual and comfortable atmosphere, just as excellence is only achieved through process and continuous effort. Moreover, the quest for creative excellence gains a greater dimensionality and significance when it is undertaken collectively.