Bloomin Earth 2014
When and where
Location
Kitchener City Hall 200 King Street West Kitchener, ON N2G 1A7 Canada
Description
Did you know Kitchener has an Earth Day Festival??
YES! We do, and it's quite an amazing one if I must say so myself...
Join us on April 26th from 11am to 9pm for
Bloomin Earth
Kitchener's Largest Earth Day celebration!!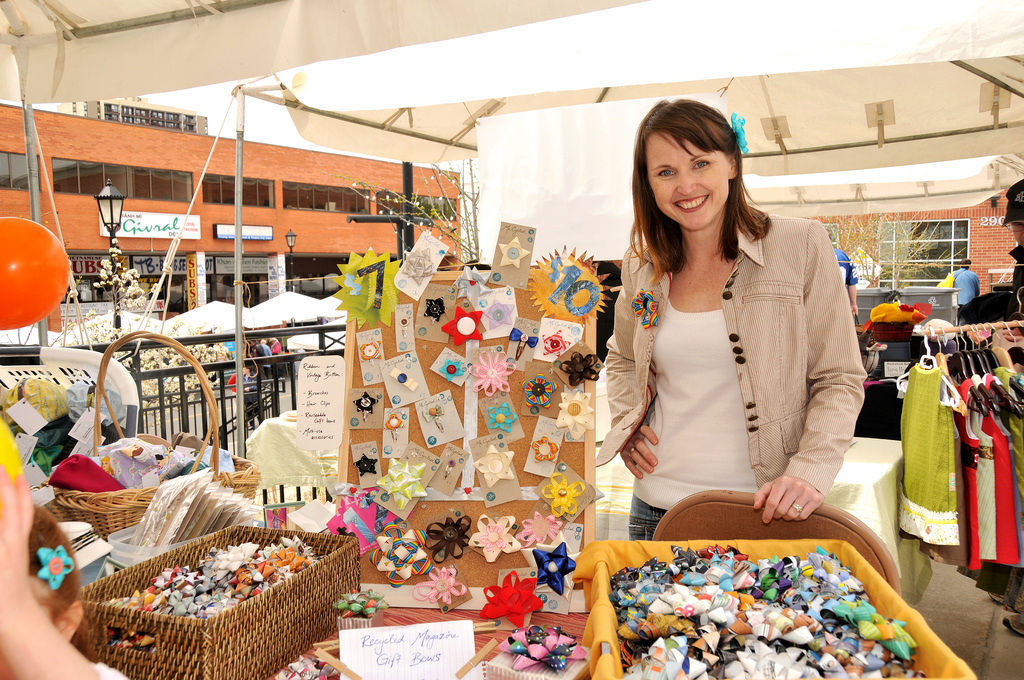 Every year we brainstorm with a team of uber-crafty folk to make sure we outdo last years event. As we enter our eighth year, i think this one will be hard to top.
We have added ...
tons of new workshops lead by local art students

more funky local performers, and more bands in total

specialized evening timeslot for the REthreaded Fashion Show

longer hours to give those working families a chance to participate

more room for crafty vendors and environmental teams

beautiful artistic set decorations made by our own team of creative geniuses

environmentally inspired games for all ages
*
To celebrate the earth in true earth-loving style, our family festival will be held entirely outdoors in the area surrounging Kitchener city hall.
The day will be filled with
live music
eco-friendly crafts
kids games
facepainting
environmental information stations
and of course our handmade market with over 60 local artists selling goods made using recycled materials.
*

To make for the perfect end to our amazing day,
at 7pm we will invite the group of talented desigers particiating in our
REthreaded Fashion Show Challenge
onto the main stage with their handmade recycled creations.

It is then up to audience vote to select the most creative Designer of the Year!!
*
HOW DO WE GET TO THE FESTIVAL?? Parking is available (for a small fee) underground at City Hall, in the open lot across the street on Duke and Young St or the parking garage a block over at Duke st and Ontario st .... but then the bus station is just a block away, on Gaukel st.
WHAT DO WE NEED TO BRING TO THE FESTIVAL?? a blanket perhap to cop a sqwat and enjoy the tunes, a reuseable tote bag for all your shopping... but not much more. Its a free event!
HOW DO I GET INVOVLED IN THIS TOTALLY COOL SHOW?? There are many ways, depending on what skills you bring to the table. Vendors, information stations, game or craft leaders and volunteers can all register by selecting the appropriate "ticket" at the top. Perfomers can also register on this form. If you wish to enter our fasion show challenge, check out the specialized registration page with all the rules and fun stuff. Sponsorship opportunities will be open shortly on our website.
*
Participant FAQ:

Each vendor will get

One standard 6ft banquet table, and two chairs (it's suggested you bring a helper as bathrooms are indoors, and food will be a fair distance from you booth).

Please bring your own table covering that will allow you to store any extra product or supplies under your table, out of sight (must be close to but not draging on ground)

Tents will be shared between two vendors. It is possible to request exactly which vendor, just leave us a note in the "special request" section of the application. If you wish to have the whole tent to yourself, you must purchase TWO booth spaces.

Tables, tents and chairs are provided by The City of Kitchener (

There is no discount if you bring your own table, tent or chairs

)
Unfortunately, as this is a large festival, and fees need to be paid by us too, there will not be any refunds issued. If you are accepted, but no longer think its going to fit into your life please let us know. We will open your space back up for another artist. Keep in mind though, your space is not officially reserved until we have your payment. Us having that in hand means its too late to back out.
Payment is accepted through paypal where you can pay by cheque, credit card or bank transfer. We will also accept a cheque through the mail.
Payment deadline: we must be holding your payment/cheque in our hands no later than April 15 2014.
The application is a three step process:

To ensure no product is repeated your application will be reviewed before your acceptance is finalized. FIRST, You will recieve an email after submitting your application to let you know its been received. You will receive a SECOND email to advise whether we have approved or denied your application. If all goes well, you will recieve the invoice for payment and request for marketing worthy photos. If declined, we will of course let you know why, just incase its an issue you can fix.

Payment is required to reserve your space. For this reason you will receive a THIRD email when your funds have been received, whether is was a cheque or paypal

Thanks for checking us out... and remember to share it with your friends. Cuz we are all addicted to social media these days, dont'cha know??!