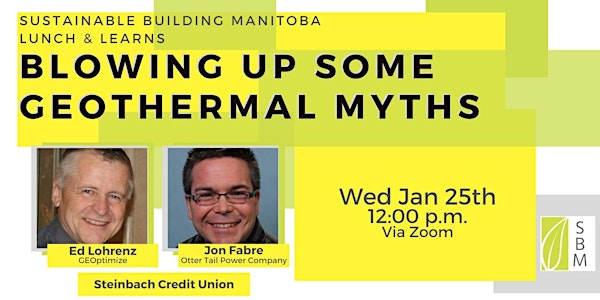 Blowing up some Geothermal Myths
You've heard about geothermal, but have you heard the accurate facts? Hear from experts on all sides - design, operations and a utility.
Refund Policy
Contact the organizer to request a refund.
Eventbrite's fee is nonrefundable.
About this event
There are many reasons to consider a ground source heat pump system (GSHP) for your home or business. Better for your pocket book and better for the environment.
In this session you'll learn about good geothermal practices from design and installation expert Ed Lohrenz. About the experiences of managing a system from a facilities perspective. Finally a representative for Ottertail Power in Minnesota will share the utilities perspective on district systems for multiple buildings.
Building electrification is needed if we, as a society, want to reduce and mitigate our impact on the world as we know it. A GSHP system is the best available technology that can help us achieve this and these three perspectives will help you understand better the real world implications.
Join to learn why there is no reason to be afraid of the technology. Join to learn about how optimizing the design of a GSHP system is different than designers employ in designing a conventional system, but not more difficult.
Join to hear the facts about Geothermal from one of the leading experts Ed Lohrenz, people who are operating a geothermal system right here in Manitoba and from a nearby energy utility. Learn why YOU should use of this technology in your next building project whether it be your home or your business.
Tickets to the talk are $20. SBM sustaining members get 50% off and session is free for student members. Become a member now (if you are not already).
Special pricing for Offices - a great chance to set up in your board room to participate in learning and to build collaboration within your team. SBM members qualify for $10 off this option.
SPEAKERS
Working in the geothermal heat pump industry for nearly 4 decades Ed has had the opportunity to work and learn from some of the pioneers in the industry on projects across Canada, the U.S. and internationally. Since the early 90's his focus has been on the design and optimization of ground source systems in commercial buildings, and more recently, applying the technology on a district scale. That background has been invaluable in providing design assistance for electric utility customers with Otter Tail Power Co. in MN and in developing the Certified GeoExchange Design course with the International Ground Source Heat Pump Association (IGSHPA) and in contributions to the ANSI/CSA/IGSHPA C-448 Standard for the Design and Installation of Ground Source Heat Pump Systems.
Jon Fabre - Ottertail Power Company
Jon is an experienced energy services, marketing, and project management professional with bachelor of science degree in energy management with extensive expertise with utility companies in Minnesota. He is currently the Supervisor of Program Development and Implementation with Ottertail Power Company where he leads and supervises the development and implementation of conservation products and services, including geothermal.
Mark Mostowy - Steinbach Credit Union
Mark is the Corporate Facilities Manager with Steinbach Credit Union which has constructed two buildings in the last decade with a GSHP system. The branch office on Lagimodiere Blvd. in Winnipeg was constructed in 2009. A horizontal directionally drilled ground heat exchanger under the parking area heats and cools the 50,000 square foot building.
The second building located in Steinbach is a six-storey, 95,000 square foot corporate office and local retail branch features a geothermal heating and cooling system and was designed to maximize natural light throughout. The focal point of the main floor is a circular stairway to the second floor as well as a two-storey water feature. The project was completed in July 2015 giving them plenty of insight after almost a decade of operations.