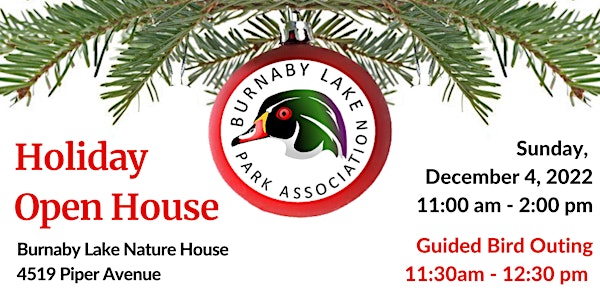 BLPA Open House - Bird Outing
Join us on a bird outing at Burnaby Lake to see the birds that spend winter at Burnaby Lake!
When and where
Location
Burnaby Lake Park - Nature House 4519 Piper Ave Burnaby, BC V5A 3B5 Canada
About this event
Winter Birds at Burnaby Lake!
Did you know? Winter is a great time to visit Burnaby Lake and see both migratory birds that visit the lake in the colder months as well as our year-round birds.
Guided Bird Outings
Join Lindz Marsh (Burnaby Lake Park Association Board Director) and other local birders as they share their knowledge and passion for birds while we wander through Burnaby Lake trails and at Piper Spit. We'll listen for calls and songs, enjoy discussion on topics such as bird habitat and plumage, and share tips.
If possible, bring a pair of binoculars that will allow you to identify and enjoy distant birds easily.
We welcome everyone, including people of differing abilities, those who are Black, Indigenous or People of Color (BIPOC), and people who are Lesbian, Gay, Bisexual, Transgender, Queer, Intersex, Asexual (LGBTQIA+). We'll be using Burnaby Lake Regional Park trails which are accessible to wheelchair-users, people who use mobility aids, or child strollers.
What to bring checklist:
Binoculars if you have them.
Please check the forecast and dress for the weather so you are safe and comfortable. Hats allow you to be handsfree. We recommend sturdy, waterproof shoes . If sunny, wear a comfortable hat or visor
LOCATION:
Burnaby Lake Nature House - we will meet in front of the Nature House. Look for signs.
Please take note that if the weather is nice, the parking lot can be very busy. You may need to park along Piper Avenue or at Warner Loat Park right off of Winston which is a 450 m/5 minute walk to the Nature House. There are also train tracks crossing which may be blocked from time to time.
If you would like detailed driving directions or how to get there by transit, click here.
We look forward to seeing you! Space is limited. If you are no longer able to make it, we ask that you cancel your ticket so that someone else may attend.