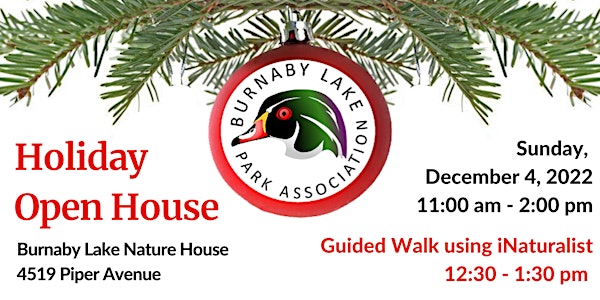 BLPA Open House - Guided Walk using iNaturalist
Join a guided Nature walk to learn how to use the iNaturalist app
When and where
Location
Burnaby Lake Park Nature House 4519 Piper Avenue Burnaby, BC V5A 3B5 Canada
About this event
BLPA Guided Nature Walk Using the iNaturalist App
Join a BLPA Leader on a guided Nature walk using the iNaturalist App and get to know the nature around you.
What is iNaturalist?
It is one of the world's most popular nature apps
It helps you identify the plants and animals around you.
It connects you to a community of over a million citizen scientists and naturalists who can help you learn more about nature!
By recording and sharing your observations, you'll create research quality data for scientists working to better understand and protect nature.
Your BLPA Guide will review how to make an observation using the app and offer tips and tricks to get the best identification for your nature encounters and keep track of them.
After the introduction, we will go out into the park so you can use the app right away.
In order to be most efficient, PLEASE
DOWNLOAD the iNaturalist app to the device you will take to the park AND
CREATE AN ACCOUNT ahead of time.
There is no wi-fi at the park and depending on how your device is set up, you may need your Apple ID or Android Galaxy Store ID. While iNaturalist will be our focus for this event, you can also download the Merlin app to help you with bird ID. This is optional.
Please download the iNaturalist app before the event
Step 1: Download the iNaturalist app
Step 2: Create an account on the app or computer
Step 3: Explore the app and if you are keen, upload an observation
The BLPA limits the number of participants to ensure adequate distancing and that other COVID-19 safety measures can be applied. You are required to bring a face mask to the event to wear when physical distancing is not possible.
When you register, you will need to confirm that:
You are at least 16 years of age or older (or 12 years of age with an adult with you)
You will not attend if you do not feel well or have been exposed to a confirmed or clinical COVID-19 case in the last 14 days
You will bring your own mask, water, snacks, pen/pencil to sign any forms if needed
You will provide your email and telephone number in the event that contact tracing is required and handled by the provincial health authority. Your information will be handled according to the BLPA Privacy Policy you can find here.
Please read and familiarize yourself with the COVID-19 Safety Plan that you can find here.
What to bring checklist:
Mask (regardless if you are vaccinated or not)
A mobile phone, tablet or camera to take pictures at the park
The app downloaded and an iNaturalist account made
Please check the forecast and dress for the weather so you are safe and comfortable. A rain hat is better than an umbrella so you can use both of your hands, waterproof shoes and waterproof case for your device.
The event will take place rain (unless an atmostpheric river) or shine.
LOCATION:
Look for the BLPA tent in front of the Nature House. If you would like detailed driving directions or find out how to get there by transit, click here.
We look forward to seeing you! Space is limited. If you are no longer able to make it, we ask that you cancel your ticket so that someone else may attend.