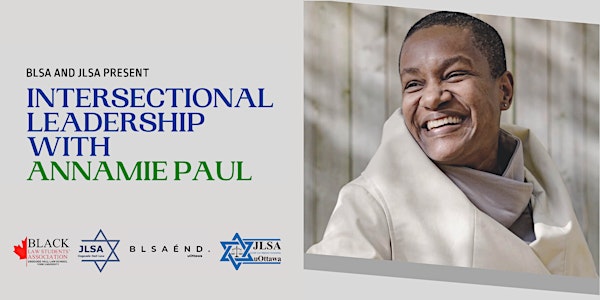 BLSA & JLSA Present: Intersectional Leadership with Annamie Paul
BLSA & JLSA Present: Intersectional Leadership with Annamie Paul
About this event
Intersectional Leadership with Annamie Paul
The Jewish Law Student Association and the Black Law Student Association of Osgoode Hall Law school and Ottawa's Faculty of Law welcome you to listen to Annamie Paul, Canada's first Black and Jewish woman to Lead a federal party in Canada.
You will hear about her life journey and her views on the intersection of law, justice, identity and the environment. A moderated Q&A session will follow the event. Participants are welcome to submit questions for Annamie Paul in advance of the event.
Annamie Paul Biography
A daughter of Caribbean immigrants, she is fluent in French, Catalan and Spanish. She holds a master's in Public Affairs from Princeton University and a law degree from the University of Ottawa. She has worked as an advisor to Hague International Criminal Court and NGOs, including the Climate Infrastructure Partnership (CLIP), Higher Education Alliance for Refugees (HEAR) and Institute for Integrated Transitions. She was also the founder of the Canadian Centre for Political Leadership, a non-partisan charity dedicated to training women of underrepresented minorities to run for elected office.
She became the Federal Green Party leader on October 3, 2020, after a leadership election was called following the stepping down of long-time leader Elizabeth May.
"I believe that we can do extraordinary things if we can get the political leadership to match the courage and sacrifice the public has demonstrated during this year in Canada."
- Annamie Paul
Registration Information
Registration for this free Zoom Webinar is required. Participants will receive a zoom link before the event.