Blue Christmas - Join us in a safe, meditative space to express grief, loss and hope.
About this event
Noël Blue - Entrez dans un espace méditatif où le deuil, la perte et l'espoir s'expriment librement et sans jugement.
A collaboration of the West Island United Churches & ORA Loss & Living Program.
Une collaboration des Eglises Unies du West Island et de ORA programme perte et vivre.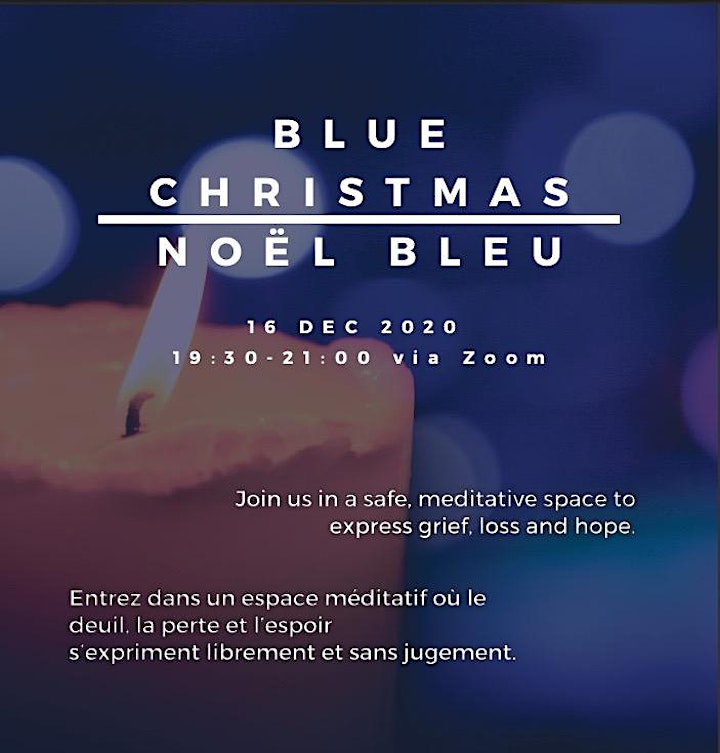 Organizer of BLUE CHRISTMAS ~ NOËL BLEU - 2020
ORA Loss & Living Program is an outreach initiative dedicated to helping individuals and groups move through grief and loss in order to lead full, and fulfilling lives. This includes exploration into ways of creating space for conversations around grief, sharing basic information and reassurance about loss, grief and change in a non-threatening, participative way, with sensitivity to those in challenging situations. 
Note: our policy is that financial hardship should never be an obstacle to participation. If you would like to discuss options about fees for events (sliding scale, sponsorships, etc.), please contact us at info@ora-mtl.org.
We are grateful for assistance provided by The United Church of Canada Foundation, Mission Support Fund, Good Samaritan Fund, Erskine-American & Mountainside Fund, and the generosity of donors and volunteers.
_________________________________
DONATIONS WELCOME!