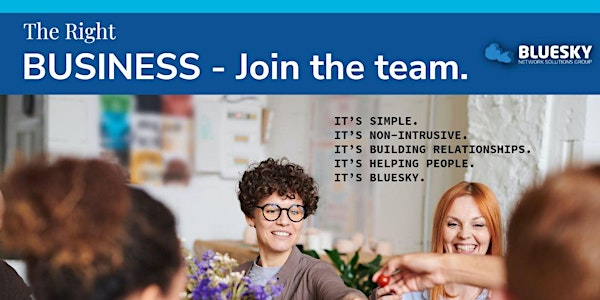 BlueSky - Business Relationship Manager (BRM) Presentation. Thu 630PM MST
Event Information
Location
Britannia Business Center (but also in Zoom which will be sent to you once you've registered).
4723 1 Street Southwest
#200
Calgary, AB T2G 4Y8
Canada
Start a business helping people around you get the services they need. Join us and find out about our simple and easy business.
About this event
Would you be interested if:
1. You could get a percentage of the transactions made by the people you know
2. Have your network come to you for the services they need and get compensated for it
3. Add value to your relationship by helping them with what they need
4. Give people an opportunity to own a business while you get income from their work as part of your team
5. have a business model so simple that you can earn from it and grow it quickly, anywhere in Canada and internationally?
If you answered YES to any of the previous points, then BlueSky is a business you definitely have to explore.
We exist to:
1. Be a bridge between clients and the services they need
2. Give people an opportunity to help others while earning from the unlimited transactions within their networks.
3. To create business owners who want to establish a simple, yet powerful business that can bring exponential income growth to them and their loved ones.
Join us in this business presentation and see how BlueSky can be the perfect personal business for you that can:
1. Generate multiple income sources
2. Allow you to take advantage of tax savings as a business owner
3. Grow a business that can provide for you for years to come.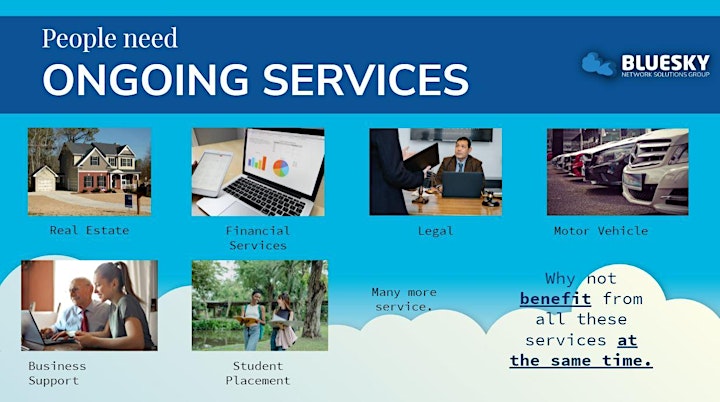 Join our presentation this Thursday and find out you can take advantage of the transactions around you.
Be an individual business owner or build a team nationwide and internationally. It's up to you.
If you are a business owner or self-employed, become more valuable by offering the services of our BlueSky Business Partners (BBPs). Become a part of a bigger team.
Maximize your income as a BRM with our multiple income sources.
Finally have a business that will last. As long as people need services, you have a business.
Reserve your ticket today and see this life-changing opportunity.
Location
Britannia Business Center (but also in Zoom which will be sent to you once you've registered).
4723 1 Street Southwest
#200
Calgary, AB T2G 4Y8
Canada