Location
blyssful PRODUCTIONS
336 East First Avenue #202
Vancouver, BC V5T 4R6
Canada
Description
blyssful ALCHEMY is excited to present this new DIY Infused Face Oil Workshop where we will explore discuss the benefits of botanicals, how topicals work and how we can use various herbs and plant medicines to help nourish and rejuvinate our skin.
You will learn how to make a herbal infused face oil with organic plant medicines and doterra essences to soothe, moisturize and rejuvinate your skin with craft formulator and maker S. Siobhan McCarthy, who formally worked and formulated products at Cannalife Botanicals, Lush, and The Body Shop
In this two hour, hands-on, DIY workshop, you will learn the basics of topicals and how to:

1. work with various plant medicines and essences to create a synergistic formulation

2. infuse oils

3. make your own infused face oil to help you manage your skin

We will make a craft batch of face oil together, so each particpant can take some home!

Topicals are a wonderful tool to add to anyone's medicine cabinet.

They accelerate the healing process, are wonderful to soften wrinkles, soothe eczema, psoriasis, by helping regulate the skin.
We will make a craft batch of face oil together, so each particpant can take a bottle home!
Light refreshments will be served in our beautiful studio.
A wonderul event to attend with a friend!
About the Workshop Leader!
S. Siobhan McCarthy- CEO blyssful PRODUCTIONS/ blyssful ALCHEMY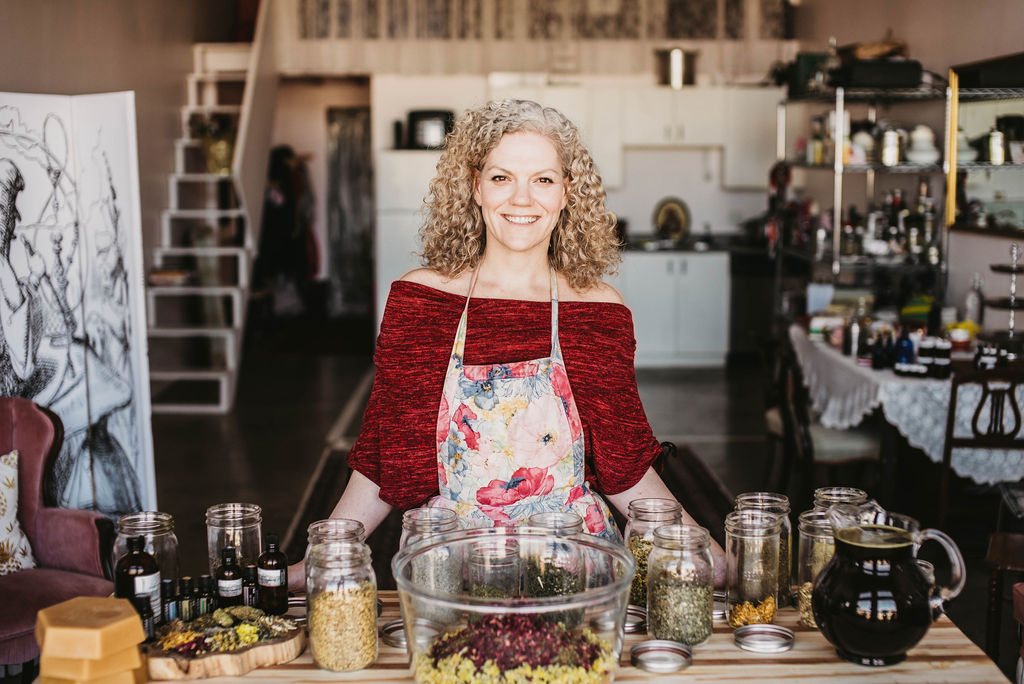 Award winning film and web series producer, creator and director, S. Siobhan McCarthy, is the CEO and Executive Producer of blyssful PRODUCTIONS and red trike media inc. Her latest endeavour is blyssful ALCHEMY- an educational workshop series educating people about plant medicines.
A self-proclaimed urban gardener and kitchen witch, McCarthy's interest in plant medicines came to be when she lived in Switzerland in the early nineties. Shortly thereafter, she moved to Vancouver to study at U.B.C. where she garnered her Honours Degree in Theatre, Film and Creative Writing and studied plants, people, and plant medicines as a minor.
McCarthy was the sales and marketing consultant to Cannalife Botanicals for the past three years where her experience in product development, marketing, sales and distribution (The Body Shop, Lush Cosmetics, Arbonne, Rodan + Fields.) helped grow the company from local recognition to national success. In the past six months of her time at Cannalife, she shifted her focus to be the Director of Corporate and Brand Development with a strong focus on Education and Community Outreach before the company closed on Oct 17, 2019
McCarthy was the Sales and Marketing Director at Emerald Health Botanical's Northern Vine Labs, one of the 18 labs approved by Health Canada for testing cannabis. At Northern Vine, McCarthy created and spearheaded the #knowyourmedicine educational campaign, preparing the marketplace for standardized testing of cannabis.
An avid dog lover, McCarthy also consulted with Creating Brighter Days an all-natural CBD line for dogs, cats and horses.
McCarthy's companies red trike media inc. and blyssfulPRODUCTIONS specialize in brand creation and development, content creation, creating specialized digital strategies, and acting as social media community managers for various broadcast / network properties and brands.