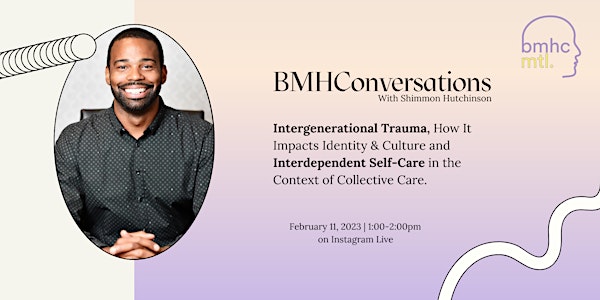 BMHConversations with Shimmon Hutchinson
Join BMHC's Instagram Live with Shimmon Hutchinson where we dive into Intergenerational Trauma and its impacts on identity, culture and more
By Black Mental Health Connections Montreal
When and where
Date and time
Sat, Feb 11, 2023 10:00 AM - 11:00 AM PST
About this event
BMHConversations are held to create dialogue and hold space for audiences to engage with sensitive subjects in a safe format. To draw upon the expertise and knowledge of frontline professionals and mental health advocates, using their lived experience to identify unfulfilled needs in mental health services. Speaking with members focused on mental health known to the community demystifies mental health phenomena, and enhances solidarity amongst community, highlighting how fundamental mental health management is to navigating life in general.
This edition of BMHConversations, we'll be chatting on Instagram Live with educator, Shimmon Hutchinson. We'll explore Intergenerational Trauma and how it impacts identity and culture, as well as Interdependent self-care in context of collective care. Follow us on Instagram (@bmhcmtl) to catch this BMHConversation.
About Shimmon Hutchinson:
"I am a graduate of the Social Service Program at Dawson College, and of the Social Work Program at McGill University. Upon graduating, I have had the opportunity to work with adults in all age ranges, children and families, in various capacities. Specifically, I have worked in community settings like the BCRC, creating programs and animating workshops, but also publicly within the school systems as a Teacher, and within Health and Social Services as a Foster Care Worker. Within academia, I have had the opportunity to take part in various research projects that notably worked with immigrants, black families and children.
My work outside of public systems, aims to support families, and specifically black families, in working through individual and situational challenges through educating about communication, boundaries, structure, and mentorship.
Personally, I am married and am a father to 4 beautiful children. My personal interests include playing hockey, gaming, reading about social work, religion, and culture, and most importantly spending time with friends and family."
Instagram: @shimmon.hutchinson
Black Mental Health Connections, is an alliance of organizations and individuals focused on the mental health and well-being of the English-speaking Black community in Montreal.
Though focused on the needs of the Black anglo community of Montreal, we work to be anti-oppressive in all ways and in solidarity with all marginalized communities. In order to do so we must acknowledge that though many members of the Montreal Black community are here as a direct result of colonization, many of us are not Indigenous to the land of Turtle Island (so-called Canada). Though people from the African diaspora are indigenous, here, we are also settlers on this land wrongly taken from the Indigenous community.
BMHC is situated on Tiohtià:ke, the traditional territory of the Kanien'kehá:ka people. The land was also a diplomatic meeting place with other Iroquoians and Algonquians including Algonquin-Anishinaabe, Atikamekw, and Huron-Wendat. We acknowledge that we are located on a land that has been the site of human creativity and story-telling for thousands of years, and are thankful that we are able to create, collaborate, and work here.