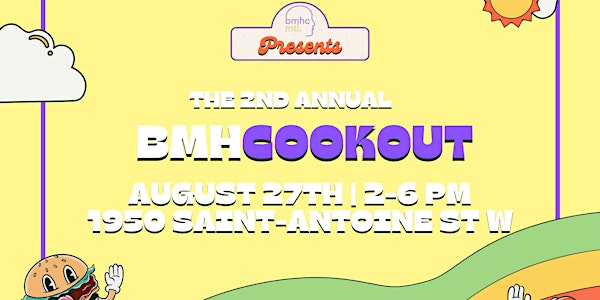 BMHCookout 2022
The BMHCookout is BMHC's annual mental health barbecue with free food, workshops, art, activities and a curated mental health discussion.
When and where
Location
1950 Rue Saint-Antoine O 1950 Rue Saint-Antoine Ouest Montréal, QC H3J 1A5 Canada
About this event
The BMHCookout creates a safer space where necessary conversations meet great food and even better company! Our summer event aims to nurture a culture supportive of mental health, and community care.
We aim to bring the Black community together as a form of solidarity and resistance. To empower our community with live discussions about mental health, creating a dialogue holding space for the community to engage with sensitive subjects in a safer format.
Join us in this vulnerable setting to destigmatize mental health and encourage healing!
This year will be featuring two workshops, a panel discussion with Samanta Nyinawumuntu, Kay Thellot and Khan Bouba-Delambaye; music by DJ J Nice of CJLO's Limelight Radio; and food from Caribbean Food Factory and Midnight Kitchen Collective.
This is a free event. People are free to donate in-person towards Shawn Browne's Basketball Camp.
Event Schedule
Workshops -12:30-2:00pm
Free Time / DJ Set - 2:00-3:00pm
Food served - 2:00-6:00pm
Panel Discussion - 3:00-5:00pm
Free Time / DJ Set - 5:00-6:00pm
Accessibility information
The BMHCookout is free of charge, but registration through eventbrite is required to attend the in-person workshops as there is limited space. Registration links are below.
The event will take place at the Desta Youth Network Center, (1950 Rue Saint-Antoine Ouest). Within the venue 1 gender neutral bathroom can be accessed, but the bathroom is not wheelchair accessible. There is one step leading into the building.
The closest metro station is George-Vanier, and is a 2 minute walk from the community centre.
Even though we can not guarantee a scent-free space due to other individuals and groups in the building, we ask people attending our events to not wear strongly scented products (perfume, cologne, hair products, lotions etc).
There will be vegan meals available.
The panel discussion will also be available through Zoom here: https://www.eventbrite.ca/e/22-bmhcookout-panel-tickets-393415334857
Workshop Registration
Boundaries Workshop: https://www.eventbrite.ca/e/393297382057
COVID SAFETY
Guests will enter the event at the entrance marked by balloons and will be given tickets for food. There will be sanitizer, and surgical masks, available at the welcome table, as well as antibacterial wipes, sanitizer, available at the self-serve food table. We will be doing contact tracing at the entrance.
Guests are encouraged to wear masks, though it will be held outside so the choice will be left to the guest's discretion.
Invited guests are advised to stay home if they have been exposed to COVID-19 in the last 14 days or are showing COVID-19 symptoms. Also anyone who has had close contact with a person who has COVID-19 should stay home and monitor their health.
This is an outdoor event, and there will be many attendees, so for those who would like to stay as safe as possible, our panel is available over Zoom.
Please let us know any accessibility needs you may have ahead of August 25th so that we can accommodate them.
About Black Mental Health Connections
Black Mental Health Connections, is an alliance of organizations and individuals focused on the mental health and well-being of the English-speaking Black community in Montreal. The BMHCookout is BMHC's first in-person event, with free food, activities and a curated panel of mental health advocates and practitioners.
BMHC, though focused on the needs of the Black anglo community of Montreal, works to be anti-oppressive in all ways and in solidarity with all marginalized communities. In order to do so we must acknowledge that though many members of the Montreal Black community are here as a direct result of colonization, many of us are not Indigenous to the land of Turtle Island (so-called Canada). Though people from the African diaspora are indigenous, here, we are also settlers on this land wrongly taken from the Indigenous community.
BMHC is situated on Tiohtià:ke, the traditional territory of the Kanien'kehá:ka people. The land was also a diplomatic meeting place with other Iroquoians and Algonquians including Algonquin-Anishinaabe, Atikamekw, and Huron-Wendat. We acknowledge that we are located on a land that has been the site of human creativity and story-telling for thousands of years, and are thankful that we are able to create, collaborate, and work here.
A way we are supporting the Indigenous community is to encourage Canada's government to acknowledge and take accountability for the thousands of children found on former residential school grounds, the missing and murdered indigenous women, encourage others to emphasize and support Indigenous voices, and encourage our communities to inform themselves on how to better support the Indigenous community.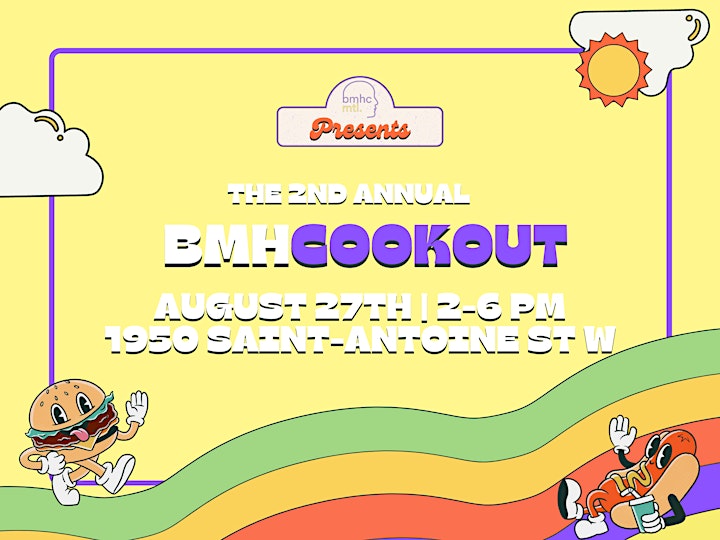 About the Panelists
Samanta Nyinawumuntu
Samanta Nyinawumuntu describes themselves as a Black queer being who hails from the mountains for Rwanda. They are a daughter, friend, granddaughter, auntie, student, artist, facilitator, farmer, and community organizer whose mission is to facilitate and co-create intentional spaces that center a healing justice framework for people who are, and have been historically marginalized. Samanta creates programs for queer, and or Trans Black, Indigenous and Youth of Colour at Project 10, and they are the founder & director of the Black Healing Centre. An organization that aims to provide an accessible and safer healing space for Black folks in Tio'tia:ke (MTL).
Khan Bouba-Delambaye
Khan has a background in psychology, holding a Masters in Counselling Psychology from McGill university. is the owner of KB-D Counselling & Consulting, providing both clinical support and consulting in the areas of mental health and EDIA (Equity, Diversity, Inclusion, Accessibility), to his clients. Through his business, Khan also engages in content development and facilitation for workshops, trainings, and facilitated discussions, as well as designing student outreach & leadership programs for academic institutions. Khan serves as a guest-speaker, and has done a number of interviews for CBC, CTV, as well as several podcasts, radio shows and newspapers.
Kay Thellot
Kay Thellot, a practicing Manbo Asongwe of Vodou Ayisyen, is currently pursuing a Master's in Counselling Psychology. With a Bachelor in Psychology and a 15-year social intervention career, Kay has focused her work with youth and their families through an empowerment lens by, among other actions, creating and leading workshops in community, artistic and spiritual spaces. Guided by this experience, Kay's online platform Prensip Minokan is geared towards the work of juxtaposing and superimposing western and Haitian ancestral knowledge towards proposing Vodou Ayisyen as an inherently fully developed Afro-Indigenous decolonized option for wellness and healing. For more information, please visit prensipminokan.com.