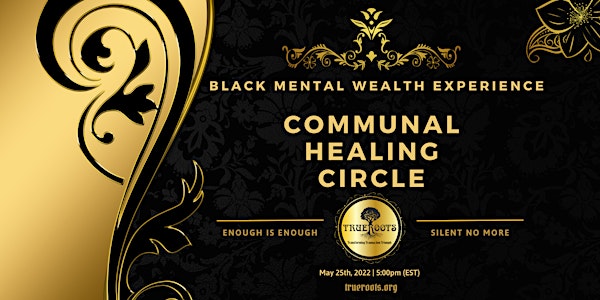 BMWE - COMMUNAL HEALING CIRCLE
TRUE ROOTS Counselling Services proudly facilitates discussions to shatter Shame & Silence of the BLACK Community's mental health experience
Refund Policy
Contact the organizer to request a refund.
Eventbrite's fee is nonrefundable.
About this event
WE NEED TO TALK
A CLOSED-DOOR DISCUSSION ABOUT BLACK EXCELLENCE
EXCLUSIVELY For Black People, By Black People, About Black People.
THIS IS A TWO-TIERED REGISTRATION WITH CAMERA-ON EVENT
Wednesday May 25th, 2022 | 5:00pm - 7:00pm
True Roots Counselling Services (trueroots.org) is very proud to facilitate the next iteration of The Black Mental Wealth Experience. This is a CLOSED-DOOR EVENT for the Melanated & Racialized Community EXCLUSIVELY.
This discussion is aimed at raising awareness of the Black Mental Wealth Experience as we explore the adaptive behaviour, survival instincts, and resiliency patterns of the Diaspora living with a legacy of enduring multiple atrocities, and yet we REFUSE to surrender.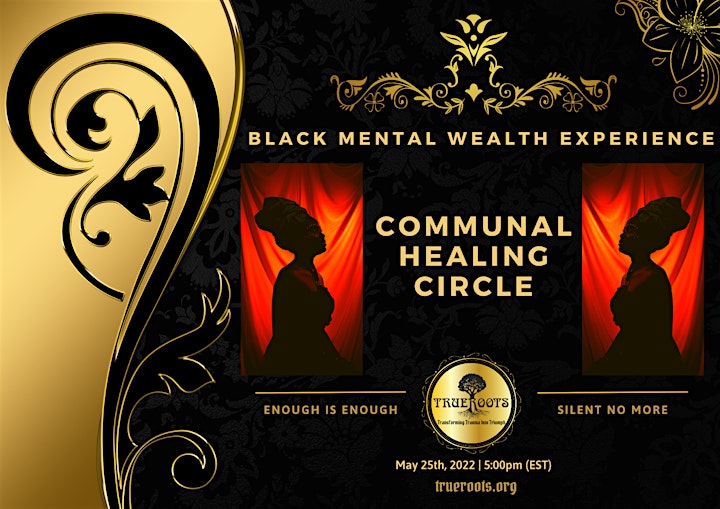 COMMUNAL HEALING CIRCLES
Communal Healing Circles are designed to create a safe space for people seeking calm and peace in their life, mind, and body to find the communal safety necessary to break free from the burden of hyper-vigilance. In this Healing Circle, participants are empowered to nourish reconnection to their birthright of inherent resilience, embodied wisdom, communal connection, and fortified belonging.
Communal Healing Circles are exclusively for Racialized people, free from intrusive scrutiny that requires code-switching and generates a dysregulating tension of the nervous system that interrupts access to true healing. Communal Healing Circles are welcoming spaces designed to soothe you, enable you to feel safe enough to let your burdens down, take your armour off, and allow yourself to be seen. These are safe spaces that empower you to finally BREATHE.
Come to the Communal Healing Circle with anticipation of regaining a state of calm.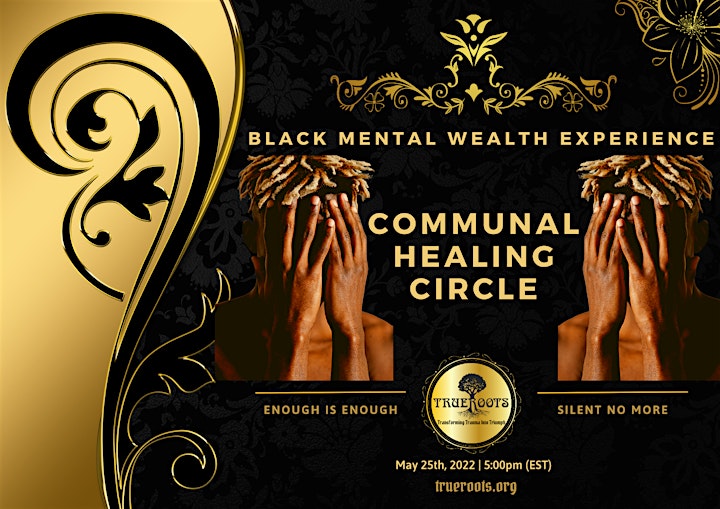 FINDING A STATE OF CALM
The ability to regulate through the comfort of another is called co-regulation. This done on repeat wires up the brain for self-regulation, emotional intelligence, empathic responses, rational thinking, and problem-solving.
~Lelia Schott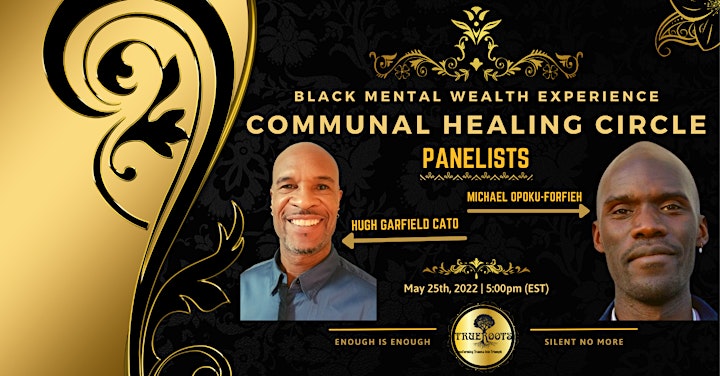 PANELISTS
The Black Mental Wealth Experience has a roster of dedicated and committed knowledge seekers who grapple together with wisdom, inspiration, and conscious thoughts in the hopes of fully manifesting the internal, Ancestral keys that will unlock the doors to the liberation and freedom that we seek.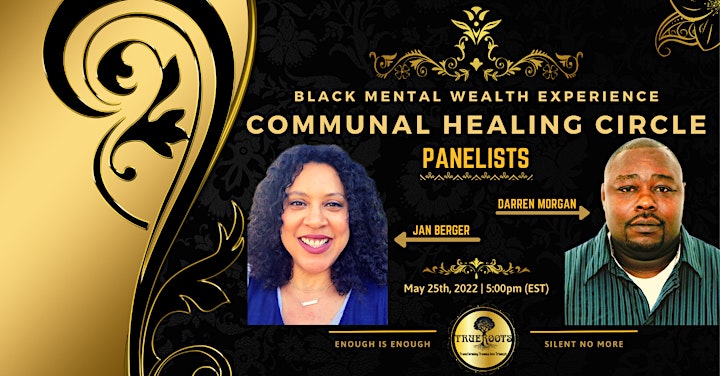 PANELISTS
For this Communal Healing Circle, Hugh Garfield Cato, Michael Opoku-Forfieh, Jan Berger, Darren Morgan, Coach Nicki Reid, and Donnica Campbell will lead this Panel discussion that seeks to answer our cry for community and emancipation from mental slavery of the constant onslaught of Anti-Black Racism and structural oppression.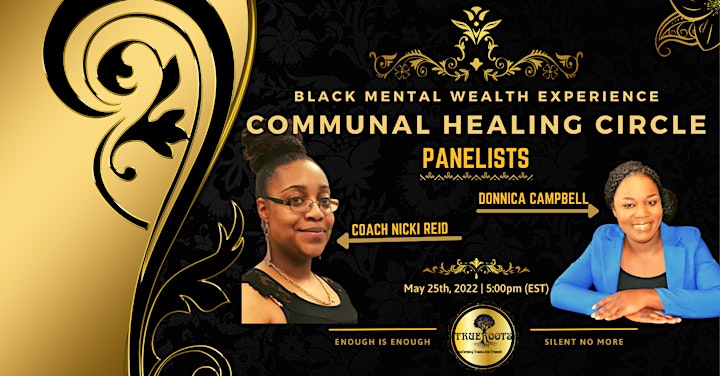 IT IS TIME FOR CHANGE
Please feel free to share this invitation with other Melanated people within your sphere of influence.
The TRUE ROOTS - Zoom Room event link will be shared on the day of the event, if you completed the 2-Tier of this Registration process.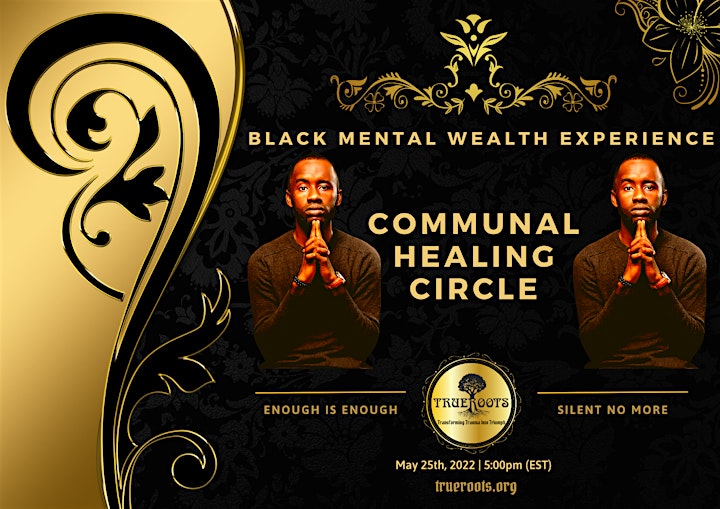 BLACK EXCELLENCE is our IDENTITY not an Achievement or Accomplishment.
At this episode of the BLACK Mental Wealth Experience, we gather to amplify our voices in unison and interrupt the silence on our need for appropriate, culturally-specific, trauma-focused responses to the negative, intergenerational impact of Anti-Black Racism on the overall health, wealth, & wellbeing of the Black community. We do this while also acknowledging and embracing as truth, the BEAUTY, BRILLIANCE, AND EXCELLENCE OF BLACKNESS.
On Wednesday, May 25th, 2022 Kimberly Cato, Founder & CEO of True Roots Counselling Services for almost 30 years, will facilitate this Collaborative Panel Discussion with Black Men & Women of Substance & Integrity who will share their knowledge and experience of Mental Health related issues in the Black Community.
This is one of a series of discussions about Black Mental Health intentionally designed to shatter the silence of mental health issues within the Black community in an effort to bring true healing to the overall traumatic impact of Anti-Black Racism.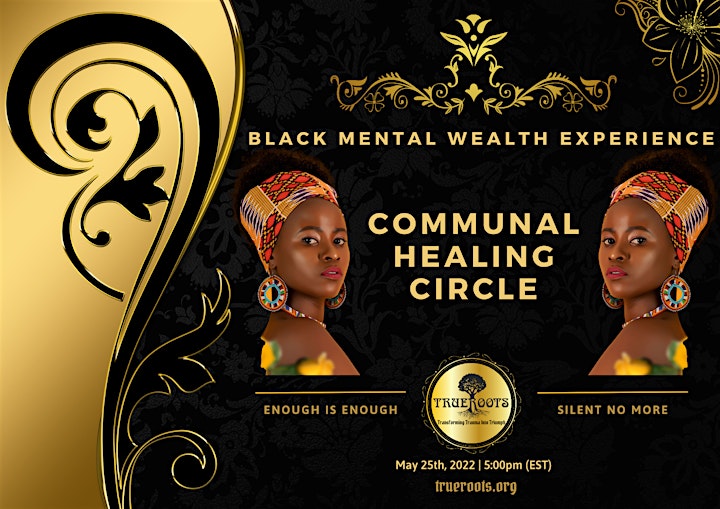 PREVIOUS EPISODES
BMHS - INTERNALIZED RACISM
June 30th, 2021