Description
Our wealth planning power team of Debbie, Sylvia, and Michelle will be presenting a case study involving three generations of family members.
As the grandparents age, they are confronted with a host of questions and concerns about how best to pass on the family wealth they worked so hard to accumulate, including a cottage with emotional ties. With family dynamics at play including second marriages, the grandparents seek professional help and solutions to achieve their estate planning objectives, which include asset protection and tax minimization.
This case study will not only shed light on current estate planning issues, but also showcase how wealth planning involves the coordination of several financial professionals.
About the Event

BNI Leslieville is a chapter of 25 professionals who meet to learn about each other's businesses with the goal to refer business within the group. Last year BNI Leslieville referred over $730,000 between members, with 30% of that coming from Visitor's
Breakfast will be served, and open networking will occur both before and after the speaker series.
Cost: $25.00
Location: Matt Durant Studio at 1401 Queen St East
About our Speakers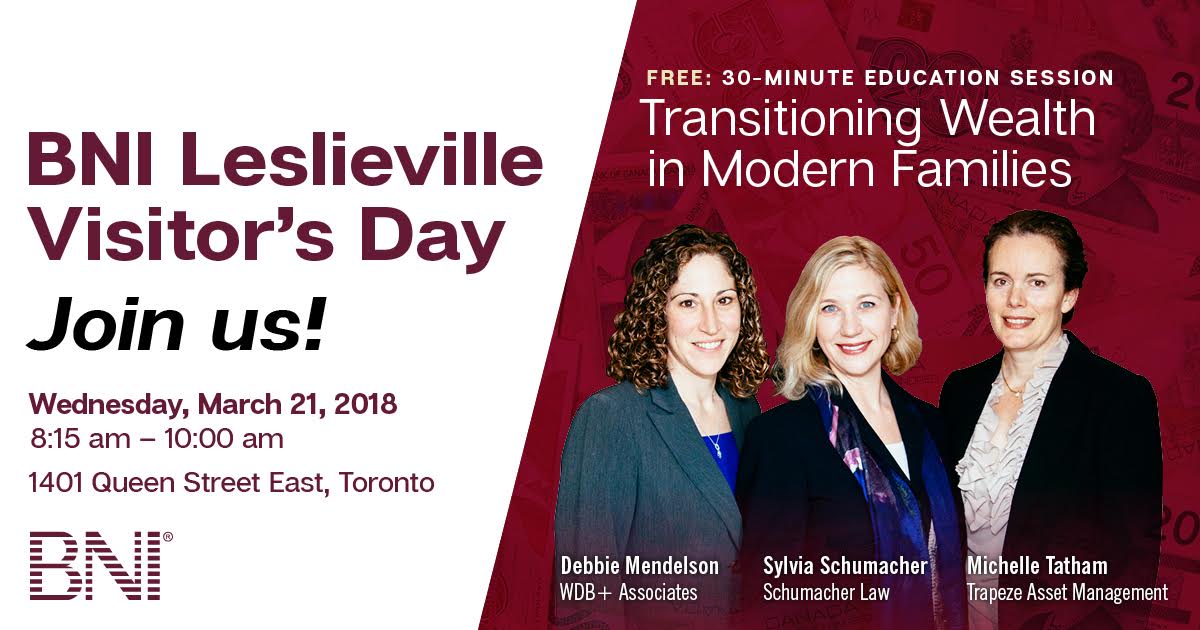 Meet Debbie Mendelson
Debbie is an Insurance Specialist with WDB + Associates. Debbie is also a wealth advisor and portfolio manager for an Investment Dealer in Toronto.
Debbie has been involved in the financial services industry for over 20 years. Her career has evolved with positions as a Financial Advisor at a major Canadian Trust company as well as an Associate Investment Advisor at a major Canadian bank owned brokerage firm.
Debbie's extensive knowledge and experience in the financial planning process guides her client interactions and advice. She is focused on providing individuals, families and business owners sound financial planning advice specializing in life & health insurance needs analysis and implementation, risk management, retirement planning, will & estate planning and business succession planning.
Debbie lives in Toronto, is married and has 3 children and is involved in her community.
Meet Michelle Tatham
Michelle is an associate portfolio manager at Trapeze Asset Management, with over 10 years of investment industry and comprehensive wealth planning experience. She specializes in strategic wealth planning for multi-generational families in areas such as wealth accumulation, risk management, retirement, tax minimization, and estate transfer.

Michelle trained as an Engineer and is a member of Professional Engineers Ontario, a designation that represents having the highest ethical standards. Prior to her financial career, she spent 4 years at Bombardier Aerospace in Flight Sciences and 7 years as a process management consultant in Toronto.

Michelle is married with two teenagers – Max and Mackenzie. In her spare time, she volunteers with the Financial Planning Standards Council (FPSC) as a member of the Examinations Panel, and as Treasurer of her cottage lake association. She enjoys hosting large family gatherings and any kind of outdoor activity up north in Haliburton.
Meet Sylvia Schumacher
Sylvia Schumacher is the principal lawyer at Schumacher Law, specialized in wills and estates law. She started her legal career in government, then joined a boutique law firm in downtown Toronto before starting her own practice. Sylvia takes the time to delve into her clients' unique family dynamics to ensure that an estate plan achieves the person's objectives, taking into account family and friend relationships, charitable intentions, and tax minimization strategies.
Sylvia brings a unique background and skill set to the practice of law. Her business background informs her approach to the practice of law: providing timely, practical and strategic advice using plain language. Prior to her legal career, Sylvia spent a number of years in progressively senior marketing research roles in industry-leading corporations. She subsequently ran a sole proprietorship as an executive recruiter, placing senior
executives in corporations across Ontario.
Sylvia holds a J.D. from Osgoode Hall Law School, an M.Sc. in Political Theory from the London School of Economics, an M.A. in French from Middlebury College, and a B.A. in French Language and Literature from Huron College at Western University.
In her spare time, Sylvia enjoys many hobbies, including spending time with friends and family, wine tasting and travel.
If you have any questions about this event or BNI Leslieville, please email us at info@bnileslieville.ca