Description
Our chapter is a dynamic, committed group of business people who know how to refer business to each other.
Join us to meet professionals and business owners who are committed to helping each other succeed. BNI members, on average, increase their business 20% the first year. Come for our meeting - stay for the referrals.
Join us on Wednesday, September 27th at 8:15am to meet our chapter, and learn more about how we grow our businesses. A $25 fee will cover the cost of our space and your delicious breakfast.
Free 10 Minute Education Session: Taxation Changes and How They Impact Your Business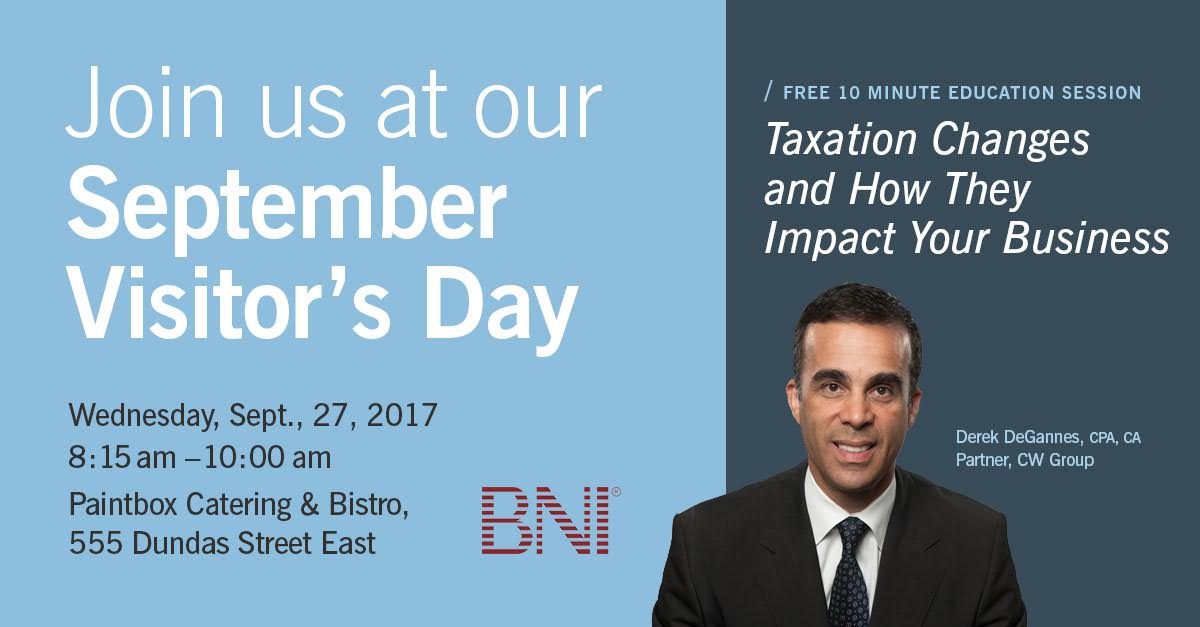 Presenter: Derek DeGannes, CPA, CA - Partner, CW Group
On July 18, 2017, the Liberal Government announced a significant set of tax proposals purported to close "tax loopholes" and "strategies that can result in high-income individuals gaining tax advantages that are not available to most Canadians." These proposals are an attack on all entrepreneurs – large and small. Regardless, the government continues to state that these proposals will not increase small business taxation. Our Visitor's Day presentation uses a typical "middle-class" family business in Canada to illustrate that these proposals harm them just as much, if not more, than "high-income individuals."