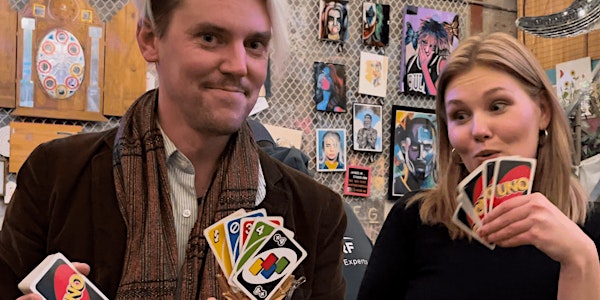 Board Game Tuesdays: UNO Tournament
Come play against 31 other players in an epic UNO Tournament with $150 in prizes! This game needs no introduction, it's a certified classic!
When and where
Location
Cold Garden Beverage Company 1100 11 Street Southeast Calgary, AB T2G 4T3 Canada
Refund Policy
Contact the organizer to request a refund.
About this event
Join us this Tuesday for a 32 player UNO Tournament with $150 worth in prizes!
Starting in groups of 4, the first two players to finish their deck advance, with the last two eliminated. After multiple rounds, the finals will be determined, where the winner will be crowned!
PRIZES:
First Place: $100 Cold Garden Gift Basket
Second Place: $25 Gift Card
Third Place: Growler + Fill ($25 Value)
RULES:
Rule 1. UNO RULES: Follow all standard UNO rules provided in the deck UNLESS it contradicts one of the following rules.
Rule 2. +2 and +4 Cards Stack: Players may play Pickup Cards on top of each other. (Example: Player 1 plays a +2, causing Player 2 to pick up two cards and lose their turn. Player 3 then plays a Wild +4 on top of the +2, chooses a colour, and causes Player 4 to pick up six cards and lose their turn.)
Rule 3. Card Sequence: If you have a series of cards of the same coloured suit which numerically progress you may play them in sequence. (Example: Player 1 has a Blue 2, Blue 3 and Blue 4. They may play each of those cards in sequence.)
Rule 4. Rotate Hand on 0 Card: If a player plays a 0 card, players rotate hands with the next player in the current direction of play. (Example: Player 3 places a Yellow 0. The current direction of play is clockwise, all players swap their current hand to the player next to them in that direction.)
Rule 5. Play From Draw Deck: If a player has to draw from the deck and they draw a card that can be played, they MUST play that card. (Example: The deck has a Green 1 on it. Player 1 does not have any cards they can play. From the top of the draw deck the pull a +2 Green. The player must play that card since it is the same suit colour.)
Rule 6. Multiple Play: Non-Special cards of the same number, but different colors, can be played at once. (Example: If a player has a blue 7, a red 7 and a green 7 in their hand, they may discard all three cards in one turn.)
Rule 7. Respect & Inclusivity: We know how passionate UNO gets. This is a tournament meant to bring people together for a fun game, with low stakes. There is zero tolerance for disrespect, discrimination, or bad vibes.
Note: A referee will be on premise for any rule discrepancies.
What are Board Game Tuesdays? Every Monday Cold Garden hosts a board game night, which is usually a free chill hangout, but sometimes becomes a paid tournament for the ages!
Stay up to date on all things Board Game Tuesdays by following our Instagram: @cold_garden
In the spirit of truth and reconciliation, Cold Garden recognizes we work and play in Mohkinstsis (where the Bow River meets the Elbow River), which is now known as Calgary. We acknowledge our presence on Treaty 7 territory and give thanks to these sacred lands that continue to provide for us. We honour the original occupants of this Territory, being the Niitsitapi (Blackfoot) Confederacy, comprised of the Kainai, Piikani, and Siksika Nations; the Iyarhe Nakoda of the Wesley, Chiniki, and Bearspaw Nations; and the Dene of the Tsuut'ina Nation, as well as the Metis Nation Region III.
Ticketholders consents to their picture being taken at the event and for their picture to be used by Cold Garden for promotional purposes.