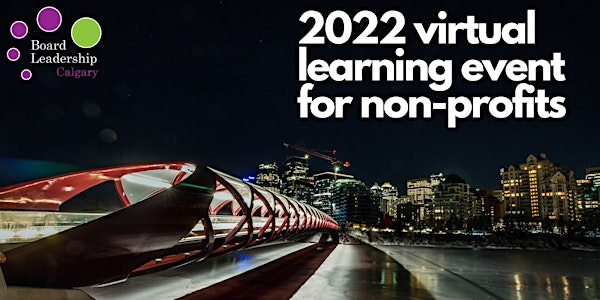 Board Leadership Calgary 2022 - Board Basics 101
We are excited to host the ninth annual Board Leadership Calgary learning event for non-profits!
About this event
Webinar Description
Our Board Basics 101 is a foundational workshop that teaches you everything you need to know to begin your work as a board member! First, you'll learn about the board's role in leading a not-for-profit, with key topics around leadership, accountability, and governance responsibilities. We'll discuss common matters that apply to all boards, regardless of how different our not-for-profits can sometimes appear to be, so you'll be able to go back and have a better understanding on what to do, how to settle in with the team, and how to prioritize what's most important.
Presented by: Paul Meunier - Federation of Calgary Communities
Ninth Annual Event!
We are committed to continuing to offer high quality learning opportunities to the non-profit community in Calgary and area. Throughout our eight years of the event, it has always been geared to offering basic learnings for board of directors, staff, and those looking to be involved in non-profit organizations.
Online Format
Saturday Webinars
Starting Saturday, November 6 and every other Saturday until December 4, we will host an online webinar featuring local experts in the non-profit community speaking to topics relevant to the non-profit sector in Calgary and area.
Costs
Free. As we offer this years event online, there will be no costs to attendance.
Please note you will need to register for individual events.
Thank you to our sponsors and continued support of our event
Friends of the Federation of Calgary Communities
Simple Cloud Works

Organizer Links
Other Non-Profit Community Leaders