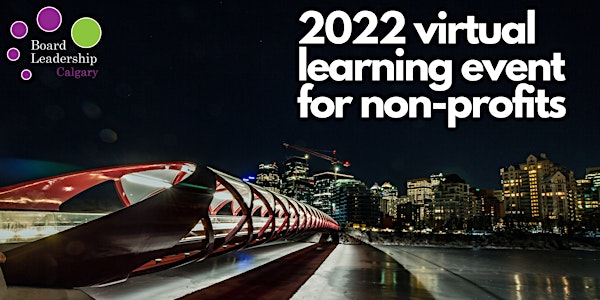 Board Leadership Calgary 2022 - Fund Development That's Built to Fit
We are excited to host the ninth annual Board Leadership Calgary learning event for non-profits!
About this event
Webinar Description
Bring your fund development questions and challenges! This interactive session will start with a conversation about you: your organization's experiences with fundraising and your biggest areas of need.
Gail helps organizations build fundraising programs that fit, and in this workshop, she will lead us through conversations about fundraising fears, challenges and successes. The workshop will include some coaching 'in real time' on needs identified by the participants on the call, with learnings and best practices that can be tailored to fit your organization whether your fundraising program is just getting going or has been active for years. Expect to leave this session some tried and true tactics and templates that you can put to work as soon as you get back to your desk on Monday.
Presented by: Gail Urquhart – President, Gail Urquhart Consulting
Gail has spent over 30 years working on the fundraising frontlines of charitable organizations across Canada, providing strategic leadership, mentoring fundraising professionals and teams, and running successful fundraising programs and campaigns that focus on genuine donor engagement. Now a charity advisor and high performance coach, Gail partners with a small and carefully chosen group of clients, sharing her hands-on experience to help create fund development programs and leadership practices that are built to fit and to help take organizations where they want to go.
LinkedIn: @gailurquhartconsulting
www.gailurquhart.com
Ninth Annual Event!
We are committed to continuing to offer high quality learning opportunities to the non-profit community in Calgary and area. Throughout our eight years of the event, it has always been geared to offering basic learnings for board of directors, staff, and those looking to be involved in non-profit organizations.
Online Format
Saturday Webinars
Starting Saturday, November 6 and every other Saturday until December 4, we will host an online webinar featuring local experts in the non-profit community speaking to topics relevant to the non-profit sector in Calgary and area.
Costs
Free. As we offer this years event online, there will be no costs to attendance.
Please note you will need to register for individual events.
Thank you to our sponsors and continued support of our event
Friends of the Federation of Calgary Communities
Simple Cloud Works

Organizer Links
Other Non-Profit Community Leaders