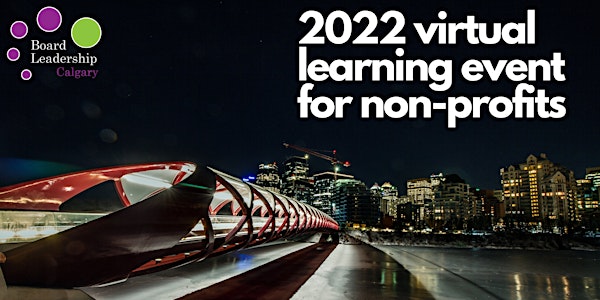 Board Leadership Calgary 2022 - Strategic Thinking, then Strategic Planning
We are excited to host the ninth annual Board Leadership Calgary learning event for non-profits!
About this event
Webinar Description
In this session, you will explore the importance of strategic thinking and what it means to be truly "strategic" before you begin the typical planning process. You will also have the opportunity to learn some theory around organizational planning. And best of all – you will come away with tips on how to build ownership and commitment, resulting in a plan that is closely followed, versus one that collects dust!
Presented by: Alberta Community Development
Community Development works to improve, enhance or otherwise contribute in a positive way to the lives of Albertans.
The Community Development Unit offers facilitation, public engagement, community collaboration, and learning and development services to non-profit organizations, staff and volunteers, and the sector as a whole. Topics covered in these services included:
strategic planning
board governance, roles and responsibilities
building leadership capabilities and capacities throughout your organization
fund development and grant writing
evaluation
public and stakeholder engagement
identifying, developing and enhancing partnerships, collaborative relationships and assets within your organization and community
Ninth Annual Event!
We are committed to continuing to offer high quality learning opportunities to the non-profit community in Calgary and area. Throughout our eight years of the event, it has always been geared to offering basic learnings for board of directors, staff, and those looking to be involved in non-profit organizations.
Online Format
Saturday Webinars
Starting Saturday, November 6 and every other Saturday until December 4, we will host an online webinar featuring local experts in the non-profit community speaking to topics relevant to the non-profit sector in Calgary and area.
Costs
Free. As we offer this years event online, there will be no costs to attendance.
Please note you will need to register for individual events.
Thank you to our sponsors and continued support of our event
Friends of the Federation of Calgary Communities
Simple Cloud Works

Organizer Links
Other Non-Profit Community Leaders