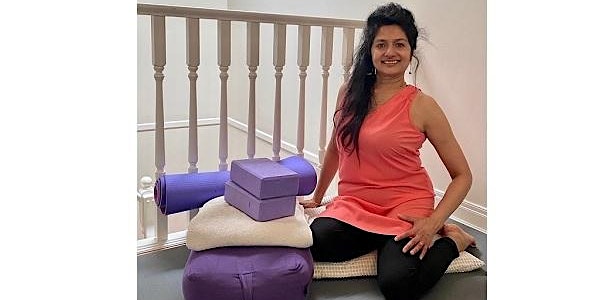 Body Care Yoga: Hatha Yin Restorative Meditation Breathing & Chakra Healing
Perform at your optimum level and magnify the power of your life-force! All levels welcome including new to yoga.
When and where
Location
Rasa Flow Yoga 2180 Kelly Avenue #4140 Port Coquitlam, BC V3C 0L1 Canada
Refund Policy
Refunds up to 1 day before event
Eventbrite's fee is nonrefundable.
About this event
• Heal the physical body
• Gentle Yoga to increase your well-being
• Gain self-control over your wellness
• Improve elasticity in your body
• Target problem areas in the fascia, ligaments, joints, tendons
• Restore your nervous system
• Activate the energetic centres (Chakras & Nadis)
• Feel clear and vibrant
• Open the pathway to improve the quality of your life
• Pursue your endeavor to awaken to your true nature
Improve and maintain your existing state so you can operate in a special way towards your life goals and projects. We will be using yogic techniques to release from old patters and will bring ourselves to a place of thoughtfulness and realign with positive self-worth. We will discover areas of our own body that need to experience complete release. This practice instils creativity and peacefulness, ensuring significant improvement in the quality of your life.
Commit to your Body Care Yoga program at Rasa Flow Yoga. Breathe, Stretch, Strengthen, Balance, Meditate and Journal. This class is a blend of Hatha, Yin & Restorative. All levels welcome including new to yoga.
We all have busy schedules and when we prioritize our well-being we receive enormous results that transform our energy. Our subtle body (energy body) contains 72,000 Nadis (energy lines) that channel Prana (life force energy) to every cell. By participating in this 2 hour class we target energy lines in our hips, spine, shoulders, feet, hands, knees, wrists, neck and much more. We will go deep in this exploration connecting with our physical body and energy body.
Give yourself permission to perform at your optimum level and magnify the power of your life-force.
-----
Questions? call us at 604-971-5230 or email rasaflowyoga@gmail.com
------------------------------
Rasa Flow Yoga @ Montrose Square
4140-2180 Kelly Ave, Port Coquitlam
This new development is located behind the Port Coquitlam Community Centre at the intersection of Mary Hill Rd and Kelly Ave. You are welcome to part at the community centre. Street parking is also available.
To locate us using Google maps please use: 2388 Mary Hill Rd, Port Coquitlam. This is the address for the Montrose Sales Centre which will bring you towards the entrance of the building 2180 Kelly Ave, Rasa Flow Yoga.
Customer parking is available as you head towards the roundabout and enter into the alley.
You may also enter the alley from Welcher Ave and Mary Hill Rd, take a left into the alley.
Customer parking stalls are available at P1
3 hour maximum, stalls: 1-7 & 32-48
------------------------------------
About Ayesha:
Since the 80's I've been practicing a yogic system of highly energizing postures and exercises that originated in the Himalayas called The 5 Tibetans which kept me energized, motivated and helped me deal with the stress and dramas of everyday life. My personal practice later evolved to include 4 years of Shotokan Karate and 3 years of Bikram Yoga. After this exploration, I decided to dedicate myself to a daily home practice of asana, pranayama and meditation. In 2009 I met my teacher Shiva Rea who inspired me to teach yoga with devotion and compassion. I've been teaching yoga full time since 2009 & loving it!!!
I am passionate about honouring the body, mind, and spirit connection in all people. I began my journey of Meditation & Solitude at the age of 12 when I was studying in an Irish boarding school in India. This practice filtered into my life and till today I see each person as divine and full of potential. I invite you to join me on this evolutionary journey: Together we will breathe, feel and discover!
My classes will encourage you to embrace the flow and allow the prana to guide you.
Prana: "life-force of creation" Flow: the state of unified consciousness
I invite you to experience yoga as the unfolding from your heart, from the fullness of your inner feeling, explore self inquiry, playfulness, movement and balance.
-------------