Description
✨LET'S TALK ABOUT BODY POSITIVITY IN FITNESS!✨

How do you make the gym a welcoming place for every BODY?
The Body Positive Fitness Training by BloomFit Training is a day-long certification that gives fitness professionals the tools to think critically about their own body image and to advocate for a more inclusive fitness industry.
We will dive deep into the messages and experiences that have formed YOUR relationship with YOUR body, demystify buzzwords like Body Positivity, Diet Culture, and Inclusivity, and explain how to create lasting positive change in the lives of our clients and in society at large.
This workshop is for YOU if…
You are passionate about health and fitness
You are dedicated to empowering your clients to feel confident in their own skin
You have ever struggled to accept what you see in the mirror, but are ready to find peace with your body
You are curious (or even totally excited) about body positivity, but don't quite know how you can implement it into your work
What you'll get…
AWARENESS: A greater understanding of what you feel about your body (and other bodies) and why
FREEDOM: The freedom to be and love exactly who you are
GRATITUDE: Open eyes to appreciate all that your body is and can do
BODY POSITIVE LANGUAGE: Cues and tips to use empowering language in your classes and with clients

Other stuff…
6 - 12 CEUs towards AFAA or NASM recertification
"Body Positive Coach" certification
Access to network of BloomFit Coaches to support you on your journey
LOCATION:
Mountainside Fitness Arrowhead


20250 N 75th Ave
Phoenix, AZ 85308




DATE:

Saturday, November 2nd, 2019

SCHEDULE:



Workshop Pt. 1: 11:00 am - 2:00 pm





Lunch: 2:00pm - 2:30pm





Workshop Pt. 2: 2:30 pm - 5:30 pm




PRICE:



Mountainside member price:


- Early bird: $89
- Regular (After October 1): $109



Non-Mountainside member price:




- Early bird: $119




- Regular (After October 1):$139





(Payment plans and scholarships available upon request)






It's time we start to question the messages telling us we aren't enough and find peace with our bodies so that we can live our happiest and healthiest lives.




IT'S TIME TO MAKE A FITNESS WORLD FOR EVERY BODY.




Email any questions to Shelby@bloomfittraining, or visit bloomfittraining.com for more information!



Meet your Trainer:
Dena Larsen Gazeley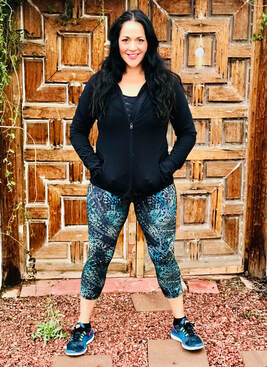 Dena Larsen Gazeley is a Lead Trainer for BloomFit Training, the Lead Educator for Ophelia's Place, and the owner/operator of All Bodies Consulting, located in the East Valley, Arizona. Focusing on eating disorder education, body image awareness, and self-care, Dena has traveled nationwide, presenting to students and adults, both in schools and in private workshop settings. Combining her personal experience, recovery from eating disorders, her professional role as an Arizona Certified Teacher, and her passion for Recovered Fitness, Dena's number one passion is providing connection and hope through relationship with others.