About this Event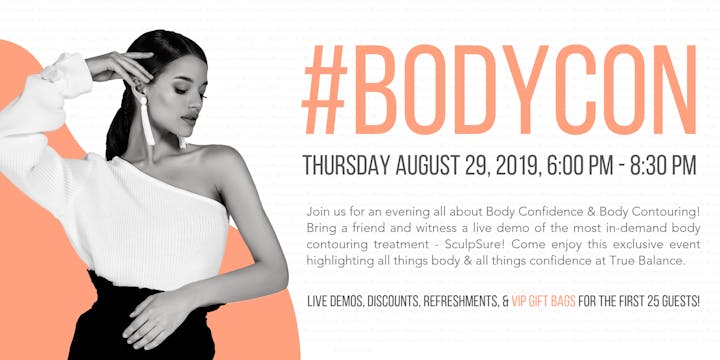 This event is all about Body Confidence & Body Contouring! Bring a friend and see a live demo of our newest service: SculpSure; as well as see and learn about other confidence enhancing services offered at True Balance!
SculpSure is a breakthrough in non-invasive body contouring, designed to treat stubborn fat from targeted areas that seem impossible to get rid of even with diet and exercise. Cleared by Health Canada, WarmSculpting with SculpSure destroys fat cells permanently to help reveal the hard work you put in every day. Some examples of areas that SculpSure can target include love handles, back, inner and outer thighs, tummy, or that "double chin".
Treatments are customized, non-invasive, and only take about 25-minutes! Why wait to achieve the body you've always desired?
#BODYCON will be complete with refreshments, live demos, exclusive promotions, amazing discounts, special gifts & a high-value giveaway! Not only that, but if you are one of the first 25 guests to arrive, you will receive a VIP Gift Bag loaded with all kinds of goodies!
The event is taking place from 6:00 pm - 8:30 pm at True Balance Sherwood Park on August 29, with the SculpSure Body Contouring live demos beginning at 6:30 pm & 7:30 pm.
Space for this event is limited, so be sure to RSVP for you and a friend, today!
We hope to see you there!
To find out more information about this treatment, please visit https://sculpsure.com