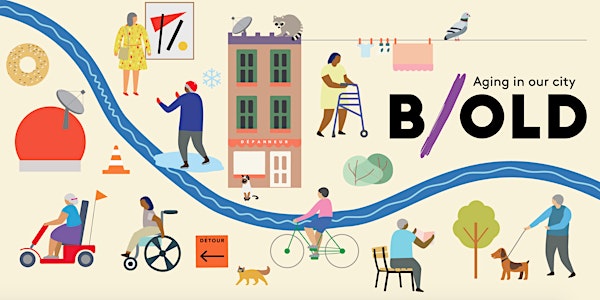 B/OLD: Aging in our city -- B/OLD: Vieillir dans notre ville
When and where
Location
Ground Floor, J.W. McConnell Building (LB) Concordia University (SGW Campus) 1400 Maisonneuve Blvd W, Montreal, QC Montreal, Quebec Canada
Description
B/OLD: Aging in our city is a free and bilingual two-day event taking place in Montreal, at Concordia University. It invites citizens, researchers, artists, policy makers and activists to consider what it means to grow older together in the city.
From 'age-friendly cities', to 'smart cities' and 'sustainable cities', how we live together in urban spaces is on the public agenda. Yet, questions of innovation and transformation too often focus on young people.
As we imagine and create the cities of tomorrow, what can we do to include the experiences of older people in the conversations we are having today? How do we counter forces of exclusion in later life to create cities that are more just and inclusive?
B/OLD invites intergenerational exchanges on topics such as housing, public arts, inclusion, digital culture, and creative aging. Citizens of all ages are invited to participate in interactive activities, including panels, art exhibits, and workshops.
More information on our website: www.b-old.ca
FRANÇAIS
B/OLD : Vieillir dans notre ville est un événement gratuit et bilingue de deux jours qui aura lieu à Montréal, à l'Université Concordia. Citoyens, chercheurs, artistes, décideurs et activistes y sont invités à repenser ce que vieillir ensemble dans la ville signifie.
« Municipalités amies des aînés » (MADA), « villes intelligentes », « villes vertes »… Le vivre-ensemble dans les espaces urbains est une question d'intérêt public. Pourtant, les questions d'innovation et de transformation sont trop souvent centrées sur les plus jeunes. Tandis que nous imaginons et créons les villes de demain, comment pouvons-nous inclure les expériences des personnes âgées dans les conversations que nous avons aujourd'hui? Comment s'opposer à l'exclusion que connaissent plusieurs aînés pour créer des villes qui sont plus justes et inclusives?
B/OLD encourage les échanges intergénérationnels sur des thèmes tels que le logement, les œuvres d'art public, l'inclusion, la culture numérique, et la créativité. Les citoyens de tous les âges sont invités à participer à des activités interactives, notamment à des conférences, à des expositions et à des ateliers.
Veuillez retrouver plus de renseignements sur notre site web: www.b-old.ca/fr/