Description
"You can't do it alone... Find a group of people who challenge and inspire you, and spend a lot of time with them, and it will change your life." ~ Amy Poehler

Bold Care Life Advance
Are you a vibrant, caring woman who desires something remarkable to help you advance your goals and live your dreams?
As you've been driving others forward, is there something else - a passion project, a new adventure or life list experience - you've left in the backseat?
Are you looking for other spirited women who will support and encourage you to make bold moves as you take care of yourself AND care for those you love?
This is your time to be bold, with care.

Bold Care Life Advance November 2nd 2014, the first Women's Wellness event presented by Cared Humanity, is a quest to foster meaningful connections among women and ignite the sparks that transform our lives. Taking bold steps to enrich your life and creating community is what Bold Care Life Advance (BCLA) is all about - think "retreat" only more forward focused. After months of visioning, planning, BFF conversations, nervous energy (and calling deep on my courage), super excited that BCLA is one week away! BCLA will involve a maximum of 30 participants, women (18+) in all seasons of life and at different points in their journey. Together we will examine the significant value of holistic self-care and explore how being bold with care can bring more joy, compassion, and deeper meaning into our lives.
The thread of collaboration and mutual benefit is intertwined throughout BCLA. I'm grateful to be sharing the leadership role with some amazing, insightful and innovative women, who are all graciously willing to share their talents and time with us. My special featured guests are: Self-Care and Stress Expert, Deepika Mittra of Opening Spaces, Health and Wellness Entrepreneur, Jennifer Meszaros of Anurakti Tea Company, and Artist-Designer, Amanda Schutz. Our special Lunch Speaker is Anchor/Reporter, Erin Isfeld, from CTV.
(Please visit caredhumanity.com to learn more about the wonderful work of our Featured Bold Care Guides).
BCLA is a unique, shared experience designed to facilitate reflective conversations and stimulate inspired action about how we can prioritize caring for ourselves while also taking care of others. This event is an invitation for you to explore your relationship to self-care, reconnect with [or discover the truth of] who you are, learn more about what you are capable of, and gain new perspective on what really matters to you.
Are you ready to advance your bold care?
Join us as we gather together at Pigeon Lake's charming Village Creek Country Inn in a lovely space called Spruceview Diamondwillow for a day-long experience grounded in shared wisdom, women's leadership, personal transformation, and making a difference. The resort location allows participants coming from Edmonton and surrounding area to travel the same day (click here for driving directions). At BCLA you will find a friendly and fun atmosphere aimed at encouraging you to open your headspace and your heart-space and move your vision of what your life is all about forward in bold and caring directions.
Our fascinating speakers, playful workshops, and introspective activities are designed for:

Bold caring: Together we will practice being bold with the way we care for ourselves, the people we care about, and in the world. You will reflect on what you are doing to meet your own multidimensional care needs. We'll explore creating space for you in an otherwise hectic schedule amidst competing demands.
Bold compassion:

You will dig deep to articulate who you are and what really matters to you. You will engage in mindfulness practice and feel deeply in the area of self love.
Bold connection: You will hear and tell stories, share your worries and wisdom, and cultivate new friendships.
Your ticket* includes participation in all BLCA activities, a light breakfast, mid-morning coffee & tea break, delicious and nourishing catered lunch, plus a special care package of goodies!
Being bold with care could be a small daily practice you incorporate into your life and/or it could mean making a change to your mindset. Advancing your bold in the area of physical care and body may involve training for a race or taking a fitness class. In the creative realm a bold advance for you may be starting a blog, joining an art class, or journalling. Your bold may be going back to school, changing jobs, spending more (or less) time with your children, etc. It could be some quest that brings you more adventure and vitality. At BCLA you will connect, learn, laugh, (cry), create, comfort, and give yourself a forward push to live your precious life with care and on your own terms.
I hope BCLA is a place for you to inspire and be inspired.
If you are craving powerful connections and want to live with intention, compassion, and bold care, BCLA is for you. The focus is on you, the women around you, and sharing our collective energy and experiences. We will work together to show up, reveal our best (imperfect) selves in a caring space while we encourage each other to grow. A little work and a little play combined together for a rewarding and life affirming day. You will leave with powerful insights and tools for taking your next bold step with care.
Bold Care Life Advance Option: Make it your getaway
The scenic and serene location of BCLA lends itself well to extending your Bold Care weekend by staying Saturday night prior to the event (at a reduced Cared Humanity Retreat rate) and/or enjoying some pamphering and self-care treatment at the Essentials Spa and Wellness. Please call the resort directly by Oct 24, 2014 at 1-877-688-0006 to book your overnight stay and/or spa appointment. Make sure to ask for Cared Humanity blocked rooms under: Bold Care
If you have any questions about the event, please don't hesitate to contact me. Once you have registered, please send me an email so we can get acquainted and I can make sure to BCLA is designed with you in mind.
~With Care,
Joanne
*I value your participation and your investment. Please understand that tickets are non-refundable and non-transferrable.
Organizer of Bold Care Life Advance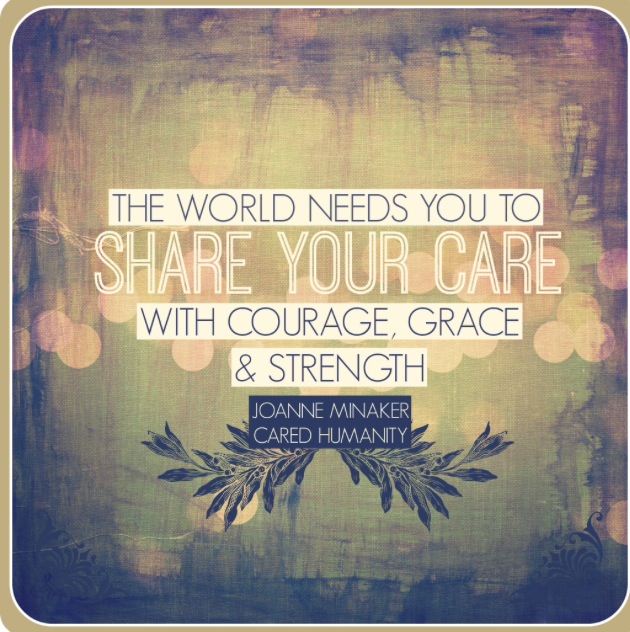 My story is one of making connections. I look forward to connecting with you at BCLA. My life intersects different spaces - academia, motherhood, athletics and wellness, social justice, and artistic expression. I am a teacher/learner, dreamer/doer with a passion for making meaningful change that empowers us to live more full and free lives.
I am the Founder and COO of Cared Humanity, whose mission is to create meaningful experiences that foster a sense of deep, human caring. I am Associate Professor in the Sociology Department at MacEwan University. I've spent my career studying care, community, and issues of belonging, acceptance, and justice since 1995.
 I am a mother of three, a runner, an author, a (wannabe) musician and artist, an ardent friend, and an ambassador of care. Sometimes I am goofy and giggly!
Guide is the thread that connects all that I do. I appreciate places I can find convergence and community, where I can share my passion and provide support to others to live their most care*full lives.