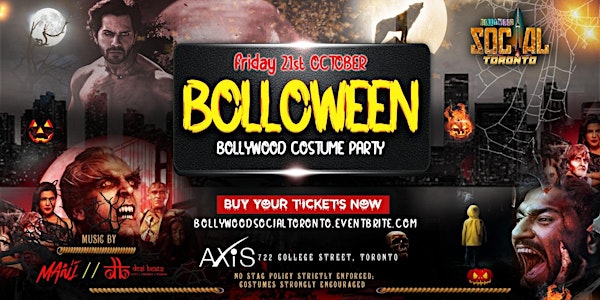 BOLLOWEEN - Toronto's Official Bollywood Costume Party @ AXIS
When we say Bollywood music - we mean it!
When and where
Location
The Axis Club Theatre 722 College Street Toronto, ON M6G 1C2 Canada
About this event
BOLLYWOOD SOCIAL TORONTO proudly presents our annual and patrons favourite
▀▀▀▀▀▀ ★BOLLOWEEN ★ ▀▀▀▀▀▀▀
Toronto's OFFICIAL Bollywood costume party with 100% authentic BOLLYWOOD VIBE & MUSIC!
** WE STRONGLY ENCOURAGE YOU TO DRESS UP TO BE IN THE HALLOWEEN SPIRIT*
**All our events at AXIS are NO STAG events and we play majority of Bollywood music ONLY**
MUSIC:
Majority of music played at BOLLYWOOD BUZZ (BOLLOWEEN) is HARDCORE BOLLYWOOD!
★ featuring Canada's #1 Bollywood DJ - DJ MANI from Canada's biggest DJ company - Desi Beatz (Insta: @thedesibeatz)
DRESS CODE:
DRESS UP! DRESS UP! DRESS UP! (HALLOWEEN INSPIRED)
VENUE:
Toronto's top notch venue: The Axis Club Theatre
722 College St, Toronto, ON M6G
TICKETS:
Limited Tickets Available on Eventbrite:
BOLLYWOODCOSTUMEPARTY.EVENTBRITE.COM
**SAVE FEES BY E-TRANSFER**
An Interac Transfer (Email Transfer) send the total amount to bollywoodsocialtoronto@gmail.com with your Full Name and Password- BST2022 and DM us on Instagarm @bollywoodsocialtoronto to get a confirmation
For tickets or general inquiries, please contact:
2269737922 / 3068963033
▀▀▀▀▀▀▀▀▀▀▀▀▀▀▀▀▀▀▀▀▀▀▀▀▀▀▀▀▀▀▀▀▀▀▀▀
Book a VIP BOOTH - Sofa Seated OR Stand Up Cruiser Table
> Line By Pass > Discounted Tickets > Private Space >
Personal Bartender > Premium Service >
LED CUSTOMIZED SIGN for special occasions > Shout out by DJ
★Call/Text: 4379950669 / 9057495888 directly to book your Premium Bottle Service ★
▀▀▀▀▀▀▀▀▀▀▀▀▀▀▀▀▀▀▀▀▀▀▀▀▀▀▀▀▀▀▀▀▀▀▀▀
HOUSE RULES:
This is a 19+ event - PHYSICAL Government issued ID is mandatory for entry **
No Photocopies of Ids are accepted.
Strictly No refunds.
We reserve the right to refuse admission!
We often take pictures and videos at BST events to be used for marketing purposes. By attending our events - you give us consent to use those pictures for marketing/ads.
Please email us at bollywoodsocialtoronto@gmail.com or message us on Instagram @bollywoodsocialtoronto if you want to remove any of your pictures.
BST reserves the right to remove any guest from the venue for any reason we seem fit for a successful running of the event.
Don't put your and other's life at risk - DO NOT DRINK AND DRIVE!
FOLLOW US:
Marketing, Promotions and Conceptualized By: BOLLYWOOD SOCIAL TORONTO
FB: www.facebook.com/bollywoodsocialtoronto
INSTA: @bollywoodsocialtoronto
Youtube: Bollywood Social Toronto
TIK-TOK: @BOLLYWOODSOCIALTORONTO