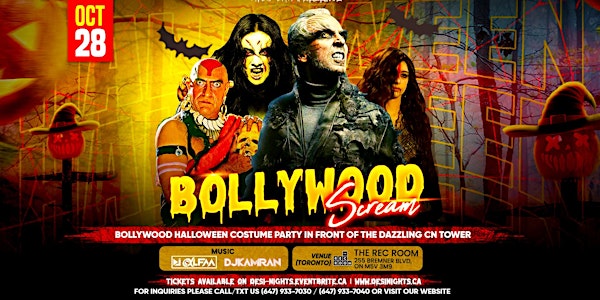 Bollywood Scream!! - Bollywood Halloween Costume Party
DESI NIGHTS ™ - Bollywood Halloween Costume Party infront of the Dazzling CN Tower.
When and where
Location
The Rec Room 255 Bremner Boulevard Toronto, ON M5V 3M9 Canada
About this event
Desi You Canada proudly presents:
▀▀▀▀▀▀▀▀▀▀▀▀▀▀▀▀▀▀▀▀▀▀▀▀▀▀▀▀▀▀▀▀▀▀▀▀
★★★ Desi Nights ™ - BOLLYWOOD SCREAM!! ★★★
▀▀▀▀▀▀▀▀▀▀▀▀▀▀▀▀▀▀▀▀▀▀▀▀▀▀▀▀▀▀▀▀▀▀▀▀
Sold out every year, we suggest you secure your tickets early.
Get your Costume Ready and prepare to Party It Up all night. Spooky Decor, TOP end Sound And Lighting and DJs Playing The Best In Bollywood x Hindi Remixes x Urban Punabi & Club Anthems All Night Long . Get Ready and get Creative!
Let's FIRE up the dance floor, put our BLOOD, SWEAT & TEARS into it, and "MAKE SOME NOISE!!"
*COSTUMES ARE NOT NECESSARY BUT RECOMMENDED
MUSIC:
Get Ready, to groove on to some of the most popular Bollywood, Urban Punjabi, Top 40 & Spanish tracks and show us your amazing moves on the dance floor......
► BOLLYWOOD HITS | HINDI REMIXES | URBAN PUNJABI | TOP 40 | CLUB ANTHEMS
★ DJ Alfaa ( Exclusive Bollywood VDJ set) ★ DJ Kam (From IKWorld)
This is an exclusive Bollywood Party, as most of the music will be Bollywood. Please avoid disappointment by not purchasing the tickets if you are not the Bollywood Music Lover and expect any other music to play at the party.
DRESS :
You don't have to wear a Costume to enter as we are accepting EVERYONE, but why not its Halloween
VENUE:
The Rec Room - Toronto - Downtown
255 Bremner Blvd, Toronto, ON M5V 3M9
TICKETS:
Limited Tickets available on:
https://desinights-bollywoodto.eventbrite.ca
or at
www.DesiNights.ca
You can also save fees by
an Interac Transfer (Email Transfer)to contact@desinights.ca with your Full Name, Event, Contact Information and Password- DesiNights
▀▀▀▀▀▀▀▀▀▀▀▀▀▀▀▀▀▀▀▀▀▀▀▀▀▀▀▀▀▀▀▀▀▀▀▀
Book a VIP Area (Balcony View & Seating)
Call/Text: (647) 933-7030 / (647) 933-7040 OR visit https://www.desinights.ca/#reservation ★
▀▀▀▀▀▀▀▀▀▀▀▀▀▀▀▀▀▀▀▀▀▀▀▀▀▀▀▀▀▀▀▀▀▀▀▀
TERMS & CONDITIONS:
A PHYSICAL ID REQUIRED FOR ENTRY
This is a 19+ event - VALID PHYSICAL Government issued ID is mandatory for entry
No Photocopies/Phone Copies of IDs are accepted.
INTOXICATION OR ANTISOCIAL BEHAVIOUR is UNACCEPTABLE
No Large Groups Of Males - Mixed Groups Advised!
Strictly No refunds.Tickets are non-refundable and transferable!
We take pictures and capture videos of our events for marketing purposes. Please email us at contact@desinights.ca or message us on Instagram/Facebook at "desinightscanada" handle if you wish to remove any of your pictures.
Behavior:Management reserves the right to remove any guest from the venue for any reason. Rowdy and unruly behavior will not be tolerated. All attendees to any event held on the premises must be aged 19+ or over. You are ultimately responsible for all of the guests at your party. We operate a zero-tolerance policy on harassment. Guests must not, under any circumstances, touch or talk to any of the staff, servers, or performers in an inappropriate manner. Management retains absolute discretion to decide what is 'inappropriate'. If you or a group member acts in a manner that our management judges to threaten or disrupt the safety or enjoyment of others or acts inappropriately we may remove you from the premises and no refunds will be given.
Public Service & Safety Annoucement: DO NOT DRINK AND DRIVE