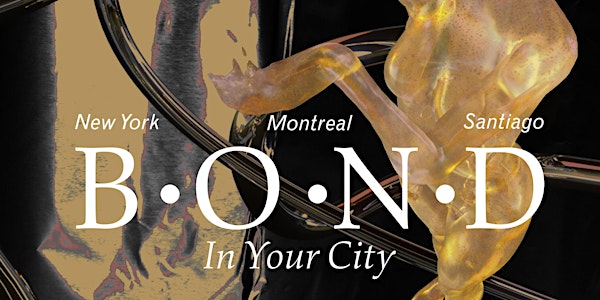 B·O·N·D Performance Festival "In Your City" - Montreal Edition (Evening #1)
This event is a part of the 2022 B·O·N·D In Your City series held locally in Montreal in collaboration with teams from NYC and Santiago.
When and where
Location
651 Rue Sherbrooke O 651 Rue Sherbrooke Ouest Montréal, QC H3A 1E3 Canada
About this event
This event is a part of the B·O·N·D In Your City series within 2022 B·O·N·D International Virtual Performance Festival.
It is held locally in Montreal with help from Cheng Huai Art & Culture Association and in collaboration with B·O·N·D teams from NYC and Santiago.
For more info and the full line-up, please go on the link here: https://bondfest.org/2022-B-O-N-D-In-Your-City
[ We will have two separate evenings , Register for 2nd Evening here]
B·O·N·D In Your City Festival Montreal Edition Line-Up
December 10, 2022 (Saturday)
5:30 pm: Doors Open
5:30-6:00 pm: Co-creative circling "Smell a Taste of Homeland" by Huirui
6:00-7:00 pm: In-Person Performance "AYOKO NA: my_immigrant_story" By Joliz Dela Pêna
7:00-10:00 pm: Live Performance + Screening + Multi-city talkback
- 7:30 pm: Screening of Guerrilla's Song by Lydia Jialu Li
- 8:00 pm: Screening of TAHARA: The Diary of An Assassinated Birthday Girl by Valerie Sabbah
- 9:00 pm Funeral Reception - Multi-City Audience Talk
AYOKO NA: my_immigrant_story
AYOKO NA:My_Immigrant_Story, highlights the notion of "only being seen in this society after a horrible tragedy". In the performance Dela Peña continuously wrote the words "Ayoko Na"— which translates to I'm tired in english, in an attempt to cover the headline news, only to reveal in the end that the words from the news report can still be read. This performance serves as a commentary on the global reaction regarding the rise of anti-asian hate crimes in North America.
Our daily life is engulfed in a subconscious attempt to be invisible. We are told to be silent when we face discrimination. We are told to forget about bad experiences and move on. We are told that we are not victims of oppression. We are dismissed when we cry for justice. We are boiled down to as a model minority and we are blamed for our traumas because of it. We have been subconsciously programmed to live in furtiveness constructed by white supremacy.
Trigger Warning: nudity, mentions of violence and abuse.
About the artist
also known as JDP 2009, Dela Peña is an interdisciplinary artist from the Philippines, currently based in Tiohtià: ke/Montreal. She is a self-taught artist whose mediums vary from painting, performance art, and alternative photography.
Daily influenced by the contemporary world, most of her works seek to question both the comfort and discomfort nurtured by society .
About B·O·N·D International Virtual Performance Festival
B·O·N·D International Virtual Performance Festival was founded by Tianding He with an international artist team in the midst of the pandemic in 2020. The name "B·O·N·D" is short for "Beyond Our New Distance''. The festival aims to bond different entities, cultures and continents through the power of performing arts, despite political, economical or environmental challenges. Rooted in the noninstitutionalized and undefinable spirit of the avant-garde art, this pioneering annual festival keeps incubating and evolving in themes, media as well as sensory experiences.
2022 Theme
In 2022, the theme of B·O·N·D Festival is Land · Body. During the first year of the post-pandemic era, adverse health effects and deaths are slowing down, while displacement separation and deprivation persisted in communities across the world. People were forced to leave their homeland because of warfare. Urbanites under tyranny are deprived of freedom and open access to all. Womxn bodies and lives are under oppression and systemic brutality. Near the exact time, humans started their fantastical exploration in both the universe and the metaverse. What are lands and bodies in new dimensions and cyberspace? The land and the body that we once took for granted–what do they mean now? How do we define its relationship and connection with us?
This year, we are excited to invite international artists nourished by lands of different continents, especially indigenous, immigrant and womxn artists, to share their unique experience of "land and body". The digital screening starts from December 1-25, 2022.
About B·O·N·D In Your City
B·O·N·D Festival expands "B·O·N·D in Your City'', a new series of artist-led, world-touring in-person live events, to more cities and countries in the world. On December 10th and 11th, multispace live performances, artistic dialogues, and community-creative circles will be hosted concurrently in New York (US), Montreal (Canada) and Santiago (Chile).
B·O·N·D In Your City - Montreal Edition is curated by Huirui Zhang and Miao.
Venue Address
Building 21 (McGill University): 651 Sherbrooke St W, Montreal, Quebec H3A 1E3
Transportation: Bus 24 or Green line McGill metro station
***Please ring the bell to enter, pre-registration required