Description
Bonsai Paint & Sip Night
Level 1 Painting - Beginners

7:00-9:30pm

Without a doubt, bonsai trees are an art form all on their own. Enjoy painting your own living landscape during this paint night. We include a glass of wine or beer and light snacks to help you relax and enjoy your evening. We provide all the paint supplies and our artist takes you step by step through the painting. No painting skills necessary, just a fun evening that's almost more about the party than the paint!
SUMMARY
Doors open at 6:30 pm and the class begins at 7:00pm. We provide the canvas, paints, brushes, and smocks. The artist will walk the entire group through the painting step by step. The class wraps up around 9:30 where we take a photo of the entire group and your artwork for posting on social media accounts.
We will provide wine, beer and snacks. Water, coffee and tea will also be available.

Ages 19+ (must be legal drinking age)


If this date doesn't work for you, there is always the option of booking a private paint night! All you need is 10 people & you are welcome to bring in your own food & drink. We are also happy to provide team bonding events for businesses and coporations. For more information: https://100braidststudios.com/book-a-party/


PAINTING CREATOR & ART INSTRUCTOR

Iris Mes-Low
www.irismes-low.com
Instagram: @irismeslowart
Twitter: @irismeslowart


FAQ'S
WHAT TO BRING
Yourself and a friend.


REFUNDS & CANCELLATIONS
We understand that life happens. If you need to cancel please give us as much notice as possible. Generally we do not provide a refund unless the event is cancelled by 100 Braid St Studios. We are however happy to provide a credit for another event or class. Please note: Classes are subject to cancellation with refund if less than 5 painters are registered.
ADDITIONAL REGISTRATIONS
If you have already purchased a registration and require another one last minute please call 778-886-5391.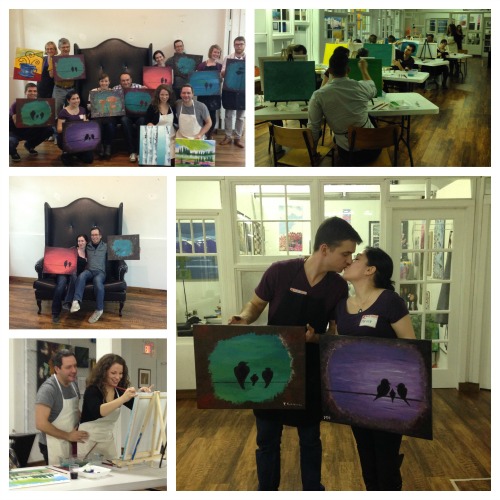 Arrangements can be made to purchase an additional registration at the door via credit card only.

Why do some classes have age requirements?
Some events are 16+, because of both subject and dexterity; others are geared toward children or youth and others are for the entire family where everyone can work together (no age restrictions). If liquor is served then all attendees must be legal drinking age.

What are my transport options getting to the event?
By Car: The studios are conveniently located just off of Hwy 1 on Braid St between Rousseau and Brunette. Parking is available in the front of the building and additional parking is available in the back of the building.
By Skytrain:
Expo Line – Production Way: Braid St Station.
100 Braid St Studios is about a three minute walk across the street from the Braid St Skytrain station. The station is the major interchange with skytrain for many Coquitlam and New Westminster bus routes.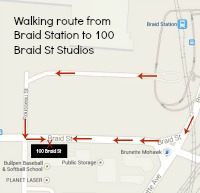 By Bus:
Many Coquitlam and New Westminster bus routes meet at the Braid Station interchange and then it's just a short walk to the Studios.


How can I contact the organizer with questions?
Please email at: 100braidststudios@gmail.com
Phone: 778-886-5391
Hours of operation:
Sunday & Monday – closed
Tuesday – by appointment only
Wednesday – Friday: 1-6pm
Saturday – by appointment only


Newsletter Sign Up
By purchasing or attending this event you are agreeing to sign up for the 100 Braid St Studios Newsletter. On each newsletter there is an UNSUBSCRIBE link or you may email us at 100braidststudios@gmail.com to indicate that you do not wish to receive this newsletter. The newsletter will keep you up to date on updcoming future events at the studio.
We look forward to seeing you!