Event Information
Refund Policy
Contact the organizer to request a refund.
Eventbrite's fee is nonrefundable.
Are you being called by Mary Magdalene?
About this Event
This is Mary Magdalen's personal story of her tantric relationship with Yeshua ben Joseph, known today as Jesus Christ. A love so deep it has survived over 2000 years of lies, to be finally told now, in this, "the beginning of the ending of time." A High Initiate of the Temple of Isis, Mary Magdalen was the Holy Grail, the cup that carried the blood of Christ. And the long-prophesied "sun" that was born to her was a girl named Sar'h.
In the Magdalen Manuscript, given by her and reprinted here, word-for-word as she gave it, she describes the alchemy that she and Yeshua practiced. This is the alchemy that prepared him to sustain life after death, so that he could meet his destiny and lay a trail of light through the death realms, a light path each of us can follow.
This is Her Story, revealing some of the deepest secrets of the Temples, as requested by Isis. To this remarkable test, Tom Kenyon has added a comparison of the major streams of internal alchemy, plus an in-depth look at Egyptian High Alchemy and a clarification of the Alchemies of Horus. Judi Sion, at the request of Mary Magdalen, has added One Woman's Story, which is every woman's story.
___________________
Reading this book will open your mind and forever shift your reality.
We will all begin reading the book as of Jan 4 or whenever you receive it.
In the Happy Healthy Women + The Goddess Temple Facebook Groups, Judy will share LIVE reviews of each chapter as we move along until Feb 18, at 6pm EST when we will all join a LIVE ONLINE ZOOM call for everyone to share your highlights, breakthroughs and reality shifts.
During this LIVE ONLINE FINAL REVIEW on Feb 18, we will share a Cacao Blessing together.
If you wish to order your Cacao and begin your daily Sacred ritual, click here and download the free recipe:
https://www.thegoddesstemple.ca/
________________________________
The $5 fee is gesture of focus and commitment to yourself throughout this 6 week BOOK READ + SHARE.
_______________________________
Judy Machado-Duque is the Founder of THE GODDESS TEMPLE CACAO, a platform created to help others to include Sacred rituals into their daily life , including Cacao, to accelerate their spiritual journey through raising your Consciousness.
To learn more about Judy, visit www.thegoddesstemple.ca and register for the free Cacao recipe download, as well as to receive her weekly free frequency videos through Youtube.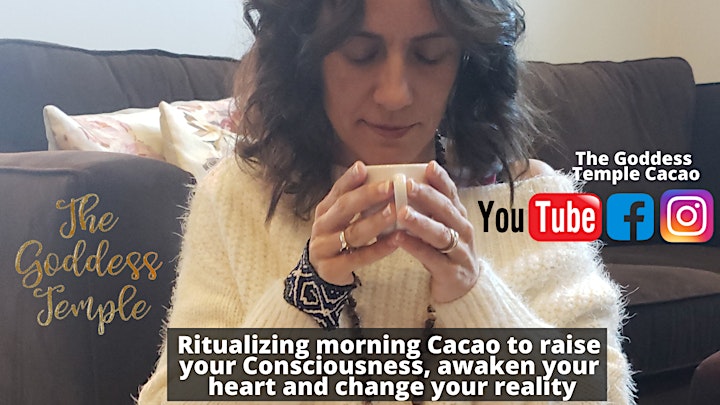 Date and Time
Location
Refund Policy
Contact the organizer to request a refund.
Eventbrite's fee is nonrefundable.