About this Event
As Canadians, we often ignore our country's failures around racial justice. We spend more time patting ourselves on the back as we compare ourselves to our more obviously brutal and divisive neighbours in the United States, but the truth is that we are not without our own sins.
To reckon with our own country's racism, we'll be diving deep into Desmond Cole's "The Skin We're In: A Year of Black Resistance and Power" and discussing the realities he presents.
This discussion is open to non-Black allies who want to (un)learn the colonial legacy of Canada, confront the uncomfortable truths of inequity and inequality, and commit to moving towards action for change and justice. This discussion will only be able to accommodate 10 participants to make space for more in-depth and intimate conversations. First come, first serve.
It will take place on Google Hangouts and you will receive a meeting link shortly after your registration. You will be responsible for acquiring your own copy of the book and are responsible for finishing it before our meeting date.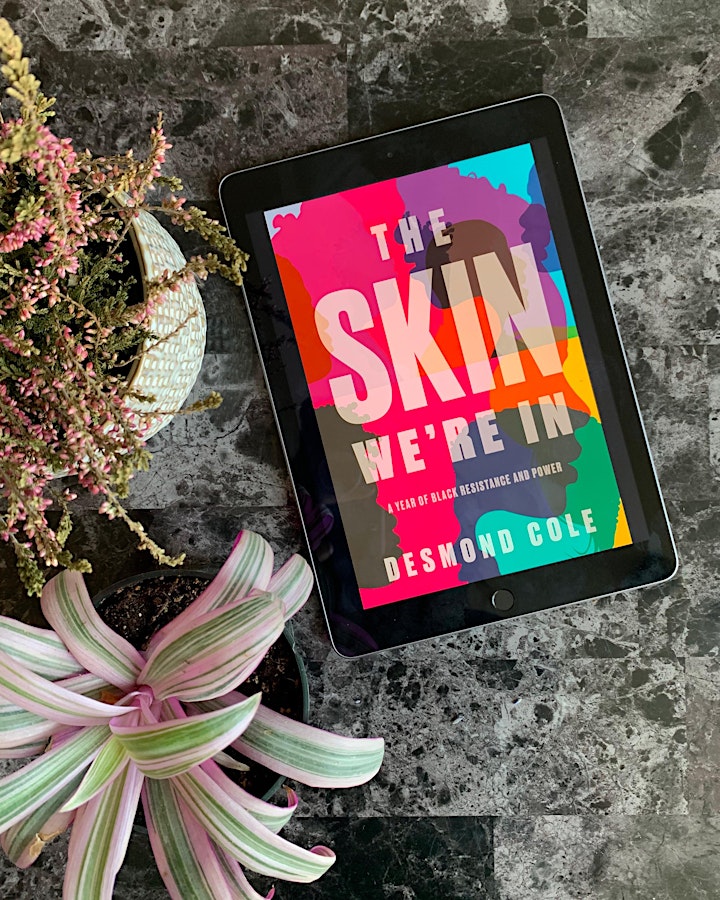 ABOUT ˆTHE SKIN WE'RE IN & DESMOND COLE:
A bracing, provocative, and perspective-shifting book from one of Canada's most celebrated and uncompromising writers, Desmond Cole. The Skin We're In will spark a national conversation, influence policy, and inspire activists.
In his 2015 cover story for Toronto Life magazine, Desmond Cole exposed the racist actions of the Toronto police force, detailing the dozens of times he had been stopped and interrogated under the controversial practice of carding. The story quickly came to national prominence, shaking the country to its core and catapulting its author into the public sphere. Cole used his newfound profile to draw insistent, unyielding attention to the injustices faced by Black Canadians on a daily basis.
Both Cole's activism and journalism find vibrant expression in his first book, The Skin We're In. Puncturing the bubble of Canadian smugness and naive assumptions of a post-racial nation, Cole chronicles just one year—2017—in the struggle against racism in this country. It was a year that saw calls for tighter borders when Black refugees braved frigid temperatures to cross into Manitoba from the States, Indigenous land and water protectors resisting the celebration of Canada's 150th birthday, police across the country rallying around an officer accused of murder, and more.
The year also witnessed the profound personal and professional ramifications of Desmond Cole's unwavering determination to combat injustice. In April, Cole disrupted a Toronto police board meeting by calling for the destruction of all data collected through carding. Following the protest, Cole, a columnist with the Toronto Star, was summoned to a meeting with the paper's opinions editor and informed that his activism violated company policy. Rather than limit his efforts defending Black lives, Cole chose to sever his relationship with the publication. Then in July, at another police board meeting, Cole challenged the board to respond to accusations of a police cover-up in the brutal beating of Dafonte Miller by an off-duty police officer and his brother. When Cole refused to leave the meeting until the question was publicly addressed, he was arrested. The image of Cole walking out of the meeting, handcuffed and flanked by officers, fortified the distrust between the city's Black community and its police force.
Month-by-month, Cole creates a comprehensive picture of entrenched, systemic inequality. Urgent, controversial, and unsparingly honest, The Skin We're In is destined to become a vital text for anti-racist and social justice movements in Canada, as well as a potent antidote to the all-too-present complacency of many white Canadians.
ABOUT ˆTHE ORGANIZER
Justine Abigail Yu is the Founder and Editor-in-Chief of Living Hyphen, an intimate journal that explores what it means to live in between cultures as part of a diaspora.
She is an award-winning writing workshop facilitator whose work with Living Hyphen has been featured on national and local media outlets including CTV National News, CBC Metro Morning, Radio-Canada International, CBC Ontario Morning, and CityTV's Breakfast Television. She is also a freelance writer whose work has been featured in publications such as Intermission Magazine, Metro News Canada, African Business Journal, and Makeshift Magazine.
Justine Abigail is a fierce advocate for diversity and representation in Canada's arts and literature scene. Her mission is to stir the conscience and spur social change.