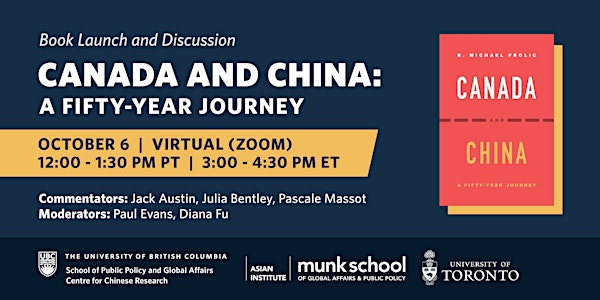 Book Discussion – Canada and China: A Fifty-Year Journey
Canada and China: A Fifty-Year Journey by B. Michael Frolic
About this event
Join a virtual book launch and discussion on Canada and China: A Fifty-Year Journey, written by B. Michael Frolic. This event features a panel discussion and a moderated Q&A session.
Please register for this event by Wednesday, October 5th. A Zoom link will be sent to all registrants.
Moderators:
Paul Evans, Professor, School of Public Policy and Global Affairs, University of British Columbia
Diana Fu, Associate Professor, Munk School of Global Affairs & Public Policy and Political Science, University of Toronto
Commentators:
Jack Austin, Former Federal Minister and Senator
Julia Bentley, Senior Fellow, Munk School of Global Affairs and Public Policy
Pascale Massot, Assistant Professor, School of Political Studies, University of Ottawa
About the book:
Thirty years in the making—a distinctive fusion of documentary history, lively memoir and political commentary that provides a foundation for the best available history of bilateral relations and analysis of what is ahead.
Presenting a thorough record of Canada's diplomatic ties with China, Canada and China recounts ten stories regarding China policy decisions made by the Canadian government. These decisions describe key bilateral moves, beginning with Pierre Trudeau's recognition of China in 1970 and ending fifty years later with his son Justin's attempt to reset a struggling relationship with China.
Rooted in archival research, extensive interviews, and the author's experience as a policy observer, the book contributes to our understanding of how the Canada-China relationship has developed over time and how best to position Canada in future relations with China.
While present-day relations with China are complicated, the book deliberately seeks to provide a balanced perspective by showing both the positive and the more challenging aspects of relations with China. Ultimately, Canada and China recommends ways to manage future relations with China, while also honouring the ties it developed over fifty years.
Hosted by: